Sample of a Wedding Program Format: Free Template to Download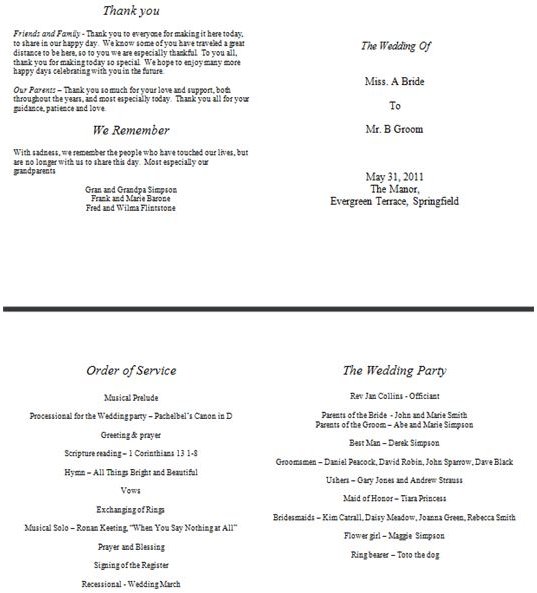 Sample Wedding Program Format - Free Download
If you download our free sample of a wedding program format, you will see how a basic wedding program should be laid out. This document is in Word format, so can be used as a wedding program template, and just replaced with your information. I've formatted it to be a half-fold pamphlet style wedding program, but you can simply cut and paste the text into separate pages if you want it in a different layout, such as for a wedding fan program.
Download: Template of a Wedding Program Format
The wedding program sample download I've included here uses a common font, so you are able to see easily what wording to include, in a correct format, but you could improve the look of the wedding program by using an elegant wedding font of your choice.
Wedding Program Basic Information
A wedding program should include basic information about the day, to keep your guests informed and relaxed. The main elements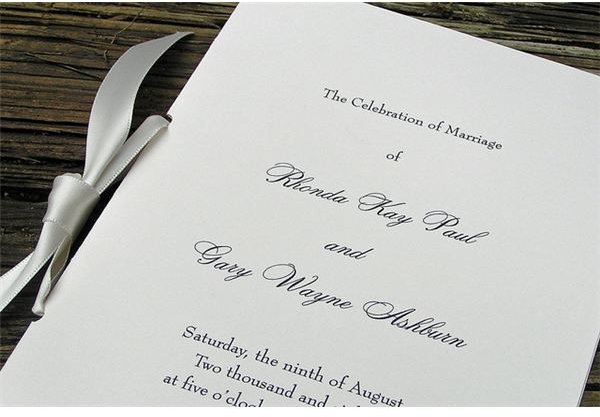 you should include are:
A title page - You should include basic information such as the bride and groom's names, along with the date and venue. This can be in a larger font to the rest of the program, and spaced centrally on the first page. Be as formal as you wish, using Mr. and Miss, or a more casual Chris & Vicky - the etiquette for wedding program wording isn't as restrictive as with wedding invitations.
The order of service - The officiant may be able to help you with a standard order of service according to the way they operate, but make sure you include the basic running order of proceedings too. If space allows you can also include hymn words, song lyrics, or the wording from a scripture reading.
The wedding party - Think of this as the credits at the end of the film, including the main people involved in the day - there is no need to include the bride and groom as they already have top billing. As well as their role and name, you can optionally include their relationship to the couple (sister of the bride, friend of the groom, etc.).
Of course, the wedding program can vary depending on religion, and how formal your occasion is, but these elements should usually be included in some form.
Wedding Program Optional Information
There are some optional elements you can include in your wedding program too, such as:
Thank you section - Even if you are having speeches at your wedding, it's nice to make sure everyone gets a thank you for joining in to celebrate the day, and to give a special mention to parents, and those who helped organize everything for you.
"We remember on this day" - loved ones no longer with us. This can be incorporated into your thank you section, and is a great way to remember and thank those that helped to shape our lives, but are no longer with us to share the day.
The order of events at the wedding venue - You can continue the order of service, to let guests know what the plans are for the rest of the day in terms of speeches, when to expect the wedding breakfast, what entertainment is planned for later, and so on.
Wedding traditions - Some interesting facts for guests to read. Not only can this help the guests to pass the time when they are waiting for proceedings to begin, but if it's a religious ceremony that many of your guests won't be familiar with, it's nice to make sure they understand what is going on.
Of course, as these are optional you should include them if you have room, or add a page or two to the main wedding program if you wish.
Improve the Appearance - Add Some Graphics
As well as altering the font on the sample of a wedding program format offered here, you can increase the visual appeal, by including some wedding dingbat images. This would work especially well on the title page, where you have room to play around with images, as well as creating a wonderful first impression.
Add some ribbon around the spine to finish off, and you have a wedding program you can be proud of.
References
Wedding Information and Etiquette - https://www.lovepoemsandquotes.com/WeddingInformationAndEtiquette.html
Image Credit: Wedding Program, Flickr/2bsquareddesigns