What Are the Top 5 Home Screen Printing Kits?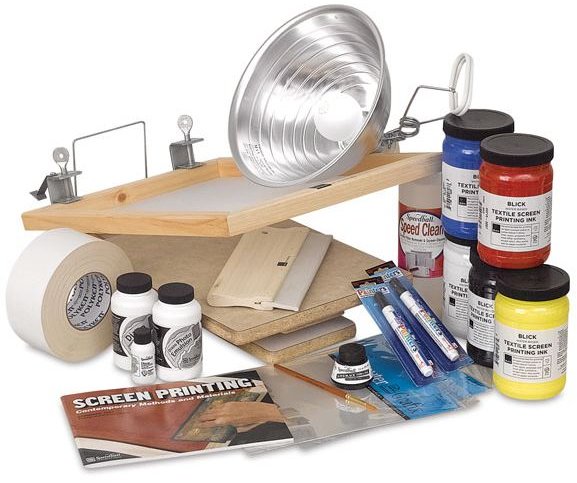 Blick's Photo/Textile Screen Printing Kit
This printing kit will teach the photo process screen production to any art student or yourself. The products are safe and non-toxic. The complete
kit includes materials suitable for printing on both fabric or paper. The kit comes with over 13 items, like a lamp, printing machine, acrylic film, squeegee. All of this helps to turn a curiosity into a full-fledged hobby or more like professional screen printing. Price $359.00
Learn how to Use Laser Printers with Fabrics
Jacquard Professional Screen Printing Kit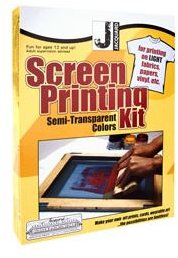 You can use this screen kit for paper, fabric, vinyl, plastic and leather. The inks have a long open time in screen and are easy to work with. If you are getting started in this type of artistic production, this kit is good for small production runs. This printing set contains a 10×14" pre-stretched silk screen frame, four 4 oz jars of Jacquard Professional Screen Inks (Blue, Red, Black, Opaque White), 4 ounce Photo Emulsion, 1/3 gram Diazo Sensitizer, a 9" wood handled squeege, 3 acetate sheets, stir stick, and instruction booklet. Price $47.99.
NEHOC Screen Printing Kit
The NEHOC Screen Printing Kit of Australia offers a variety of product elements to make screen printing affordable and easy. The standard kit
comes with a screen imaging system, a 1 Meter x ScreenMaster 70 Mesh, 10 x Print Lamps, 2 x A5 Frames, an A4 Frame, a110mm Professional Squeegee, 4 x 150 ml fabric ink in Black, Blue, Red & Yellow, an Artwork Pen, Clipart Designs, a blue filter, and artwork clean-up paper.
You can use this printing kit for T-shirts, fabrics, paper, cards, plastic/metals, ceramics, and wood. There are starter kits, home, small business, and professional level printing kits.
Speedball Glo 'N' Dark Fabric Kit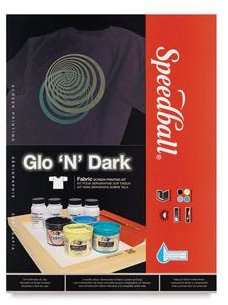 A different kind of screenprint kit is the Speedball Glo 'N' Dark Fabric Kit. It lets you create glow in the dark T-Shirts. The kit has a Night Glo water-based phosphorescent fabric set of inks. The contents of the kit include a 10" × 14" frame, fabric squeegee, night glo ink colors jars with Blue, Yellow, Green, and Black Ink, photo emulsions and removers, Screen Fillers, Drawing Fluid, and Diazo Sensitizer. Cost $63.57
Yudu Home Screen Printing Kit
Another complete printing kit that offers many printing capabilities is the Yudu Printing Kit. The Provocraft Yudu is a complete personal screen
printing system. This kit includes a screen printing machine, an adult t-shirt platen, an emulsion sheet, a blank inkjet transparency, 110 mesh screen, a squeegee, black ink, Platen adhesive sheet, Instructional DVD and quick start guide. This is a kit for hobbyists but can easily be used by professionals. Price: $199.00
Summary
Screen printing kits come in a variety of types. Some are for hobbyists; others are for small home businesses and some are for professionals. Depending on what your interests are, the range of kits presented runs from the inexpensive to the more sophisticated. Both the Nehoc and the Blicks are good printing kits that offer many features for designers. The others are for starters or hobbyists.
See Also: Making Brochures and Presentation Kits Using HP Creative Studio Templates. Other art ideas can be seen at Tapestry of Diversity : MultiCultural Pre K Art Ideas
Source
Blick's
https://www.dickblick.com/products/blicks-complete-phototextile-screen-printing-kit/
Jacquard Professional Screen Printing Kit
https://www.jacquardproducts.com/products/kits/jacquardscreenkit/
https://www.dharmatrading.com/html/eng/10170462-AA.shtml
NEHOC Screen Printing Kit
https://www.nehoc.com.au/index.html
Speedball Glo 'N' Dark Fabric Kit
https://www.dickblick.com/1/1/70048-speedball-glo-n-dark-fabric-kit.html
Yudu Home Screen Printing Kit
https://www.diyprintsupply.com/yudu-kits.aspx
Images:
All images are taken from the products' websites except the Yudu image, which is from Amazon.