Your Business Card: Printing Costs and Design Options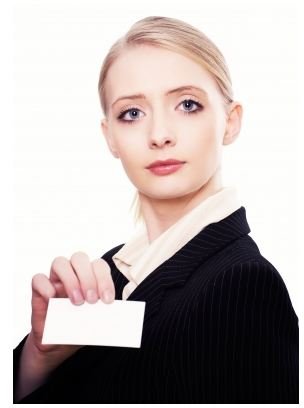 The Business Card: Your Personal Representative
You exchange business cards with business contacts, and you also hand your business card to casual acquaintances as a way of
networking. What does your card say about you? Its job is to tell people who you are, what you do, and how to reach you—all said with enough zest so that it will be remembered by those who need the service or product you provide. Business card printing costs can be kept pretty low, but remember that this little piece of cardstock represents your single best advertisement—a better value than a phone ad or a storefront sign.
Whether you buy business cards locally, buy them online or make them yourself, you have many options to decide:
Logo – Already designed or not? Photo or not?
Layout – landscape or portrait? One-sided or two-sided printing? Folded or not?
Paper – matte, glossy, or textured? White, ivory, or some other color?
Typeface – dependable or whimsical? Black or color printing?
Pick a Picture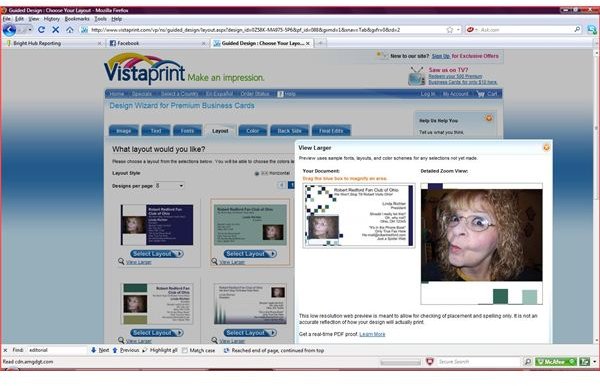 Before you decide anything else about your business cards, figure out whether you will use a logo or if you prefer a photo. The image, whatever it is, must jump out at people so they will remember it: "Oh, you need a wedding DJ? I have a card here from some guy…it's got a musical note on it…" The cost of printing your business cards will go up, of course, with more sophisticated graphics.
You don't have to spend a fortune on a logo. Go to a website that offers free clipart. You can even save an MS Word clipart as an image file and use it. Call upon an artistic friend to come up with a free logo—barter your product or service to pay for it. And you can always just upload a good photo of yourself or your product.
Landscape or Portrait?
What types of business cards can you choose from? Most people think of a business card as a horizontally presented card measuring 3.5 x 2 inches. Think outside the box for a minute: Does the idea of a vertically designed business card intrigue you? Vertical business cards really stand out, but you limit yourself with a narrower "canvas" for presenting your name or slogan. A business name like "Betsy's Boutique" fits well across the narrower width of the vertical card. But "Robert Redford Fan Club of Ohio" definitely requires a horizontal presentation. However, this is one choice that will not affect the cost of your cards.
How Much Printing?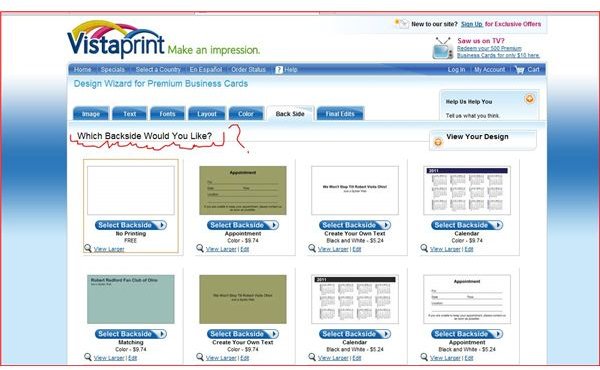 You can only fit so much print on a small card. Many professionals like to add copy onto the back of the business card. Examples include a salesman who wants to include a coupon; a realtor advertising an open house; a contractor offering a calendar that highlights off-season rates. Those are pretty good reasons to print on both sides.
Unfortunately, your business card printing costs will increase if you choose this option, whether you use a professional or do them yourself. The costs of your business cards will also rise if you choose a folding card that gives you four surfaces to provide information to your customers. Best advice is to keep the back of the card plain, so your prospective customer can jot notes. Keep it simple, like the old saying says. Put the extra information on your website.
Paper: Pounds or Points? And Other Ponderous Problems
Whether you buy or make your own business cards, the paper you choose sets the tone for the whole card. Your basic choices are glossy,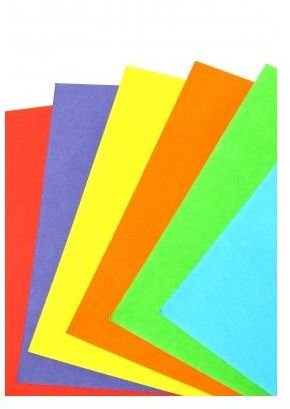 matte, or textured. You will hear paper identified as 14 or 16 pt (point) or 65 lb. What does it all mean? Here's a rundown:
Some paper is identified by its weight. When 500 sheets of paper (in their basic size) are weighed, the pound weight becomes its designated measure. Standard photocopy paper is 20 lb. Heavier paper used for brochures is somewhere around 24 or 30 lb. Good business card paper is 65 lb., and you can go much higher. If a company fails to list its paper's weight somewhere on the packaging, you can bet it's a little below standard.
The actual thickness of a piece of paper, regardless of its weight, is measured as points or pts. Most often it reflects that a paper is lightly coated, which might affect its thickness but not necessarily its weight. Paper can be coated with high gloss finishes that enhance photos or matte finishes that serve as an even canvas for the ink.
Most people just starting out opt for a 65-lb. cardstock. You can also select a linen or cotton paper. Linen cards have a fine texture to them; cotton paper offers a feel of smooth elegance. Both of them add a little bit extra to the costs of printing your business cards.
Do you want white or ivory cards? Most DIY business cards come in one of those two colors. If you want some other color, you have to go to the Internet or to a professional shop or use your software to color the entire card background.
Printers caution against the use of lined borders. When cards are printed and separated or cut apart, if the lines are even a tiny bit off center they will look crooked—and amateurish.
If you order cards from an Internet vendor, you can choose the option of extending the color background of your card all the way to the edges of the card. The cheaper alternative is allowing a one-eighth inch of white space around the perimeter of your card. Color to the edge boosts your business card printing costs with some print shops. If you opt for a white background, this isn't even an issue.
Rounded corners is another option that you can't find on DIY cards, and it also adds a few bucks to your order.
DIY cards always come in a sheet of eight or ten cards, and they always have to be separated after they are printed. Look for a package that says they're "micro-perforated" or offer some other type of easy perf-free separation. Otherwise, your cards will show the rough bumps of perforations along their edges, the dead giveaway of an amateur.
The Typeface Will Tell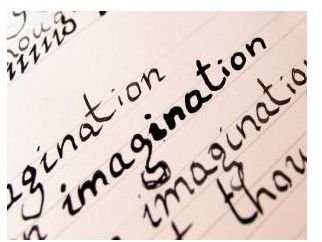 The style of printing your choose sets the mood for your card. MS Word 2010 offers a seemingly endless choice of fonts, one of the best reasons to do your cards yourself. If you have your work done in a neighborhood print shop, you have that same freedom of choice because the printer is working from your sample. Some Internet vendors limit the amount of choice you have.
Should your typeface be in color? I recommend against it unless your business is something like ladies lingerie, candles and aromatherapy, or some other capricious line of work. Otherwise, stick to basic black, or possibly a mid-to-dark brown. Generally, the color of your ink won't affect the cost of your business cards.
Ultimately, What Are Your Business Card Printing Costs?
Consider these pricing options, with the neighborhood printer estimates based on vendors operating in a medium-sized city in Ohio: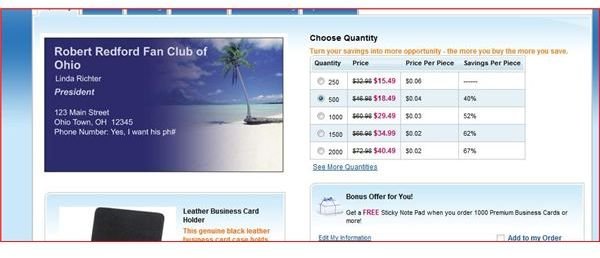 1. Professional print shop: 10-pt business cards, black print on white one-sided cards, quantity of 500, for $39.99. Original artwork costs $40 extra.
2. Neighborhood office store with printing kiosk:
80 lb. glossy cardstock, black type on white cards, 500 cards, $49.99
100 lb. matte cardstock, black type on white cards, 500 cards, $49.99
For ten dollars less, you get half the quantity; ten bucks more doubles it.
If they format the card, it costs an extra $24.95 for the first order, but they will save it for you on a disk.
3. Internet Vendors
Who hasn't heard of Vistaprint? I created a couple business cards from their website–those are the screenshots you see. For a card with a tropical island background, with no photo or rounded corners, 500 cards in 100-lb. matte cardstock cost around $20.
Overnight Prints will create 500 full-color cards on 15-pt stock for under $30.
The Business Card Shoppe has a window that lets you play with paper and feature options—the link is provided below. I priced 500 14-pt color foil business cards at $129. You pay $65 extra for using their design services.
4. Print Your Own Business Cards
Avery cardstock (weight unidentified), 250 cards for $10 – for 500 cards that's roughly $20.
Southworth cardstock, white linen, 250 cards, 65 lb., 250 cards for $13, or ivory linen for $15; double that for 500 cards for $26to $30.
To one of the above choices, add in the cost of your printer ink; and be certain, by the way, to set your printer for best quality.
It's Your Card…Let It Talk!
Remember that your card reflects your personality. At the same time, it's that all-important first impression that we all worry about. Dollar-for-dollar, compared to other printed forms of marketing, no matter what your business card printing costs you, in the end it will be your best business buy. Decide what option is best for you and go for it.
References and Resources
Internet vendors:
Vistaprint, at https://www.vistaprint.com/business-cards.aspx
Overnight Prints, at https://www.overnightprints.com/businesscards
The Business Card Shoppe, at https://www.thebusinesscardshoppe.com/wp/products-page/business-cards/14pt-uv-full-color-foil-business-cards/
Explanations of paper types and weights:
Southworth Papers, at https://www.southworth.com/page.php?id=20
Thanks to Fedex Kinko's, located in Niles, Ohio, for paper type explanation
Printing Industry Exchange, LLC. Paper Weight and Size – When is 80# Not 80#? Retrieved at https://www.printindustry.com/Newsletters/Newsletter-40.aspx
Images:
Screenshots by the author, from Vistaprint's website
FreeDigitalPhotos, Michal Marcol