Newspaper Layout Templates: Excellent Sources to Help You Design Your Own Newspaper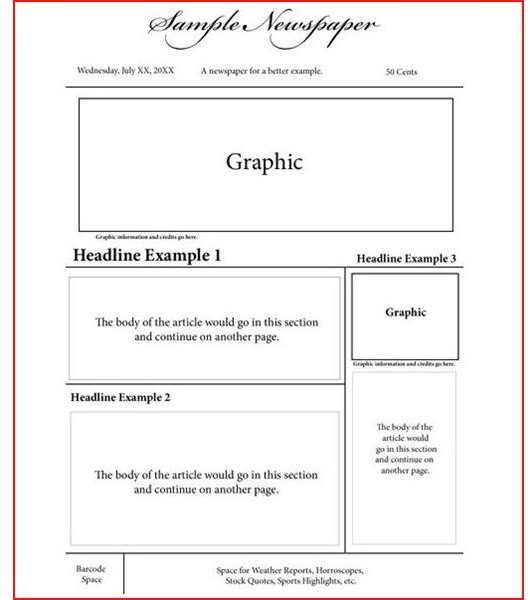 Newspaper layout templates will come in real handy to fledgling editors and reporters who need help with the basic layout of the paper they want to produce. Whether it's for a school or a community, the budget is likely rather low for new producers of this age old form of media, so these free templates can help in getting you started. You can make use of one these templates by customizing it as it is, or just use it as a kind of example to build your own around.
Newspaper Design Tips
Before you get started on this DTP project, you should see some samples and get advice on how to actually set your newspaper up, especially the front page. We have an article instructing you how to do so: Layout Options for a Newspaper Front Page. There, you'll find advice on organizing and designing a layout that will grab your reader's attention. The author provides helpful examples he created, such as the one pictured here (for demonstration purposes only), to show several common newspaper arrangements.
Image courtesy of Michael Guerrero
Presentation Magazine – Newspaper Layout Templates for PowerPoint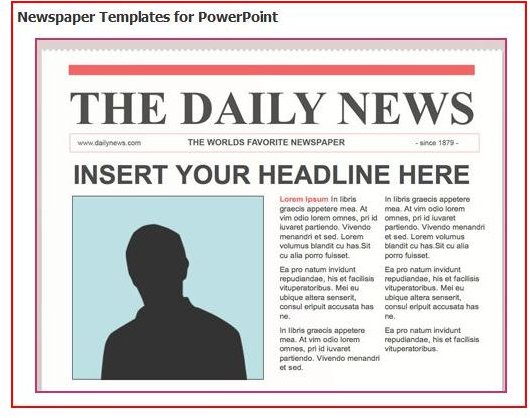 Microsoft PowerPoint is a great program to use for laying out a newspaper especially with the free editable templates graciously provided here at presentationmagazine.com. With these templates you can create whatever headlines and articles you wish just by printing over the text in the allotted sections. The same goes for your newspaper's title. They also make it easy for you to upload your own photos.
This would be a good template for a very simple, short, and sweet newspaper to create for a college, school, or as a brief synopsis of community news and events. This would do nicely for a school project too, plus you can also download it and customize it with Microsoft Word if you prefer. By the way, if you need flyers for inserts or any other reason you might want to see how to do it by reading how to create free flyers in a flash with Microsoft PowerPoint.
Image courtesy of presentationmagazine.com
Free Newspaper Template to Work With In Photoshop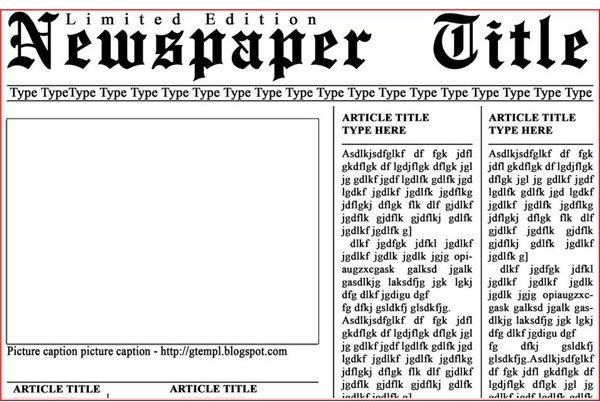 Here are some more worthy and sharp-looking templates that come complete with the first page layout and templates for however many additional pages you want to create. Just type over the text, upload photos and you're good to go. Save all that time, energy, and money you'd invest in building one from scratch. See all the available options at gtemplates.wordpress.com.
Image courtesy of gtemplates.wordpress.com
Newspaper Layout Template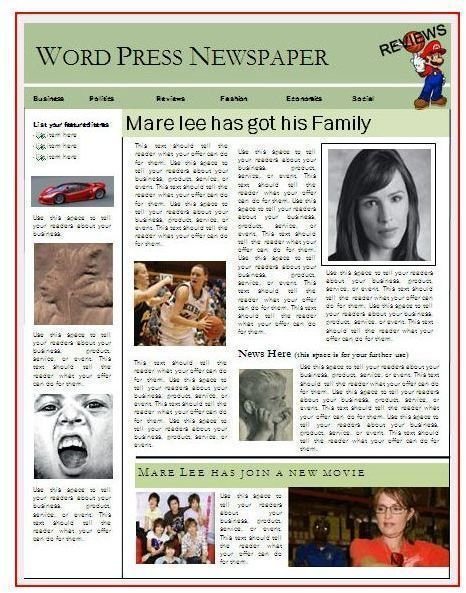 Here's a nice color option that you can download to work with in the application of your choosing. It may have more of a modern look to it than the traditional form of this media which might appeal to you. Uploading pictures, typing over the text, and even tweaking the various sections to fit your content in appropriately are all part and parcel with this template. Check it out at free-business-templates.org.
Image courtesy of free-business-templates.org
Newspaper Press Release Templates and Kits
Once you get your newspaper designed and set up, you may want to start to think about encouraging local businesses and organizations to submit press releases announcing significant events and news. It's a good way for them to get free advertising and it will also be advantageous to you should your readers find out information in these press releases that can benefit them. We've got a series dedicated to explaining what these kits are all about and include templates which you can access here at Free Press Release Templates. Be sure and check out all three articles in the series, including the one about how one should be written so you can relay that information to anyone who wants to submit one. Good luck with your newspaper and drop us a line in the comment box if you've located any additional templates, other than the ones we provided, that proved to be useful to you.