10 Free Printable Awards Certificates for Children to Reward Their Efforts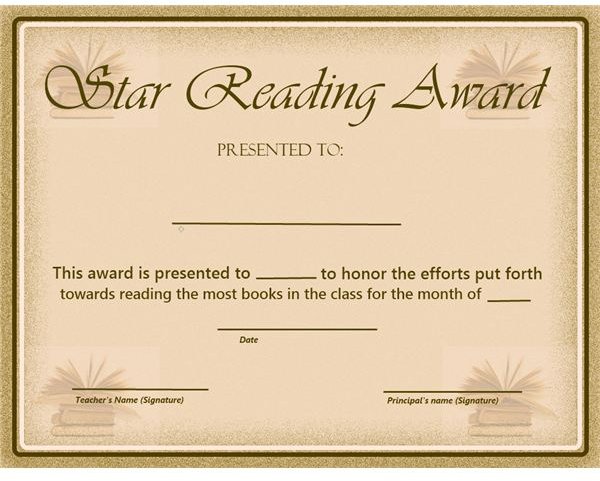 Why Create Printable Awards Certificates for Children?
What better way to reward a child for a job well done than to create an award certificate honoring his or her efforts? These free printable awards certificates for children are available to you to download and use as they are, customize, or even use as inspiration. Studies have shown that by recognizing excellence where it exists, we can encourage children to continue to perform well in all their endeavors. Issuing awards for different achievements can help boost self-confidence and help to raise a child's self esteem. It is in this light that I created the following ten free printable awards certificates for children.
Star Reading Award
The Star Reading Award features books in each corner, and is done with an antique motif in mind. For the background, I used the "noise" effect feature in Paint.NET in order to create the mottled background appearance. I also created a border then softened it using the Gaussian Blur.
This certificate was inspired by the idea of hosting a monthly reading contest meant to inspire and encourage students to read more books. You could create a similar award for a student who practiced his or her instrument consistently over the course of a month. Rather than using books in the four corners, you could use a violin, piano, saxophone, or any other instrument of your choosing.
Chore Helper Award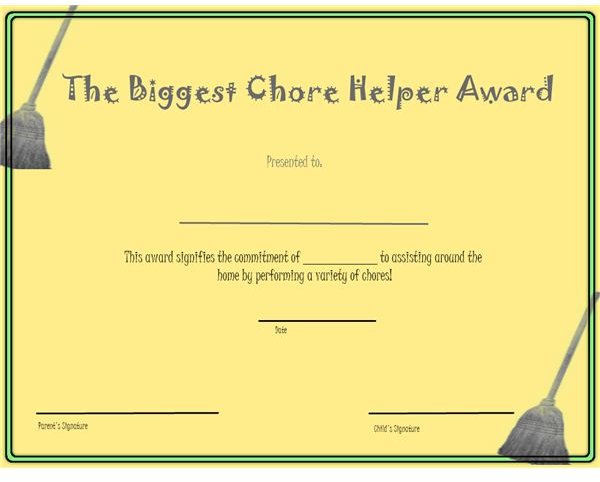 The Chore Helper Award helps to encourage a young child to help with chores when they can and without being asked. Children who perform chores learn to have responsibility and learn to act as part of a family unit. There is room on the award for the recipient's name, the date the award was earned, and signatures. You could use the award for completion of all chores over a month, or on a special occasion where a child was helpful without being asked.
I used a cheerful yellow backdrop for this award and a fun-funky font. The brooms were cut out of an image using the lasso tool and then pasted in the corners. If you would like to customize the certificate, you could use an image of a stack of folded laundry, a laundry basket, or a pile of dishes instead.
Ballet Practice Award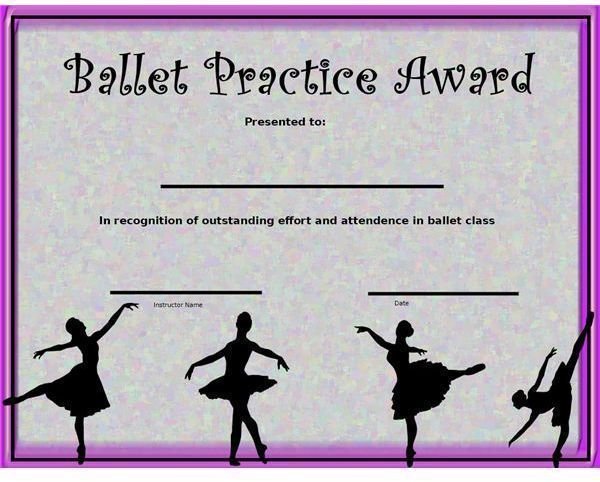 The Ballet Practice Award can be given out to the young ballerina who needs to practice for an upcoming recital. It's good to encourage children to keep up with their interests and hobbies, especially with digital media competing for their attention.
In making this certificate, I first created a lavender background. I added the noise effect to the background using Paint.NET. Then, I used the "oil paint" effect to create the speckled background you see here. The silhouettes are on a new layer. To create the effect that makes it appear that they are dancing on the certificate, I used the "Multiply" feature. I then deleted any artifacts from the insertion using the lasso tool.
If you wanted to further customize this certificate, you could add curtains to the side to make it look even more like the ballerinas were dancing on stage. If you wanted to use a neutral border, and different silhouettes, you could create a play rehearsal award for your budding thespian.
Outstanding Teamwork Award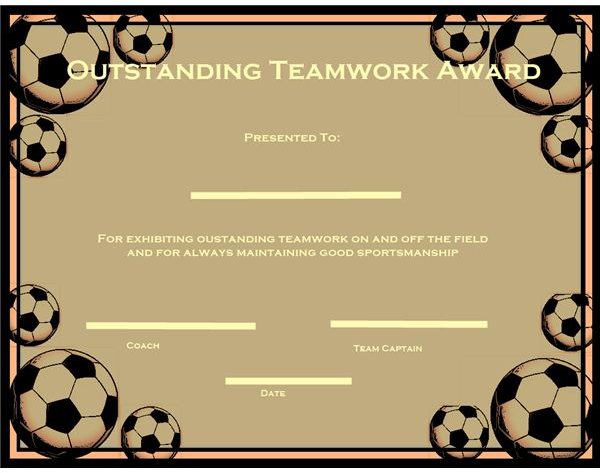 This Outstanding Teamwork Award recognizes a team member's solid efforts towards cooperating and playing with other team members with good sportsmanship. With children's sports becoming a high-pressure environment for many kids, it is important to remember that good sportsmanship should be encouraged at every opportunity.
This certificate was created using a cutout of a soccer ball that was resized and placed in the corners. I used different layers to create the color shading effects on the border and in the balls. If you wanted to create a similar certificate, you could use footballs, baseballs, basketballs or any other sports symbol in different sizes on the corners.
Find more free printable awards & certificates for children on page 2.
Teacher's Helper Award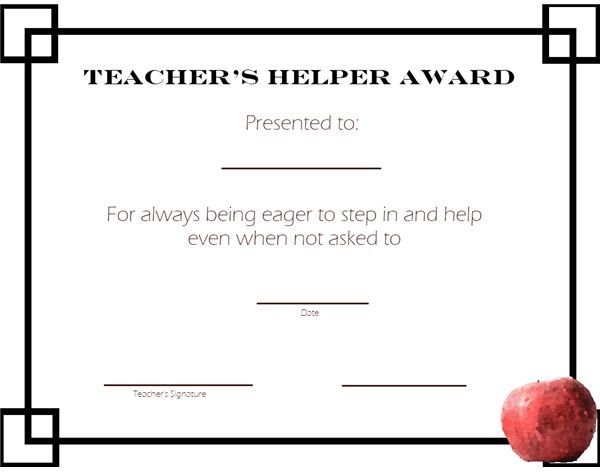 The Teacher's Helper Award is a printable awards certificate for children that can be given to a student who displays an earnest effort to assist the teacher with various activities. Students who enjoy assisting teachers with different tasks can continue to learn responsibility and pride in their work.
For this certificate, first I created four 1" squares in each corner. I then created a large rectangle, 1/2" in from the sides to frame the award. The apple was pasted into a new doccument, cut out with the lasso tool, and then pasted in the corner. I then used the "oil paint" effect with a small brush and course strokes to create the effect you see. You can always customize this certificate using a stack fo books, a pencil and eraser, or a chalkboard in the corner instead.
Big Sister Award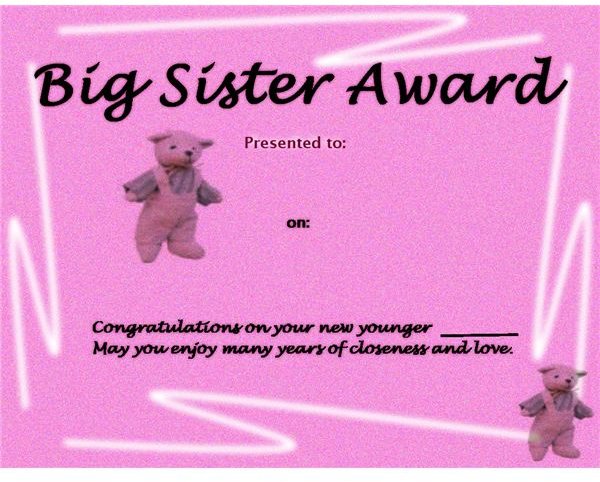 Use this Big Sister Award to honor the special girl in your life who just gained a new younger sibling. By acknowledging the older sister, as well as the new baby, you are likely to help stave off some of the problems caused by sibling rivalries.
This certificte was created to appear to have a spray-paint border. To create that effect, I used the line tool and bent it in the middle twice. Next, I used Gaussian blur to make it appear to be airbrushed. Rather than have a large radius, as I've done on other projects, I used a small radius. I then used the pen and ink effect on the text to create the appearance of an outline. You can change out the teddy bear to another childhood toy if you wish to further customize this certificate.
Big Brother Award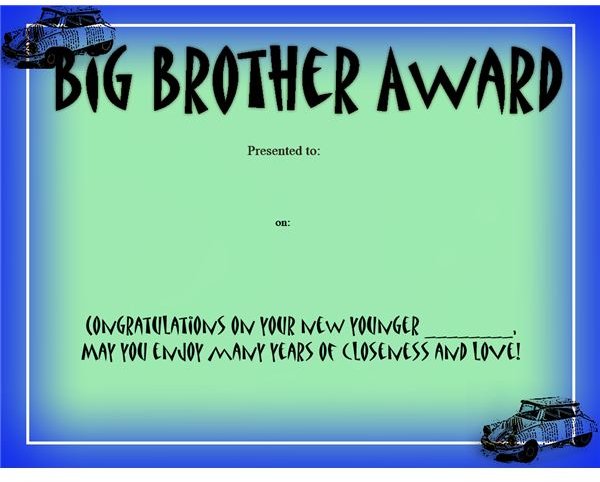 This Big Brother Award, like the big sister award, is a great printable awards certificate for children. If you wish to customize the wording on the certificate, you can use it as a way to acknowledge an older child's assistance given to the younger sibbling.
The cars in the corner were pasted into the certificate. Once they were added in, I used the pen and ink tool to create an outline of the car. Because doing this left some artifacts from the original car file, I went in with the lasso tool to clean it up. Thus, it appears as though the cars are floating in front of the border.
Please continue reading to page 3 for even more great free printable awards & certificates for children!
Math Whiz Kid Award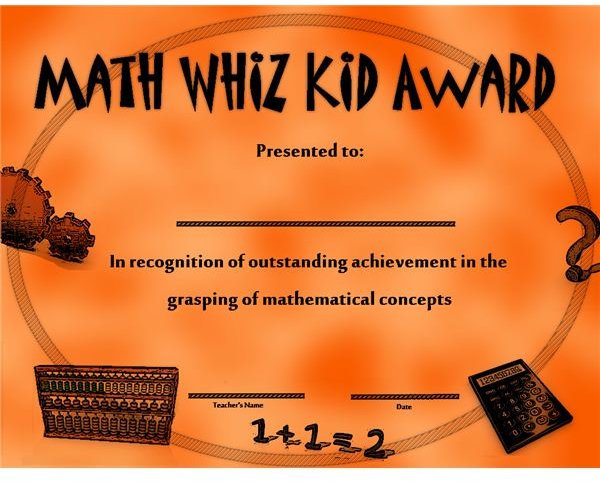 This Math Whiz Kid Award is presented with the knowledge that for many, mathematics is a difficult subject. Children are dealing with learning abstract concepts using concrete objects. While you can present this printable awards certificate for children to an outstanding achiever, you should also consider the possibliltiy of presenting it to a child who struggles with math, but who tries hard anyway.
You'll notice the speckled background. To create this background, first I used the paint bucket in red. Next, I scribbled on the background using a thick yellow brush size with orange diagonal stripes, leaving lots of negative space. Finally, I used the "frosted glass" effect to create the smudged background.
Clean Room Award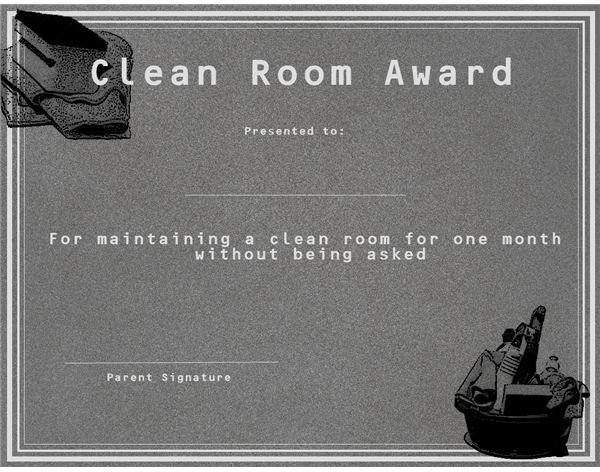 Do you have a child who hates cleaning his or her room? If so, then the Clean Room Award can be a great motivational tool. Feel free to add an incintive to this printable awards certificate for children (ice cream anyone?). It's important to recognize when children are doing what you want them to do, and encourage them to continue the behavior.
For the images, I first pasted each into a separate document, and selected "appearance" black and white. I then pasted the image into the document. Next, I selected "pen and ink" and maximized the ink weight and minimized the color fil just to where there was still a bit of shading, but mostly the image would appear as a line-drawing. Finally, for the layer options, I chose "multiply" with full opacity.
Birthday Award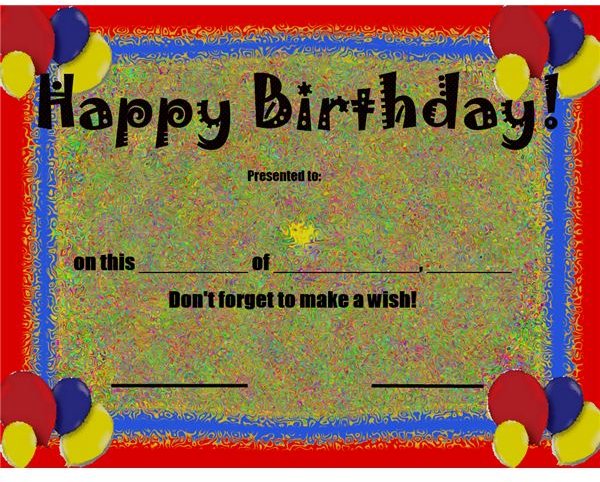 Finally, you can use the Birthday Award to honor a special child on his or her birthday. Why not use this printable awards certificate for children for the students in your kindergarten class? Some teachers like to have a treasure box of goodies that children can draw from when they do great work, or for their birthdays.
This certificate was a lot of fun to create. I started with a yellow background, and then I added a blue, yellow, and red border. Next, I selected only the center portion and added the "noise effect" to the yellow. Once I did that, I selected "distort" in Paint.NET and Chose "Crystallize." I then re-selected the entire sheet, and used "distort - bulge" followed by "distort - dents" to create the swirl pattern you see on this document.
You could make a very nice black and white certificate with this method. If you use this method to create swirls in the background, be sure that you either use light gray colors to swirl together with black text, or you use darker gray colors together with white text so that the print is readable.
The sky's the limit when it comes to creating meaningful printable awards certificates for children. Feel free to download and print any of the certificates you have enjoyed seeing in this article for your personal, non-commercial use.
Resources:
"Star Reading Award" books courtesy of sxc.hu/gallery/nkcs
"Chore Helper Award" broom courtesy of sxc.hu/gallery/mzacha.
"Ballet Practice Award" ballerina silhouettes courtesy of sxc.hu/gallery/katagaci
"Outstanding Teamwork Award" soccer ball courtesy of sxc.hu/gallery/fangol
"Teacher's Helper Award" apple courtesy of sxc.hu/gallery/StefanG81
"Big Sister Award" teddy bear courtesy of sxc.hu/gallery/nornir
"Big Brother Award" car courtesy of sxc.hu/gallery/vormin
"Math Whiz Award" mathematical objects courtesy of sxc.hu/gallery/cobrasoft
"Clean Room Award" cleaning supplies courtesy of sxc.hu/gallery/lusi
"BIrthday Award" balloons courtesy of sxc.hu/gallery/cieleke
Paint.NET available for download at https://www.getpaint.net/