Free Pirate Clipart: Top 10 Resources for Great Graphics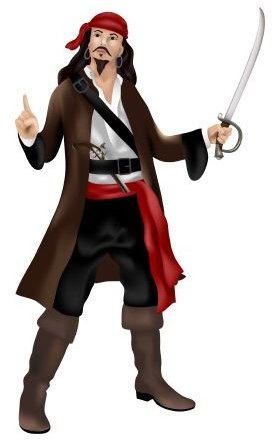 Pirates have a universal appeal, so the top resources for pirate clip art offered here show that, too. The first page contains a diverse mix of pirate images to please everyone, whereas page two focuses more on pirate pics that are suitable for kids, but that will please any pirate fan.
If you are a fan of Pirates of the Caribbean, then dailyclipart.net has many wonderful free pirate clipart images for you. Although a few of the images are a little cartoony looking, most of them have a great depth and detailing to them, and there's a great range of clipart images too. As well as a full length Captain Jack Sparrow-inspired image, there are also some great Jolly Rodger flags, weapons, and a great image of a parrot on a pirates hat that looks pretty realistic. You can download large images from this website free of charge, or pay a small fee to have them in a higher resolution in multiple formats.
Pirate Clipart With Slogans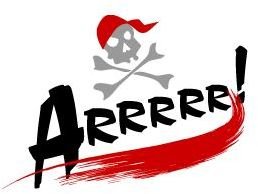 While there isn't a great range of pirate clipart images on the parenting leehansen website, the images that they have are really different. OK, so of course there's still the odd Jolly Rodger floating about, but you'll also find some more abstract skull and crossbones designs, with slogans over the top like "Dead Men Tell No Tales." Definitely worth a look, for the next Talk Like a Pirate Day.
Fun Pirate Illustrations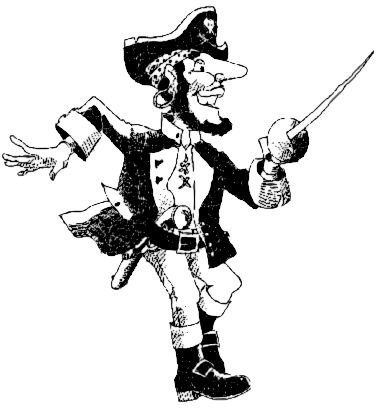 If you want a detailed illustration of a pirate, but the ones above are a little staid and predictable, then check out the small collection of more fun pirate clipart illustrations from cksinfo. OK, I say small because there are only about 4 of them, but I couldn't leave them out of the top ten list because they are just so good - quality over quantity…and they are free too.
A Diverse Range of Piratey Images
Photobucket is a site where anyone can upload their images to be seen and used by anyone else, so as you can imagine, this means their pirate page of clipart is quite diverse. There is everything from cartoon ships, to pirate posters - even some moving gif images of pirate smileys. As it's an open site, images are getting added all the time so it's worth taking a look every now and then to see what new pirate images are available for free download.
Basic Cartoon Pirate Clip Art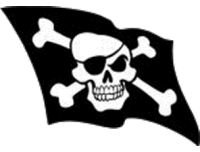 The pirate page of free clip art pictures.net won't win any awards for creativity, but depending on the project, they could have just the free pirate image you are after. The free pirate clipart offered here are basic images, that would be suitable to print in either color or black & white. The pirate images are clear, and about half of them are quite fun and cartoony - especially good for pirate party invitations.
Alternatives to the Jolly Rodger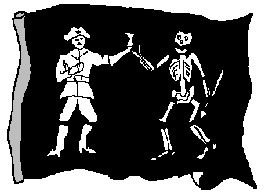 The site Lucy Learns offers free pirate clipart for kids. If you want an alternative to the usual skull and crossbones flag, then this is the place to go. The gif format designs all use the flag as a base, with alternative images over the top. Did you know that not all pirate ships flew a skull and crossbones flag? In fact not even all of them were black & white, and many had their own designs. Let your kids show off this knowledge at school by incorporating one of these alternative pirate flags into their homework.
Historical Pirate Illustrations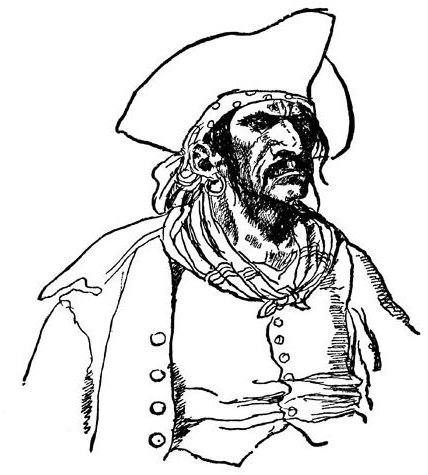 If you're after less of a cartoon look to your project, and more of an old fashioned illustration of pirates from days gone by, then the Karenswhimsy website is perfect. There aren't a huge range of images, but those she has made freely available from old books in the public domain are really worth a look. Would make an especially good addition to a history project, or add one of our free pirate fonts and create a pirate "wanted" poster for the classroom.
One for the Kids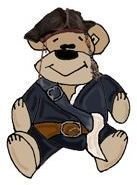 As the name suggests, kidsturncentral is a site that offers resources to keep kids amused. Their selection is pretty good, and actually offers some really alternative pirate clip art ideas that might appeal to a wider audience. As well as the traditional flags, treasure maps, parrots, and ships, there are some offbeat cartoon designs of pirate bears and mousses too. There are even pirate parrots and skeletons. All their images are free to use for any uncommercial venture.
Baby Pirates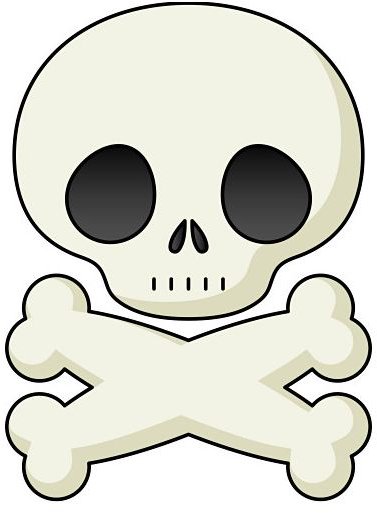 Yes, even babies like pirates apparently. Among the many cutesy images of pirate babies, and pink skull and crossbone designs, you will find many other pirate related images too. Downloads from fundraw.com are free and are offered at either 'medium' or 'super' resolutions. If you want a dog and cat dressed up as pirates then this is the place to go.
Photographic Pirate Clip Art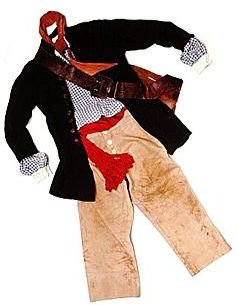 Dorling Kindersley is a UK publisher that primarily publishes books for learning. They have dedicated a huge part of their site to the learning of children, by offering images from many of their books that kids can put in their school projects - all for free. So if you have a school homework project and you need a page of pirate weapon pictures, or a female pirate's costume (pictured), you couldn't ask for a better resource.
Why not use one of our top pirate name generators to make your kids homework even more unique?
All of the free pirate clipart for kids and adults in this article are available free of charge for personal use, and many of the websites don't mind you using it on your own website either, as long as you offer a reciprocal link - check with each individual website for details.