Top 5 Business Card Scanning Software Applications: Scan Business Cards Directly to Contacts & Outlook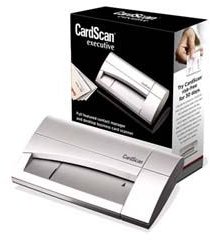 CardScan Executive
CardScan Executive allows you to drag and drop from email signatures, web pages and more. Anytime you need to scan contacts from a digital source, just type in a few letters and the software will find the information you need.
Group your contacts and sync them to perform a task. You can also sync them to Outlook or whatever software or mobile device that you choose. Scan your business cards in color or monochrome. The scan speed is faster in monochrome, but you can scan up to 15 cards per minute in color.
CardScan Executive is compatible with PC and costs $259.99. A Mac version is also available.
Source: CardScan
Scan2Contacts

Scan2Contacts will scan business cards into a new contact record in Outlook without having to use third party software. It supports Outlook versions 2000-2007 32bit/64bit and 2010 32bit. Scan2Contacts is Windows compatible and costs $199.
The company that makes this product also sells systems that allow you to scan to a file, to a database, into Web applications, to ACT!, to SalesForce and CRM. However, each are sold separately.
Source: Card-Reader.com
Presto! BizCard 6

Presto! BizCard 6 extracts the contact information from your scanned business cards and enters it into easy-to-edit fields. That way, you can edit any piece of information before it gets added to the database. Once the cards are scanned, you can synchronize their contact information in a variety of contact databases, such as Outlook, ACT! Notes, Windows Mail, Pocket PC and Palm.
Scan directly to Outlook with the Scan to Outlook feature, thanks to the button that is installed beneath the Outlook toolbar. Once you finish scanning, you can browse through your cards. The browse feature will let you view the front and back of the scanned card. BizCard 6 also has a versatile printing feature that will allow you to print nametags, address labels and more. This software is compatible with Windows and costs $79.95.
Source: Ambir.com
Cardiris Pro 5

Cardiris Pro 5 offers a good variety of features. It automatically retypes the contact information that is on your business cards so that you won't have to. You can sync your contacts with the most popular contact managers, such as Outlook or your iPod. Export your database to Excel for emails or mail merges.
New features include the ability to drag and drop to create a new contact from any application, adjust your images and to create searchable fields and categories. Cardiris Pro 5 is compatible with Windows and costs $99.
Source: Irislink.com
WorldCard Mobile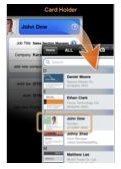 WorldCard Mobile is an app for the iPhone that allows for easy scanning of business cards with a simple click of the camera. Capture email signatures. Automatically sort your contact data. Merge new data into your existing contacts. You can also differentiate business cards from saved images. This app is compatible with the iPhone, iTouch and iPad, with iOS 3.1 or later. It costs. $5.99.
Source: MacWorld