Backgrounds: Scary Backgrounds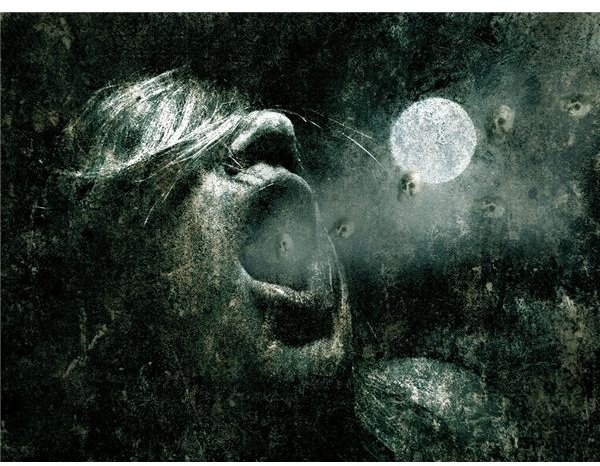 Scary Backgrounds in Desktop Publishing
Horror can be some of the most amazing inspiration for lots of darker designs which are popular amongst a lot of people. That being said I don't believe that blood and gore are incredibly tasteful in regards to design (in most cases). Feel free to use these background in projects that pertain to urban legends, folklore, scary stories, as scary Halloween backgrounds, or just for personal enjoyment as wallpapers.
As a fair warning, if fake blood happens to offend, I deeply apologize and recommend that you skip the fifth and final background of this article. Beyond that this article features a lot of what I consider to be popularly accepted scary which is darkness and psychological pieces that create paranoia and what-if scenarios if the mind is allowed to drift. The only images in this article that feature death are the metaphorical representations of death itself.
(Click images for a larger preview or visit the source for a higher resolution of each image.)
Le Souffle de la Mort by rosabella (via digital-eloquence)
The atmosphere that this background creates is incredible, it is grungy, dark, and subdued. It's also very classy because it holds up as a piece of artwork on its own. The various elements that are used work together to create several different moods and dramatic effects depending on how you choose to interpret the background. This background is likely to be best used in the form of a desktop background for whatever device you may choose or as a background for a signature, personal website background, or perhaps as a Twitter background.
Source: https://digital-eloquence.deviantart.com/art/Le-souffle-de-la-mort-33684730
Whispers WP by simplicitance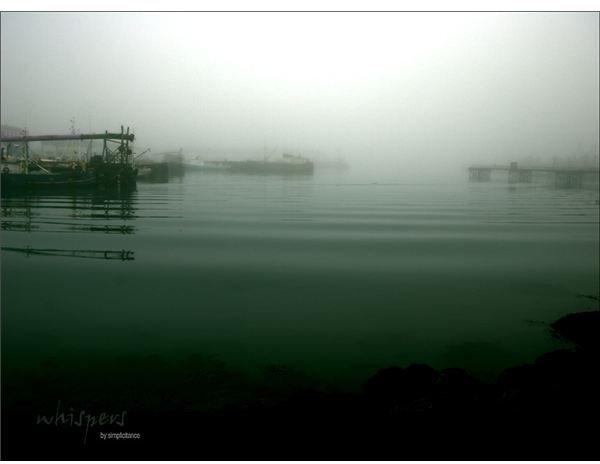 Whispers is a eerily composed photograph of a foggy bay with older ships lining either ends of the picture. The fog creates a spooky atmosphere that allows our minds to wonder what could be below the surface of the water or what spirits could be patrolling the derelict ships. This scary background is subtle in its use of horror elements which actually makes it applicable to non-scary projects as well as just a haunting and even sad background. Recommendations for where to apply this background would be a card of some variety or as a desktop background. It will also do well as a forum signature or banner's background if it's cropped correctly.
Source: https://fav.me/d9629i
Mysterious Forest II by five-G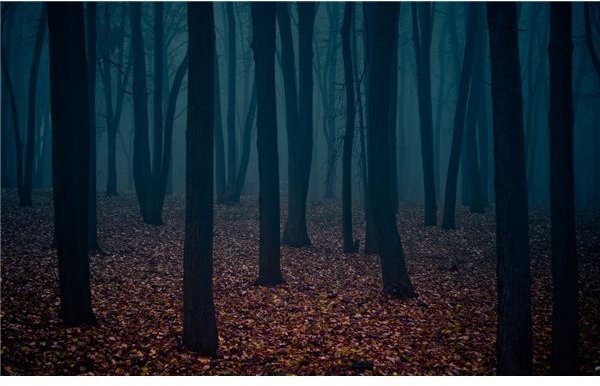 Here is another example of a brilliant atmospheric and creepy background. The open forest that is engulfed in fog can leave you feeling extremely claustrophobic and lost which in turn leads to paranoia as to what could be watching and waiting for you beyond the curtain of fog or up in the high tree branches just out of view. This background has great Fall colors which makes for a perfect scary Halloween background or any projects with a wide screen resolution in order to give the full image proper justice.
Source: https://fav.me/d2cekp5
Demon of the Fall by MistaBobby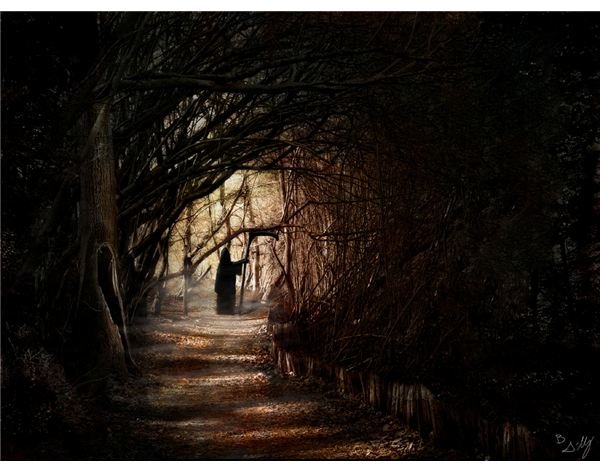 I can think of no scarier thought than that of death and the Grim Reaper is the classic personification of death. To think that a man dark visage looming over us when we are close to the end is a scary idea which has been poeticized throughout the ages. This happens to be an exceptionally beautiful background that mimics traditional paint styles to create and interesting and dark scene the prominently features Death. Since it has a traditional and somewhat vintage feel to it you might find use for it as a background in say, a scrapbook that honors those who have passed on or perhaps to honor a family tradition of scary folklore and stories.
Source: https://fav.me/d8s4dz
Shower by maariusz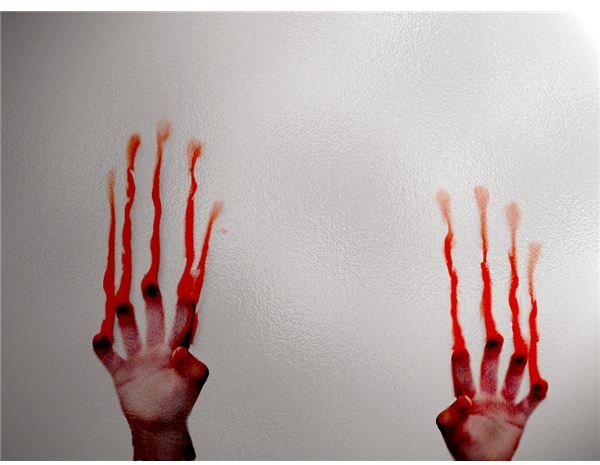 This is the only scary background that uses "blood" in this article. I selected this one because maariusz creates a wonderful re-telling of the classic "Psycho" and the infamous shower scene. It's desperate and full of drama that makes you wonder what the fate of the victim was. Regardless, of where it draws its inspirations from it's still a bit freaky to see two bloodied hands across the screen of your monitor. To get the full effect out of this scary background I would recommend keeping it as a resolution where the hands are as close to full-sized as possible but if you just happen to like it, you may want to try converting it into a twisted card or cellphone background.
Source: https://fav.me/dr4q74
Credits
All images are used for promotional purposes only and sources are listed within each section of the article. Thank you artists for your contributions.