8 Free Valentine's Day Graphics for Kids Cards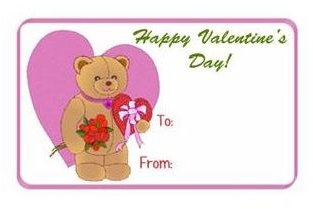 Graphics for Creating Your Own Valentines
The graphics in this guide will work great for different styles of Valentine's Day cards, whether for boys or for girls. To see the full size graphic and save it to your computer, please use the resource box found at the bottom of this guide. A simple example of a card made with one of these images is shown to the right.
Bear with Flowers and Heart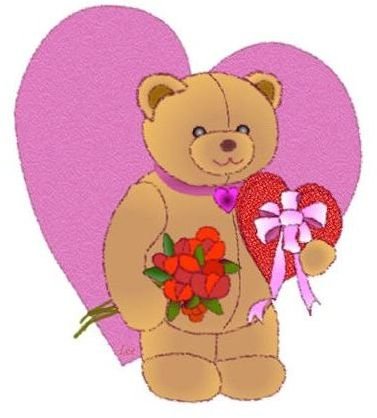 The first item in this list of Valentine's Day graphics for kids' cards is a bear with flowers in one paw and a heart in the other. To top this Valentine's Day graphic off is a purple heart background. The heart background seems to really make the bear stand out. You can use this graphic with any age group—who doesn't love teddy bears?
When creating your card, you may want to consider using purple, red, or green in the graphic for your text. That will help the text complement the image nicely.
Brown Bear with Hearts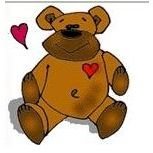 The next Valentine graphic in this list is another bear graphic. You can't go wrong with a bear image for Valentine's because they are so cute. This bear is different from the one above because it is in a sitting position. On the bear is a red/pink heart and beside the bear is another heart.
This image can be saved to your computer and opened in the program you are using to create the Valentine's Day cards. If you are using a graphic editor like Fireworks, Photoshop, or Illustrator, you could actually write the text on the bear's belly or paws to give your card a unique look.
Happy Valentine's Day Balloon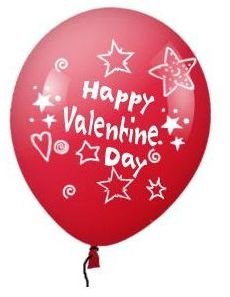 The next image in this list is a balloon. On the balloon graphic is the phrase "Happy Valentine Day." Balloons are another great choice to use for Valentine's Day cards, whether the card is for just an acquaintance or a close friend.
This particular balloon can be used as the card alone if you want. Since it already has a message on it, you really don't have to do anything to it. Simply print it out and the child can write on the back who it is to and from.
Kitty with Hearts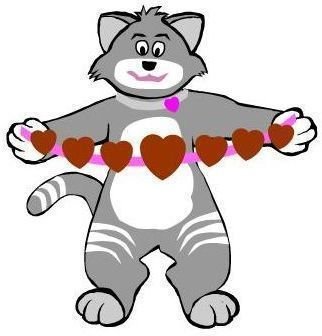 This kitty holding a banner of hearts graphic is really cute and would work for any age group. You could create a rectangle border in your graphic editors and insert the image. Then you could write your message, who it is to, and who it is from inside the border. Another idea is to use the color of the kitty as your border color and the pink string as the text color, or vice versa.
Rainbow with Hearts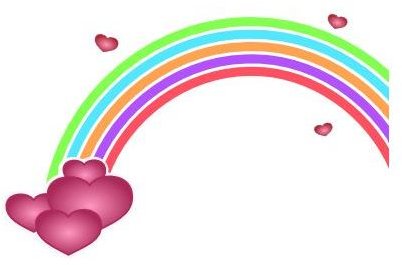 Next on the list is a rainbow with hearts at the bottom. There are also a few hearts around the rainbow. If you are creating different cards for the boys and girls, this one would probably be a big hit with the girls. You could open this graphic in you editing software and write your text in the arch of the rainbow.
Bunny with Heart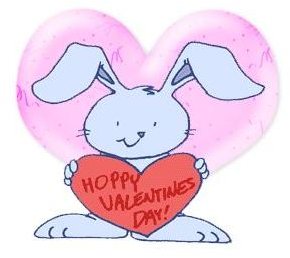 When you think of Valentine's Day, bunnies may not pop to mind as quick, but they do make cute graphics for cards. This little blue bunny is standing in front of a pink heart and holding a slightly darker heart. In the heart that the bunny is holding is a cute message that says "Hoppy Valentine's Day." Yes, kids love their puns.
I think this graphic would work great for both boys and girls. You can create a border type graphic and insert the card, or you can write the text on the graphic.
Heart with Banner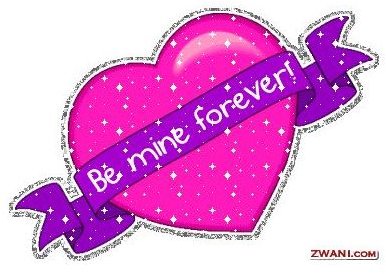 The glitter heart graphic would probably work best for a girl's greeting card. I'm not sure the boys would like all that shiny glitter, but you never know! You could simply use this graphic as your child's Valentine's Day card, or you could create a card with a border, or whatever you want to use and then insert this cute graphic.
If you decide to use a border of some sort to outline the card, it would probably look really nice if you use the color of the heart or banner as your border color. If you are typing the To: and From: on the card, you could use another color in the graphic for the text.
Bear Holding Flowers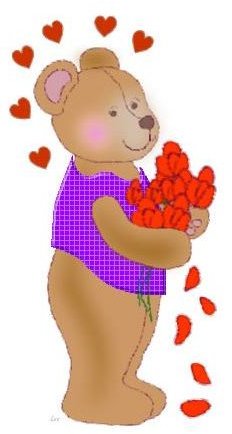 Here is another bear graphic. I still say, you can't go wrong with bears! I think this bear would work just fine for boys and girls. This Valentine's Day graphic would probably work best with a border of some sort. You may want to use a heart border, or a regular line border for this card. If you are using Photoshop to create the cards, you might want to consider using Photoshop brushes to create the borders.