Learn How to Print Envelopes Using Open Office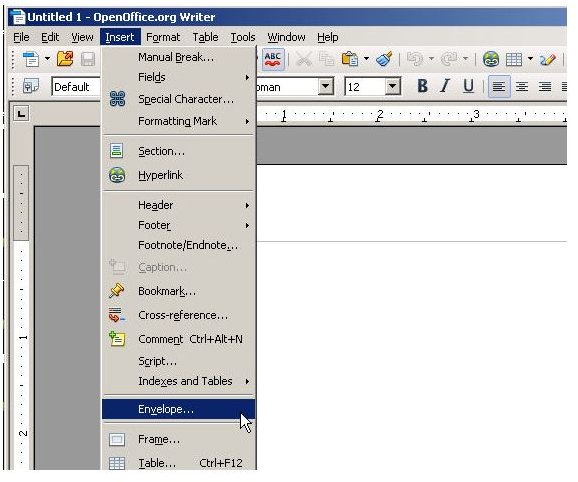 About OpenOffice
OpenOffice is a free office software program that aims to empower computer users with powerful office applications that are compatible with the ubiquitous Microsoft Office application suite. Unlike Microsoft Office, however, OpenOffice will run on operating systems other than Windows, bringing cross platform compatibility to offices and homes that use more than just Windows.
Although one of the primary attractions of OpenOffice is that the program can edit files independently of a computer's operating system, the suite is available for free. Currently distributed by software giant Oracle, OpenOffice is an open source application, meaning that many developers have a hand in producing the product and that the product is free.
Before learning how to print envelopes using Open Office, users should visit the OpenOffice Web site and download the program and then install it. Users who already have OpenOffice installed on their computer should check to make sure that they have the latest version installed.
Printing Envelopes
When OpenOffice is completely installed, open the Writer application. When the program starts, click on "Insert" on the main menu and then click "Envelope."
When the "Envelope" window opens, users can fill in the "Addressee" and "Sender" fields with the appropriate information. In the event there is a database containing names and addresses inside OpenOffice, the database can be selected and desired fields selected in the "Database," "Table," and "Database field" combo boxes on the right hand side of the "Envelope" window. In the case where a database is selected, it can also be used to perform a "Mail merge" print job that automatically inserts different addresses into a series of envelopes or documents.
Next, users can click the "Format" tab in the "Envelope" window to set the dimensions of the envelope that is to be printed. Many users will be able to use the preset envelope sizes. For a standard business size envelope, users can try the #10 setting.
The "Edit" buttons on the right allow users to change character and paragraph settings for envelope printing, if necessary.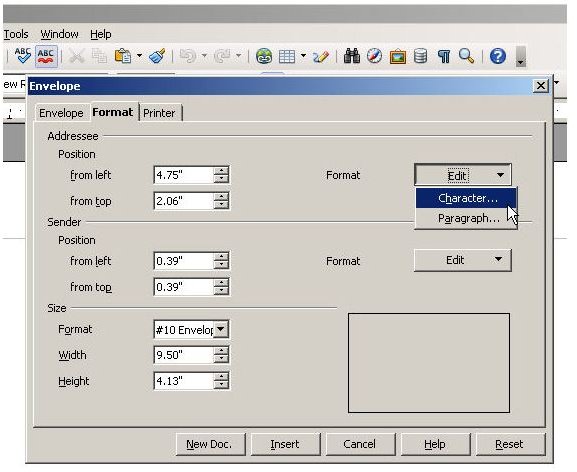 The final tab in the "Envelope" window sets the way the envelope travels through the printer. This is a key setting because many printers feed envelopes differently and can potentially have more than one configuration for envelope printing.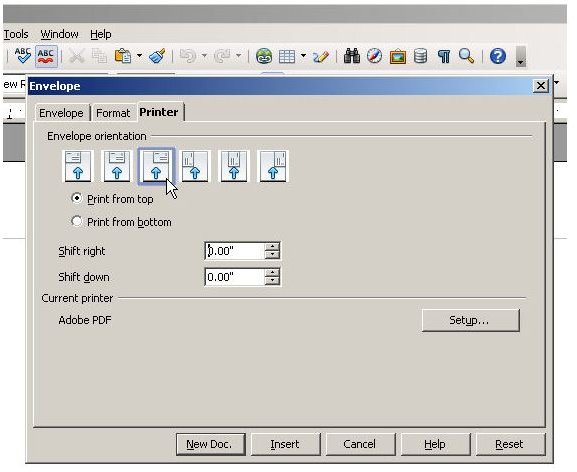 When each tab is properly configured, pressing the "New Doc" button at the bottom of the Window will create the envelope in a brand new document, while the "Insert" button will insert the envelope data into the document that is presently open inside OpenOffice Writer.
When the "Envelope" window closes, it then inserts the envelope data into an OpenOffice document that is correctly formatted for printing.
All users need to do now is insert an envelope into the printer and then click "File" from the main menu and then "Print."
Wrap Up
This tutorial showed readers how to print envelopes using Open Office. OpenOffice is a powerful application suite that clearly has an innovative and effective process for printing envelopes.
Image Credits: Screen shots taken by Bruce Tyson