Top 10 Nurse Digital Stamps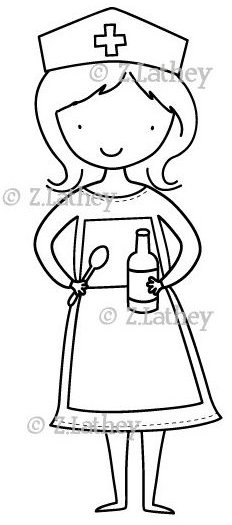 Nurse digital stamps are becoming more and more of a collector's item for those that enjoy digital stamps. They are images that can be reproduced on a computer and sized however the user wishes, which is an advantage over the old rubber stamp type of images. There are several kinds of these stamps to choose from. Here are some examples and websites where you can find them:
Etsy.com
The etsy website allows users to sell their merchandise to potential buyers. This particular listing is for a PNG type file of a nurse with a medicine bottle that is 300 dpi, which means it is print quality. When used as a stamp, this drawing would make an image on paper that is six inches big. The image owner will send it for free as a digital file to the buyer, but the seller retains the copyright. Plus, they outline the ways the image can and can't be used.
Barbarajensendesigns.com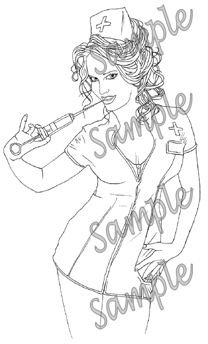 This is for the sale of a "Naughty Nurse" digital stamp image showing a sexy nurse in a digital format. It can be printed, colored, or used on various mediums such as crafts, scrapbooks, cards, etc. This one is 4 inches tall and 300 dpi and would be sent to the buyer as a jpeg file. The person offering the stamp draws their own characters and offers these and others for sale, but also doesn't transfer copyright to the buyer of the stamps. This one costs $5.
Craftsuprint.com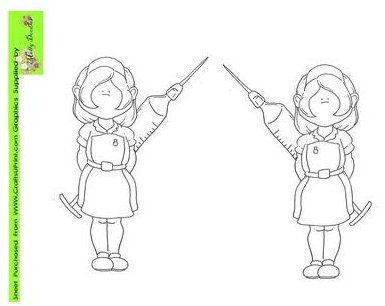 This website offers a nurse doodle digital stamp that can be used in crafts or other projects. The seller shows a couple of examples how they might use the stamp. The stamp is offered for sale, but like the others, the copyright doesn't transfer to the buyer and there are restrictions on its use explained by the seller. The stamps can be used for digital scrapbooking and digital cards.
Squigglefly.com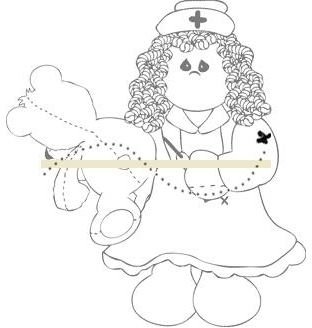 This website offers for sale ($3) the digital image of an 8x10 drawing of a cute Raggedy Anne style dolly acting as nurse and taking care of her teddy bear. The seller doesn't seem to put any restrictions on the image and says it can be printed as many times as the buyer desires. The image can be scaled to whatever size is needed by the buyer.
Pinkcatstudio.com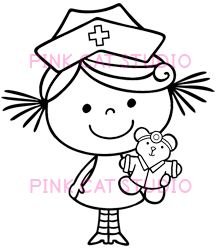 This website offers a colorful digital stamp of "Nurse Betty" and "Dr. Bear." The seller will send a link to download the 300 dpi image after you purchase it ($3.49). It is in PNG format and you can also get it in a transparent 300 dpi format as well. The seller doesn't list any restrictions on its use, but instead gives an email for questions.
Allthatscraps.com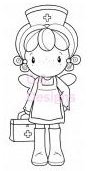 This website specializes in digital nursing stamps and one of those is a "Nora Nurse" digital stamp. It has a wide variety of these and all are in a black and white format. These stamps can be downloaded after purchase ($5.49). It can be downloaded as a digital file or bought as a stamp. The website has an email for questions on how it is allowed to be used.
Bombshellstamps.com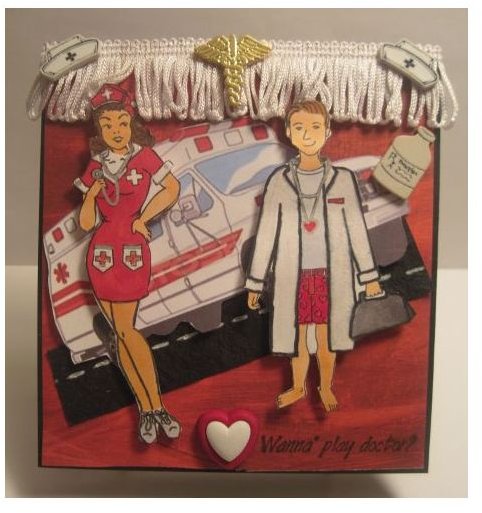 This website offers a unique twist. The digital stamps are like paper dolls that can be dressed however you wish, including outfits to make them look like a nurse. There is an option to download one free file to see if you like them.
Snbshop.blogspot.com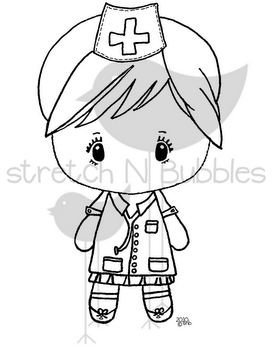 This website features a cute little girl nurse who looks sad but ready to help her patients. The stamp is part of a "Little Imp" collection of other digital stamps with the same characters. Patrons of the site have the option to leave comments on the products.
Bugaboostamps.com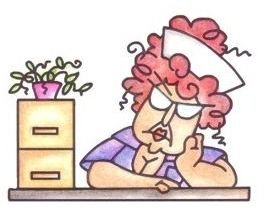 This website offers Nurse Margaret stamps in several different poses. The stamps are all in black and white. The stamps also have funny sayings. You can add the text separately. Each stamp is available for $3.
Sewmanycards.com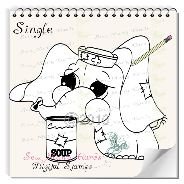 This stamp ($3) is of a funny animal elephant nurse. It is made into a print quality at 300 DPI, and has 1200 pixels at the longest end. This image is available in .jpg, .png, and .tiff formats in a zip file.
Resources