Free Football Party Templates to Download from Online Sources

Bright Hub
To start us off, here's a colorful banner for Microsoft Publisher you can download and print available to download from Bright Hub. Customize the text as well as the helmet and border colors to make and print the perfect banner for your next football party.
Download Here: https://docs.google.com/file/d/0B7O5yA8u8qf2MDRsOGwzN19Vazg/edit
Free Printables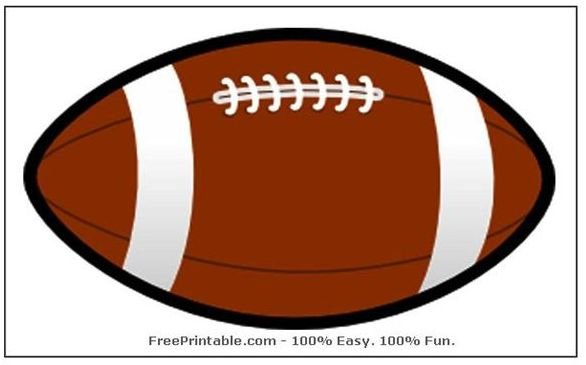 Free Printable is a great website to find lots of colorful options. Search the word "football" at this site and you are rewarded with several free football party templates to print or download. Create football name tags for your guests to wear, create colorful invitations or even print out some football-themed word search pages to play during the party.
Free Printables: https://www.freeprintable.com/view/search.html?q=football&s=1
Party Supplies Hut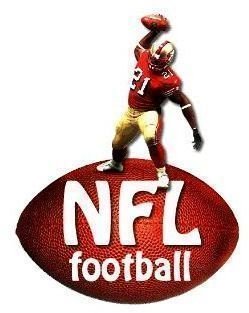 If you are shopping for party supplies while making your own invitations, you can do it all at Party Supplies Hut. This site sells part supplies, such as piñatas in the shape of footballs, but they also offer some free templates you can download and enjoy, including helmet-adorned food labels, invitations, coloring pages and more.
NFL templates at Party Supplies Hut; https://partysupplieshut.com/nfl-football/nfl-football-invitations.htm
Moms Break
Moms Break has a couple free printables you could use for a Super Bowl party or to keep the kids entertained. Save a file and work with it in your desktop publisher or print it directly from the site. The first option is a framed page. When you open the PDF, you will see a small question mark on the template. Click this to open a text box into which you can directly type your details. Scroll down the page to find a football party bag template, coloring pages and more.
Moms Break free football templates; https://momsbreak.com/blog/tag/football/
Theme Party Queen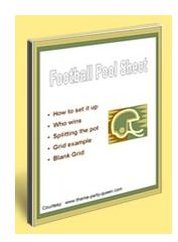 While the football party template offered at this site is technically free, you do have to enter your email address. This signs you up for a subscription to the site's newsletter. Upon confirmation of your email address, they send you a six-page ebook, which contains a football pool sheet template and instructions on its use.
Theme Party Queen football pool template; https://www.theme-party-queen.com/free-football-pool-sheet.html
Hub Pages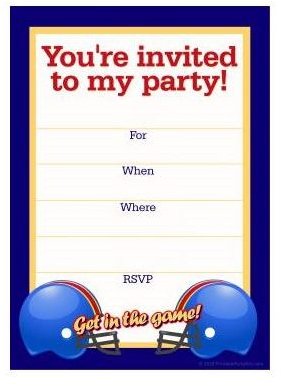 This site contains a handful of sports-themed invitation templates, including one that is ideal for a football party. Right-click the template and save it to your computer to use it. Click the site's Invitation Instructions link for details and tips on using the template.
Free football invitation at Hub Pages; https://wordplay.hubpages.com/hub/sports-invitations
Avery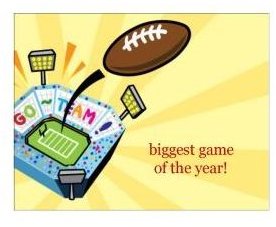 The folks who bring you a wide variety of labels and printer paper also provide templates to use with them, including several free football party templates. Search the site for the word "football" and you will find everything from invitations and address labels to buffet cards and name labels for beverages.
Avery football templates; https://www.avery.com/
Hoover Web Design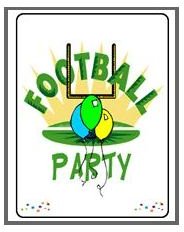 Although this site primarily offers professional web design and site templates, they do offer several free templates as well. One such template is their free printable football party invitation. The template is in PDF format, so you can download, print and write on it or edit it on your computer first and then print.
Hoover Web Design football party invitation; https://www.hooverwebdesign.com/free-printables/printable-football-party-invitations.html
Microsoft Publisher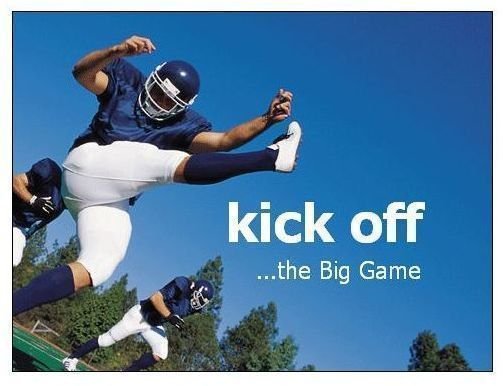 Microsoft offers many websites for its products, including a few football-themed options. If you use Microsoft Publisher, you can download a football party invitation for Publisher 2003 or later. The template features a photo of a football player in action with the words, "Kick off the big game."
Publisher football party invitation; https://office.microsoft.com/en-us/templates/results.aspx?qu=football&origin=FX101741961#ai:TC001173854|