Downloads for Digital Scrapbooking: Western Themes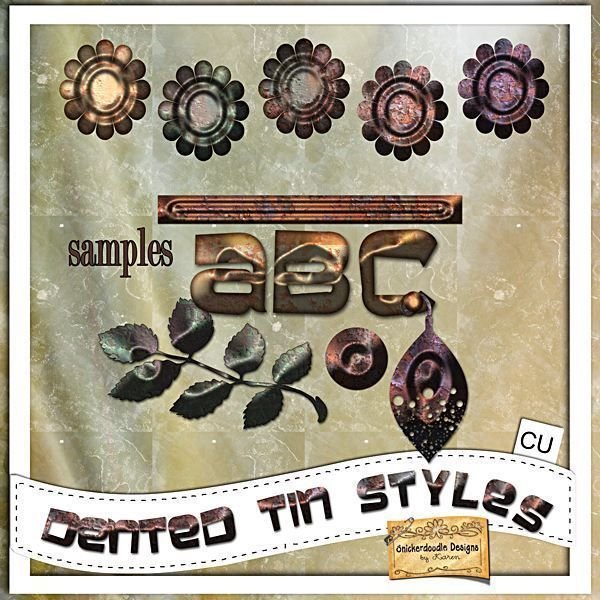 Cool Scraps Digital
With hundreds of themes to choose from, Cool Scraps Digital offers several digital scrapbooking western themed packages. Some are outright western, such as Addie's Cowboy Collection, which includes images of boots, chaps, hats and little cowboys. Others have a subtly western feel, such as Dented Tin Styles, shown here. This package includes five Photoshop styles to give text or elements the appearance of rustic, dented tin. Packages at Cool Scraps Digital are available for about $3 to $6.
Digital Scrapbook Pages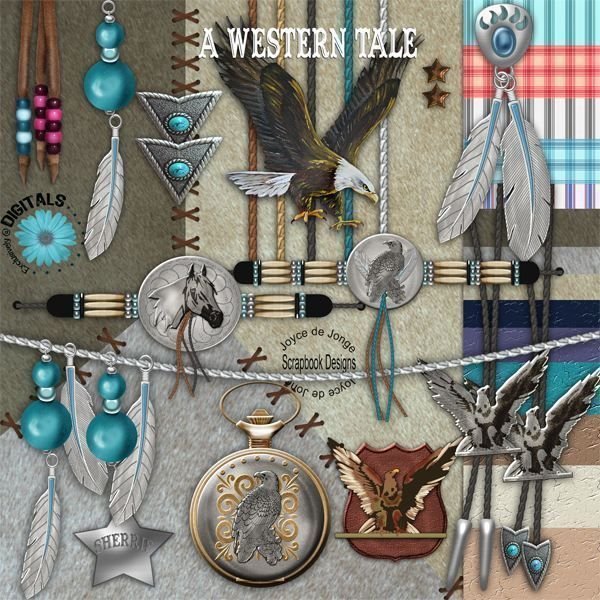 Whatever your concept of western might be, you are sure to find a theme that fits it at Digital Scrapbook Pages, which offers 30 different packages in their Western/Rustic category. For example, Untamed provided denim and brown "grungy" backgrounds along with elements such as rusty buttons and deerskin frames. The Worn 'n Torn denim collections provide backgrounds and elements with a realistic old denim appearance. A Western Tale, shown here, includes 15 backgrounds and 18 elements with feathers, sheriff badges, turquoise jewelry and more. Packages start at $2.50, and many offer add-ons as well.
Digital Scrapbook Place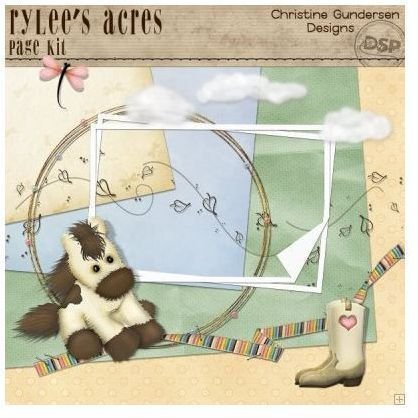 Another site boasting more than two dozen western theme packages is Digital Scrapbook Place. Starting at under $2, you are sure to have fun with packages such as Cowgirl Up and Once Upon a Pony. Some packages are more somber, such as Elements of Texas, which includes a Texas flag background and bandanna backgrounds. Others are much more whimsical, such as Rylee's Acres (shown right), which provides blue sky backgrounds, dragonflies and blowing leaves.
Scrap Girls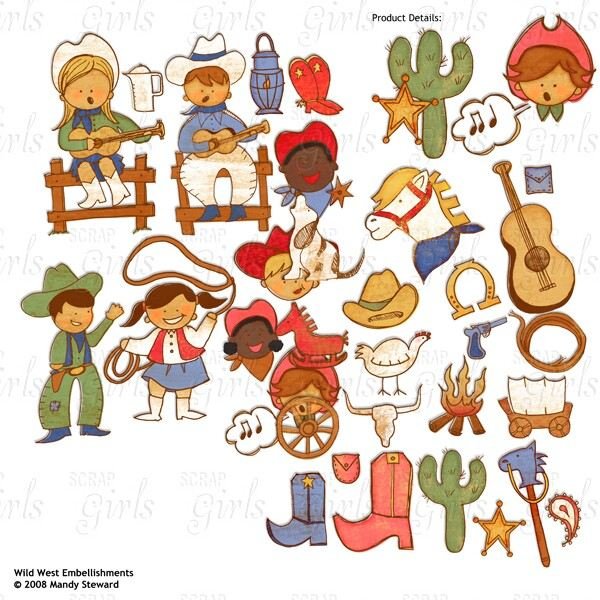 If you are looking for western backgrounds, tools, embellishments and more, Scrap Girls has them. The Cowboy Up! paper collection includes 16 rugged backgrounds, such as tooled leather, cowhide and even one with bullet holes. There are brush sets such as Urban Cowgirl and collections of embellishments such as Touch of Mexico and Wild West, shown here. When you click on an item, you are presented with other coordinating options as well. Packages range from under $2 to just over $10.
HP Creative Studio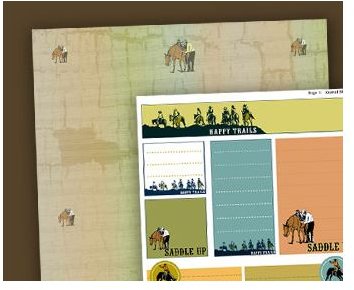 Perhaps you are seeking some free digital scrapbooking western backgrounds. If so, you are in luck. HP Creative Studio offers a variety of free digital scrapbooking backgrounds and layouts, including this one called Western. It includes two different background packages with three options in each one, two pages of borders and corners, two pages of journal blocks and hang tags and two pages of frames. These elements and backgrounds are all in PDF format and ready to download or print with the click of your mouse.
Find Even More
Be sure to visit the Bright Hub Roundup of Digital Scrapbooking Resources, where you will find dozens of downloads, tons of tutorials and stacks of software reviews to turn you into a scrapbooking pro in no time!