Great Resources for Funny Superbowl Invitations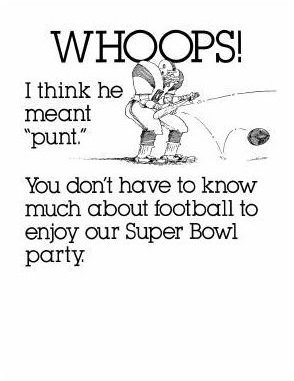 Preparations for Your Superbowl Party
Football is a popular sport in the U.S. When the Superbowl is on, people gather round to celebrate like it is a birthday or annual holiday. People find and prepare special foods and party favors. So, why not send out funny Superbowl invitations to all your friends this year for that added touch?
If you have looked through some of the stores in your town for those Superbowl invitations that are just right and have been having a hard time coming up with some funny or cute ideas, it may be time to get a little creative, make sure you have ink in your printer and get busy online. You can use your imagination and make your own Superbowl invitations or order online. The following are some places you can go to find the right choice to use for your party.
Order Online
This site has a wide variety of funny cartoon and caricature invitations you can order for your party. The price is 20 invitations for $22.50 for blank ones that you can add your own personal information and invitation announcement onto the back, or you can enter in that information and they will do it for you for $41.00. You can also choose the font and color you would like used on the invitations if you would rather not have the standard typeset they use.
This site also has a wide variety of funny Superbowl invitations available for purchase. Depending on the volume of your order, the average cost per card is $1.53. Some of these you can choose the color you would like for your cards or even add a personal photo or funny picture of your own. They usually ship your order the same day it is processed so no need to stress about not getting your cards in time to deliver them to all your friends and family.
Free Printables
Free Printable Greeting Cards.org
If you do not want to spend any more money, like to be creative and are short on time, this printable is the perfect choice for your funny Superbowl invitations. All it requires is you to download a free pdf version so you can save it to your desktop for future use. You then just print it out when you need to fill out your information and address it to whom you would like to invite to your party. You can color it, or have your children color it, or leave it as a black and white, the choice is up to you. Remember though, if you would like a sturdy card to send out, you will need to go to the craft store and grab some card stock to print the invitations out on.
Image credit to https://www.freeprintablegreetingcards.org/preview/super_bowl_party_invitation
Digital Email Sending
Thanks to the advancement of technology, those who do not have the time to run around and deliver invitations or print out cards, can now do it all online and send it by email. With this site, you can choose a template and theme, fill out all of the information needed such as date, time, address and name of the invited, and then simply enter in an email address and it is sent off for you. Many of these free sources are able to provide this service for free because they also include some type of advertising along with your e-card. If you do not want to be bothered with this, than you can opt to go the old fashioned way of sending out by mail or paying for a premium service which will then take the ads off.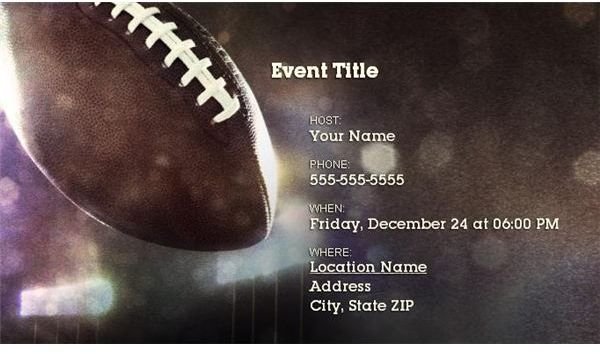 Image credit to https://new.evite.com/#gallery/select_category:category=watchthegame&displayName=Watch%20the%20Game