Serif PhotoPlus X3 Digital Studio – Photo Editing Software Review
PhotoPlus X3 – Overview
While I always look forward to seeing the latest features and improvements in new software releases, I don't always think upgrading is worth the price. However, even though I quite enjoyed PhotoPlus X2, I'm particularly impressed with the new capabilities found in PhotoPlus X3, the most recent release of Serif's photo editor. I'll talk about these features in more detail later in the review.
In order to run PhotoPlus X3, your system should meet the following minimum requirements.
Windows XP/Vista
Pentium processor
128 MB RAM
328 MB hard disk space
800 x 600 (or higher) monitor resolution
DVD/CD-ROM drive (for software installation)
Mouse or some other type of pointing device
As with any photo editing application, additional RAM and a more powerful processor will yield better results. This is especially true if you're working with large or complex image files.
Installation and Setup (4 out of 5)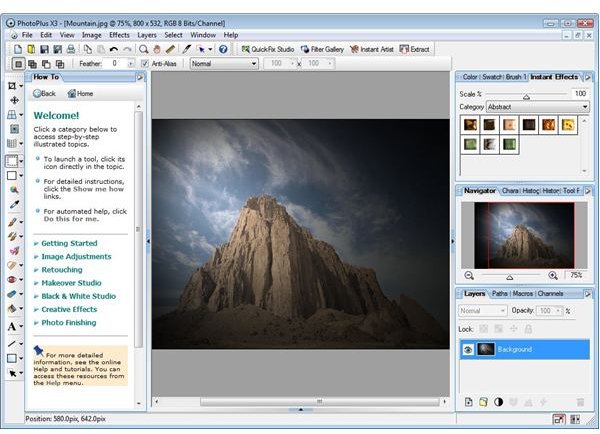 During the initial installation of the software, I did come across one strange quirk in which PhotoPlus X3 recommended that I reboot before proceeding with the installation. The warning message suggested that I had recently installed some other software product that required a reboot, and it would be best if I did perform a reboot to settle that matter before continuing. Although I wasn't sure what the message was referencing I rebooted anyway, just to be on the safe side.
After rebooting, I restarted the PhotoPlus X3 installation and received the same message. This time, I knew there were no problems because I had just rebooted. So, I ignored the message (which I probably should have done the first time) and continued with the install. After that, everything else about the installation process went fine. At the end of the process, I was once again prompted to reboot before actually using PhotoPlus X3. However, that was unnecessary – at least, it was unnecessary on my system.
So, while there really wasn't any trouble with the installation process, all of the reboot requests did start to get a little tiresome, especially when they weren't needed. It's not a major issue by any means, but it is enough for me to give the software a 4 instead of a 5 in this category.
Ease of Use (5 out of 5)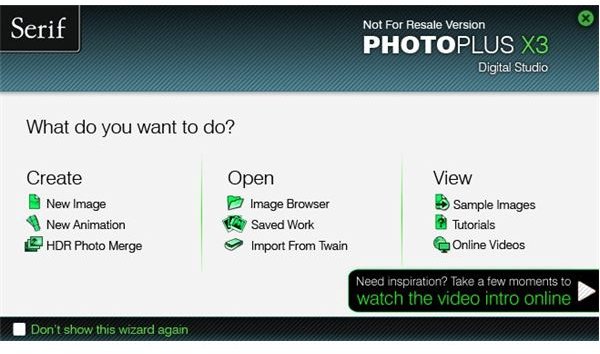 Users of Adobe photo editing products will feel right at home with the user interface of PhotoPlus X3, and it shouldn't take others too much longer to get comfortable with the software – at least, it shouldn't take longer than it would with any other image editor. To help with this acclimation process, PhotoPlus X3 comes bundled with several PDF tutorials, which we will talk more about in the User Support and Documentation section of this review.
When you first open the application, you'll be met with a welcome screen where you can choose the type of project on which you wish to work. This should be quite helpful to new users, but once it becomes more of a distraction than an actual aid, you can check a box that will prevent the screen from popping up every time you use the software.
Continue on to the next page for the remainder of Bright Hub's review of Serif PhotoPlus X3.
Features and Performance (5 out of 5)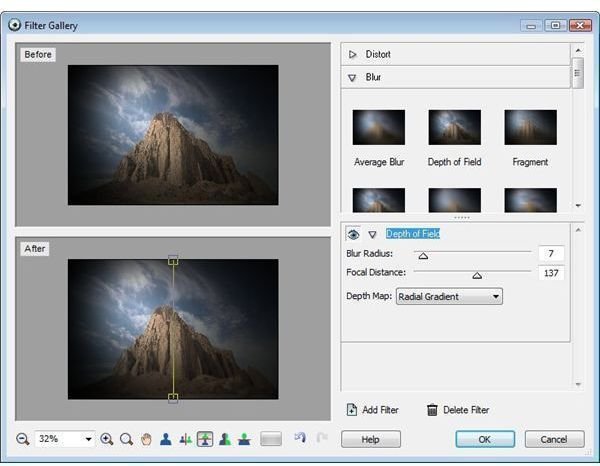 One of the initial things I noticed when starting PhotoPlus X3 up for the first time was how much faster the software loaded compared to previous versions. To see if this speed extended to other functions of the application, I opened several large images and began applying complex filters to these photos. The improved memory management was very apparent, and I was quite impressed. When comparing PhotoPlus X2 to other photo editors, I felt that version of the software was about average in terms of speed and performance. Now I'd have to rate the latest release, PhotoPlus X3, tops in this category.
On top of the very noticeable increase in performance, PhotoPlus X3 has a number of other new features that should prove very attractive to those looking to invest in a photo editor. Among these is a raw image studio where you can edit photos while they are still in the unprocessed state, an improved user interface with easier-to-find commands, and over 50 new customizable filter effects. Overall, this release should definitely be considered a major upgrade.
User Support and Documentation (4 out of 5)
PhotoPlus X3 comes equipped with a number of tutorials and learning aids that are accessible both online and from your desktop. In addition to the software's built-in help system, there is an integrated How-To panel that walks users through editing tasks as they are being performed. On top of this, there are a number of PDF tutorials that come bundled with the application and cover a broad range of topics, from the most basic editing tasks to more complex project-oriented features.
Also, a portion of the PhotoPlus X3 web site has been dedicated to hosting video tutorials. At this time, the only video available is a basic overview of the software. It would be nice if Serif offered some way to "subscribe" to this page so that users could get email updates whenever new videos were added. As it is now, you simply have to just keep checking back for new content.
Price to Value (4 out of 5)
PhotoPlus X3 retails for $79.99, very much in line with other photo editors in its class. If you currently own a previous version of PhotoPlus, you may be eligible for upgrade pricing – check at Serif's web site for more details.
Overall Rating (5 out of 5)
Although there is quite a bit of competition among photo editors, PhotoPlus X3 can hold its own and then some. This latest release of the software should catch a few eyes in the image editing world, not just because of its power and capabilities, but also because of its speed and efficiency.
It may take a little bit of time to become fully comfortable with all of the features found in the application, but the same can be true of any high-powered photo editor. However, this learning curve is mitigated by the number of useful tutorials and built-in editing guides provided with the software.
PhotoPlus X3 is definitely worth the investment. Even if you currently own PhotoPlus X2, the number of improvements that have been added to X3 make upgrading a very attractive proposition.