Photo Explosion Software Review: What Does Photo Explosion Deluxe 4.0 Have to Offer?
Who is Photo Explosion Deluxe 4.0 Software For?
Photo Explosion Deluxe 4.0 is the latest deluxe version of Nova Development's popular digital photography studio application. While Adobe Photoshop CS4 and the latest Photoshop CS5 evolve into ever more complicated applications capable of editing individual photographs in ways that could only be imagined a few years ago, Photo Explosion Deluxe has evolved into a complete digital photography project application. Rather than manipulating the blur radius, color saturation, and so on of a particular photo that just has to be perfect, Photo Explosion 4.0 Deluxe offers digital photography buffs a chance to do things with LOTS of their pictures.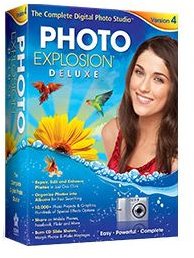 Keeping up with Adobe when it comes to image manipulation is a bit of a fool's errand. For starters, until a feature shows up in Photoshop it won't be widely used because that is the choice digital photo image editor by default for most high-end professional photographers. Secondly, once the feature has been created and designed by Adobe, it quickly "trickles-down" to other products, including cheaper Adobe products like Photoshop Elements. Add that to the fact that a huge number of semi-professional photographers and home photography studio users still have never had a reason to use all of the features available in much older versions of Photoshop and you can quickly see the value of a product like Photo Explosion 4.0 Deluxe.
Where Adobe provides more ways to trick out a picture, Nova Development has offered ever more ways to turn your digital photos into something other than just a picture, while still providing robust picture editing tools and features. Photo Explosion 4.0 Deluxe continues this trend offering users not only high-end photo editing power, but also built-in support for easily sharing your pictures online, creating calendars, scrapbook pages, collages, posters, panoramas, and more.
Photo Explosion 4.0 Deluxe Features (5 out of 5)
A good review of Photo Explosion Deluxe 4.0 can only hope to explore some of the many options the software now offers. Nova Development boasts that there are over 200 new features in this release. On the one hand, that is very hard to believe considering how many things Photo Explosion Deluxe 3.0 did. On the other hand, considering all of the things that Photo Explosion Deluxe 4.0 can do, it isn't hard to believe at all.
This version of Photo Explosion contains the latest image editing filters and tools. All but high-end professionals will find every tool that they ever used in Photoshop CS4 in Photo Explosion. However, the big picture editing upgrade is the QuickFix Studio which provides picture hounds of all skill levels with remarkable photo adjustments in just one click. Fixing exposure, contrast, white balance and color levels is almost too easy. For those little adjustments to pictures that have nothing to do with the quality of the picture, but everything to do with how loved a picture can be like eliminating blemishes and fixing other imperfections, Photo Explosion offers the powerful Makeover Studio. The studio promises to be the most used part of the application for professional and semi-professional portrait photographers and those shooting head shots in a home photography studio with good lighting.
But just fixing pictures isn't what makes Photo Explosion 4.0 Deluxe a top digital photography application. Like earlier versions Photo Explosion doesn't just tweak your photos, it gives you literally hundreds of different things to do with them. From the company that gave you Scrapbook Factory Deluxe and Greeting Card Factory Deluxe, it isn't too surprising that two great features are the ability to design and make cards and scrapbook page layouts from your pictures. You can also make posters, postcards, certificates, and so on. If you keep wondering what the modern Print Shop software is, you are looking at it.
Also included is the ability to stitch pictures together into amazing panoramas, morphing one picture into another (try morphing Mom into Grandma for huge smiles at a family reunion), and built-in support for burning slide shows of personal photos onto CDs that you can watch on TV using an ordinary DVD player.
Last but not least, Photo Explosion Deluxe 4.0 has tons and tons of drawing tools. If you have ever labored just to add a funny saying onto Uncle Joe's t-shirt in Photoshop you'll be glad to know how easy it is to do all of that and more in Photo Explosion.
Photo Explosion Deluxe 4.0 is a worthy successor to Photo Explosion Deluxe 3.0 and has virtually every photo editing tool most digital photographers will ever need. You can check out the Photo Explosion Deluxe website here.