Photolightning Review: Is This Digital Camera Software Worth The Money?
Introduction to Photolightning
Photolightning is digital camera software which is aimed at helping photographers to manage their photographic workflow very quickly and efficiently. Photolightning provides options to transfer photos to the computer, edit and enhance photos, prepare slideshows and screensavers and share photos via email and print. Photolightning also provides options to organize photos as well as tag them using keywords, captions and rating information.
Features (4 out of 5)
As expected, Photolightning comes with a regular set of features across categories such as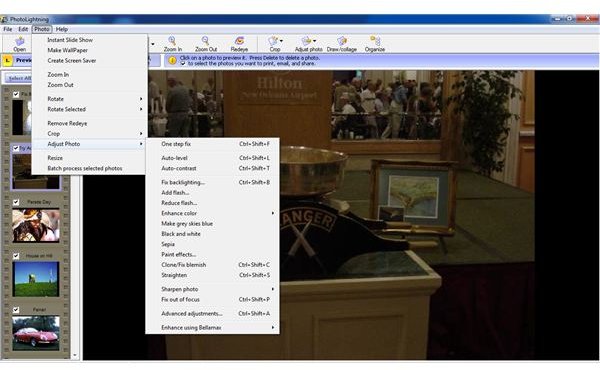 :
Edit and Enhance Photos: This includes one-click fixes, auto levels and auto contrast, sepia, black and white, red eye correction, add/reduce flash, color enhancement, straighten, cropping, etc.
Organize Photos: Photos can be organized into photo albums, and one can add captions, keywords as well as rating information and displays photos in a chronological order for easy recall.
Share Photos: Photos can be shared in the form of slideshows, screensavers and in a compressed form for usage on the web and over email. A variety of custom printing options are also available for printing and sharing photos.
While the above set of features are all same/similar to features present in other such digital camera software programs, what makes Photolightning interesting is the fact that everything is designed keeping speed and utility in mind. The idea is to keep the organizing and editing part as quick and fun as possible. The makers of the software claim to be able to transfer, edit, and share a set of 24 photos in 5 minutes (which reduces average time spent per photo to about 12 seconds).
Performance (2 out of 5)
While evaluating the performance of Photolightning, I identified certain pros and cons of the software which are listed below.
Pros
The entire user interface is designed keeping simplicity and speed in mind.
The organization module works considering each folder as an album. As this is how most users tend to organize their data, it makes it simpler to use. Furthermore, already existing photos within multiple folders can be easily viewed as albums within Photolightning.
Instant Slideshow and Create Screensaver wizards are extremely simple and easy to use.
Although the website does not mention support for Windows 7, it works perfectly without any issues.
Cons
No support for Mac.
Supports only picture files like JPEG, TIFF, etc. Does not support RAW files.
Edits and replaces original files. Does not make use of sidecar files (like Lightroom or Picasa). This forces you to retain multiple copies of the same file.
The absence of support for RAW files as well as no support for the Mac do not bode well for Photolightning.
Further, most of the photo adjustments options tend to work in the form of one button fixes where you click on it to apply the adjustment. Having worked with Photoshop and Lightroom extensively, I am more in favor of using sliders to apply any adjustment progressively with control over the adjustment rather than letting the software apply it on its own.
Price to Value (3 out of 5)
If I were to use one word to describe Photolightning, it would be "simplification."
Photolightning makes the overall digital photography workflow simpler by reducing the time and effort spent on other activities and frees up time for taking more photographs.
In my opinion, Photolightning offers an average solution for those people who are looking for a quick and fun digital camera software to use while working with their photographs. And at a price of $35, it offers a good price to value proposition for amateur photographers.
For those interested in Photolightning, there is a fully-featured 30 day trial version available for download on the Photolightning site.
However if your more of an enthusiast/hobby photographer and are looking for a more powerful solution, then I would not recommend Photolightning for your use.