A Review of Zoner Photo Studio Free Edition: Organize and Edit Your Photos for Free
The Free Edition
The free edition of Zoner Photo Studio, is a pared down version of the $49.99 Home Edition. It has some of the editing and organizing features of the paid versions, but not all.
However, it still is a very useful program for what it offers, and it may just earn a spot on your Windows PC for its ease of use and feature choice. So, whether you need an organizer or an editor, the new, free Zoner Photo Studio may be just what you need.
Manager (4 out of 5)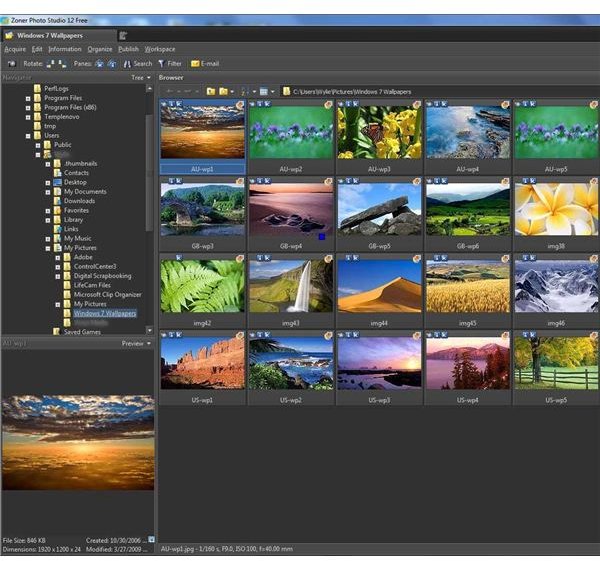 For ease of use, Zoner Photo Studio is divided into three modules - the manager, viewer and editor. The manager is your digital photo organizer. Here you can import photos from your camera, and rate, label and rename them. You can add GPS data with the help of Google Maps, or even record an audio note to one or more images. Users can tag photos, batch edit EXIF information, batch rename photos, or filter and search through your collections. In the manager module you can also create panoramic pictures, calendars, contact sheets, and even 3D images. Uploading to Flickr and Facebook is done in this mode too. So, all in all, you have a lot of options for sorting and publishing your pictures. Perhaps the only big feature that is missing is face recognition, as found in iPhoto and Picasa.
Viewer (3 out of 5)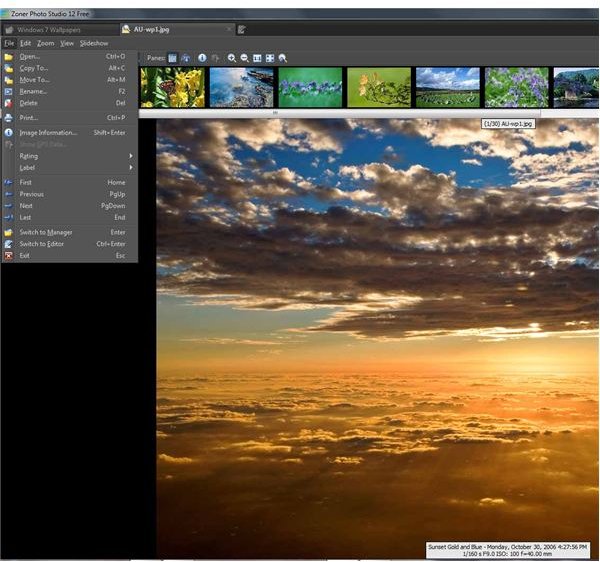 The viewer module is good, but for me this is not as important as the manager and editor. I am either editing pictures or sorting pictures when I use Zoner Photo Studio. If I want to view pictures, then I generally just use the Windows Live Photo Gallery or the built-in editor because that is where I have edited the pictures to my linking. However, if you want to view your pictures full screen, or create some basic photo slideshows, you can use the viewer module in Zoner Photo Studio. Otherwise, this is a fairly basic part of the program. Users looking to download, or take more control over their slideshows, would be better using a dedicated photo slideshow program.
Editor (5 out of 5)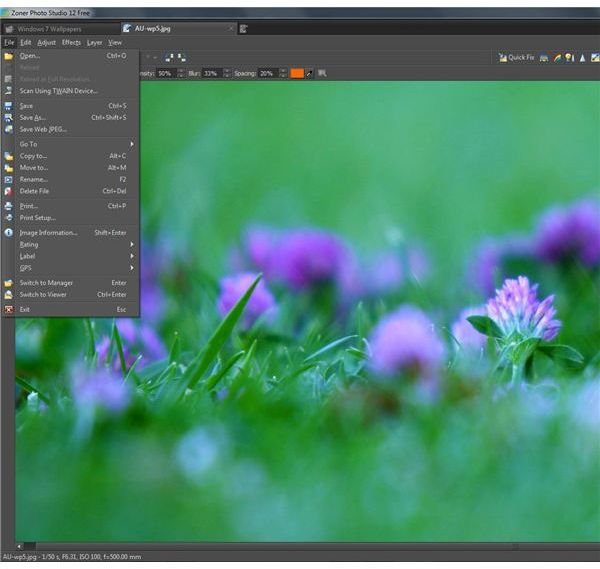 Given that this is the free version of Zoner Photo Studio, you might expect the editor to be somewhat limited. However, there are in fact many useful options for digital photographers to explore. As well as the usual quick fix, cropping and red eye tools, you will be glad to see an RGB color panel, levels, and a straightening tool. A clone stamp, an unsharp mask, a blur tool, and color temperature controls are also very useful inclusions for a free photo editor. Special effects include a warp tool, an RGB black and white converter, antique photo effects, and more. So the editor is a very well specified addition to this software, and one that is bound to satisfy beginner and intermediate photographers. It might not replace Photoshop Elements as your main editor, but it is easily as good as Picasa, and significantly better than the Windows Live Photo Gallery.
Ease of Use (4 out of 5)
This version of Zoner Photo Studio is fairly easy to use. The help menu reveals plenty of information about the various modes and effects, and there are tutorials online for the paid Zoner Photo Studio Home Edition that have carry over applications for the free version. Otherwise, all the drop down menus are self explanatory, and even the icons look like what you might expect them too for the functions they perform. For example, the RGB color panel has a rainbow icon. Easy.
Overall Rating (4 out of 5)
There is a lot to like about the free version of Zoner Photo Studio. As a free all-in-one photo solution, it is on par, or above, other options in this sector. The manager is great, and the editor is more than capable. Beginners and intermediates alike should find that this package meets most of your daily photo needs. You can download the free edition at the Zoner website.