Mejuba Reviewed: Free Photo and Video Sharing Website
Mejuba (3 out of 5)

Mejuba is an online photo and video sharing website. The basic look and layout of Mejuba is similar to Flickr. Mejuba is free and offers unlimited space for photos and videos. Albums can be shared with friends, family and with anyone on Mejuba looking for interesting pictures. There are options for private albums, also. There are 7 tabs for organizing and browsing that include albums, map, tags favorites, messages and groups. This allows the user to set up groups for exchanges, keep favorites for future reference, set tags to find images faster, map out where an image was shot and keep track of friends or messages all from the main window. All this is free to anyone who logs on and sets up profile.
Storage (4 out of 5)
Mejuba offers unlimited storage at no cost. The storage is set up in a hierarchy of folders. The folders are called albums. The user has one main album and can create other albums, both private and public, under the main profile album. There is a "Date Archive" where images are automatically organized by the electronic information of the original photo with the date.
The user can create a public album that anyone can view or a private album that only people who have been given access can see. Another option when uploading is to tag a photo or video by 'Place' or 'Person.'
The storage organization is set up with on main album, but unlimited sub-albums can be created under the main album. Albums can be renamed and images moved from one album to another. It is a simple set up, but it comes with unlimited storage and it is free.
Any size of image can be uploaded; there are no set limits on photo size.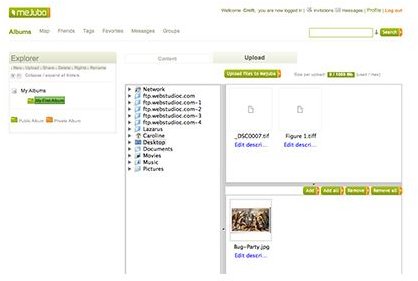 Ease of Use (4 out of 5)
Mejuba is simple and easy to use. There are some issues with leaving the main album empty, but overall getting started is simple and intuitive. After creating a profile, the user is directed to the main window where the upload 'Explorer' window is located. There is a 'Quick Start' guide that gives a brief introduction and a how to on uploading photos and video.
Uploading images is simple, navigate to the folder on the computer desktop that has the images and drag them into the upload section of the Explorer window, click 'Upload' and the images are put into the new album. After the images are uploaded, they can be moved, named and tagged.
The 'Map" section has an interactive world map that shows where tagged images were taken.
The 'Friends' section is a list with links to other friends on Mejuba.
'Tags, Favorites and Groups' are set up similar to friends with lists and links. These are useful for finding where specific images are located.
'Messages' is an area where other Mejuba members can contact the user.
'Groups' is for keeping track of special groups that the user is interested in or for creating new groups.
All of these tabs are simple and easy to use.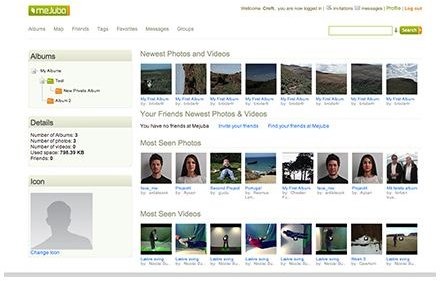 Overall Rating (3 out of 5)
Mejuba is great for free image storage or as a place to share images with friends and family. It is fun to browse and look at the different images online at Mejuba and it is easy to navigate their website. Another perk is the simplicity of creating an account and uploading images.
Mejuba is a good site and offers free online storage, but there are still some areas that can be improved. For one thing, they could use a good spell checker. Starting with the Welcome screen, there are glaring spelling errors that lower the professional look of the website. The site is simple with limited creativity on the panels and album creation.
This is not to knock Mejuba, it is a fun, free and simple and future refinements will improve the overall professional look and usability. For now, Mejuba is mostly for non-professionals looking for a free site to upload images.