Review of WinZip 17: Latest Features Include Cloud Storage Integration & Social Media Sharing
Who Hasn't Heard of WinZip?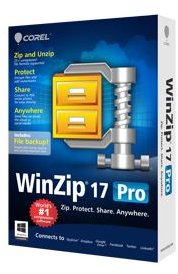 It seems like WinZip has been around for a billion years, and considering that the application was first created in 1991, I suppose that is something like a billion "Internet years." Now, the program is up to version 17 – and most will probably consider this latest release one of the biggest changes to the application in a long time.
Unlike a lot of other products which have version numbers in the double digits, it's tough to drum up excitement about new features and enhancements in each WinZip release. Sure, people like to talk about the cool new things that each new version of Photoshop or PaintShop Pro can do, but you're not going to run into many animated discussions on the latest innovations in compression algorithms.
Basically, what I'm getting at here is people don't rush out to upgrade WinZip each time a new version comes along. As long as the current version continues to work with whatever operating system you're using, you probably don't even think about the program that much. However, if it's been a while since you've upgraded, you may want to take a look to see what's new in WinZip 17. Here's a quick summary:
Integration with cloud services, such as Dropbox, Google Drive and Skydrive
Share zipped files via Twitter, LinkedIn and Facebook without leaving WinZip interface
Resize photos within WinZip before zipping to save even more space
Add watermark to PDFs and image files before zipping
Convert documents to PDFs before zipping
Zipping to and from the Cloud
I confess that I was still using WinZip 12 before I moved on to version 17 because, as I alluded to above, there was nothing really compelling me to upgrade. The ability to combine files from multiple locations – both local and online – into one compressed file in one fell swoop is the one feature that really sold me. In addition, I really like that I can watermark and resize the images at the same time so I don't have to waste time prepping the files to be zipped as a separate task. 
Social Media Sharing
I don't tend to post zipped files to social media sites as a rule, but I did test WinZip's capabilities in this regard just to see how well they worked. Just as with other linked apps, the first time you use this feature you will need to give authorization for WinZip to access your Facebook, Twitter or LinkedIn account.
After that, the process is fairly straightforward. Once you select the file(s) you want to zip and share, just select the Social Media icon on the Share tab, input the message you want to accompany the link and choose which accounts you want to post to. You can post to all three simultaneously if you like. The link in the message will take people to the file on ZipShare – WinZip's file-sharing service – and they can download it from there.
All in all, the social media sharing process seems to work fine, but I doubt I'll use it much (if at all) for a couple of reasons. First of all, if I were going to share a file on a social media platform, I'd rather house it someplace other than ZipShare so that I don't have to worry about the link expiring.  Secondly, I'd probably also want to use a link-shortening service or have some other means to measure how many times the file had been accessed. ZipShare might work fine for people who just want to send a quick link to someone who plans to download the file within a day or two, but I can't see myself using Facebook, Twitter or LinkedIn for those types of instances. 
Image Preparation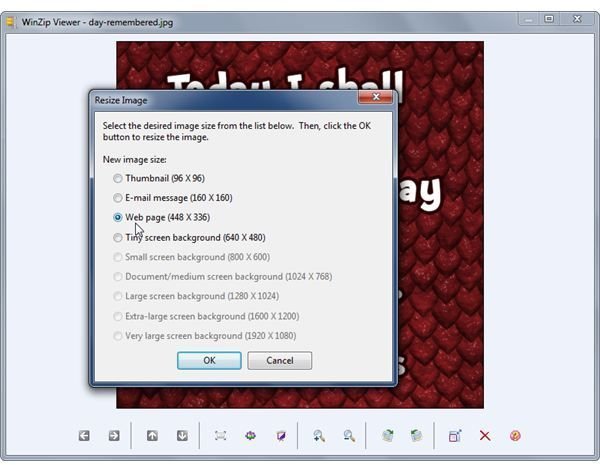 I've found that the resize and watermark options save a ton of time when preparing a bunch of images to zip and send off in an email or upload to Dropbox or Google Drive. On the Create tab, you can check these options and pick the settings you want to use, and those settings will be applied to every relevant file in the zipped collection.
Alternatively, if you only want to resize certain images within the zip file, you can open those files with WinZip's internal photo viewer and resize each one individually. Speaking of which, I love WinZip's internal photo viewer. It loads fast – almost instantaneously – and it lets you rotate images as well as resize them. It also allows you to scroll through all the images you've selected to include in your zipped file so you can make sure that you've grabbed all the right pieces before you zip it up and send it off.
Price to Value
There are two versions of WinZip 17 – the Standard edition lists for $29.95 and the Pro edition for $49.95. The major difference between the two is that the Pro edition includes several backup and automation utilities, and also allows you to view images within zip files without first extracting them. For a more detailed comparison of the two versions, see this feature list. If you want to try the software before you buy – and I highly recommend that you do – you'll also find a link to the free trial download on that same page.
Some may be reluctant to spend any money on a program of this sort since there are a few free compression utilities floating around – and, if you only need a very basic tool for zipping and unzipping files on your local hard drive, you're probably better off going with one of those freebies. On the other hand, if your files are stored in various places on your internal network and in online lockers, I think you'll find that WinZip 17 will save you quite a bit of time and be well worth the price.
References