ifp3.com Review - Websites for Photographers
Introduction to ifp3.com
Photographers often take time to capture great photos and many have been searching for the best professional website as a venue for their photo collections. Well, here is a great opportunity for novice and expert photographers to finally showcase captured photos in a fast loading and flash-based photo website. It is professionally designed for photographers without the need of web design background. There are a lot of websites who offer this, but the one that truly stands out would have to be the offers of ifp3.com.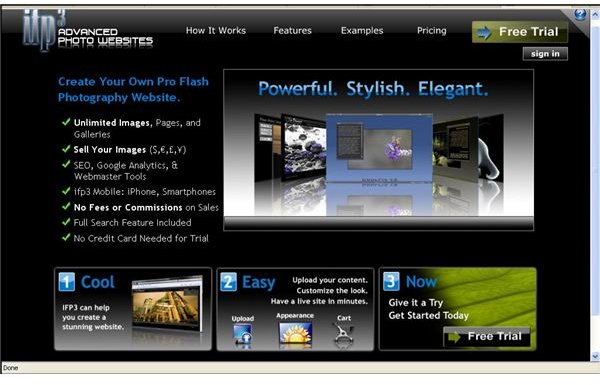 Accessibility (5 out of 5)
The things on the homepage of ifp3.com are properly organized. The tabs located at the upper part of the page can only be accessed by left clicking only – probably one of their ways of showing how the flash codes work. For instance, upon clicking the "features" tab, site visitors will be able to see a table that describes the things that site owners can incorporate in their websites.
Upon signing up, visitors will be brought to the workspace which includes tabs like photo or video uploader, effects, and others that will definitely help the photographers to come up with a great photo gallery.
Fortunately, there aren't any ads in the site, making the whole interface look clear.
Features (5 out of 5)
The whole ifp3 program is jampacked with features including your very own e-business by selling your photos online and you are able to receive compliments from viewers and customers. Besides the fact that photographers may opt to include music background and other flash video add-ons to their gallery, users are also in for some treat – they will be provided with loads of stuff like SEO tools which will help their site become one of those who are displayed at the top most page of search engines; unloaded galleries which will enable then to upload unlimited image files and his own web address under the ifp3 domain.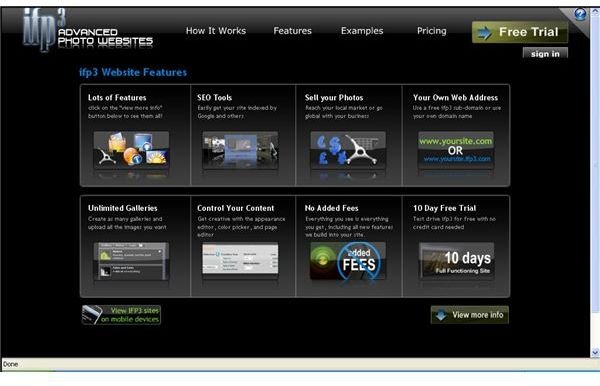 Ease of Use (5 out of 5)
As soon as you signed up, the site is so easy to set up. There is no need of web design experience and training. Plus you are guided with an excellent easy-to-follow instructions on how to customize and maximize your use of the services. Users are almost in control of every effects and elements for the web.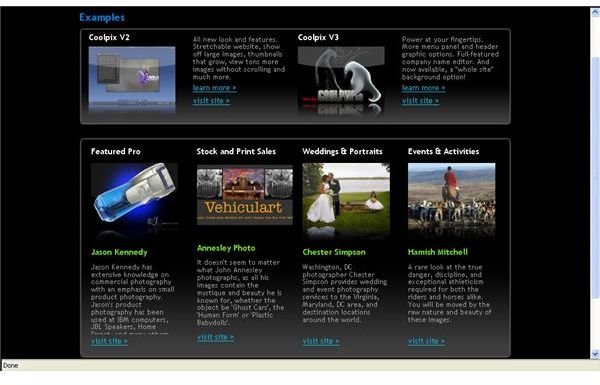 Price to Value (5 out of 5)
The ifp3.com offers potential customers for a 10-day free trial to experience their services. This trial includes a free shopping cart for online e-shopping; limitless number of pages and images to upload; personal ifp3 domain; web hosting service; millions of website choices; and most of all, it is an absolute free trial because it does not require credit card numbers to proceed.
For satisfied users, they can upgrade their trial account to premium subscription with choices of monthly payment depending on the duration of the chosen plan. An additional payment of $45 is an optional upgrade to have your own personal domain as in www.yourname.com. Please see image below for a detailed list of subscription plans.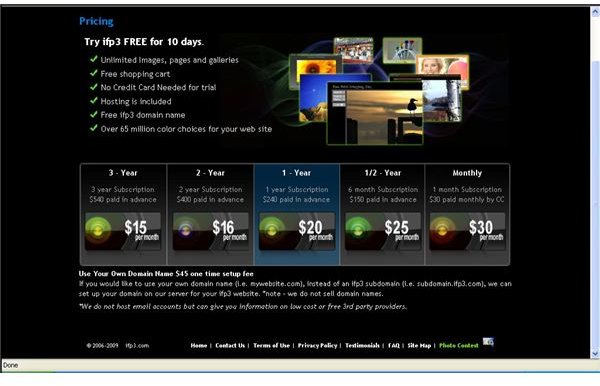 This is a good price for the services they offer and at the same time users are guaranteed for satisfaction since they have tried it before paying for it. There is no doubt why ifp3 is a photographer's choice.