Bibble 5 Pro - Photo Editing Software Review
Bibble Pro 5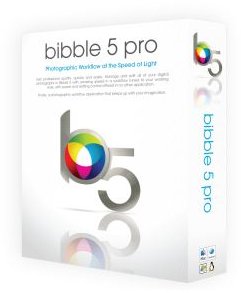 $199.00
Bibble Lite
$99.00
Overview
Bibble 5 Pro is a digital workflow management system. Bibble 5 is aimed at the professional photographer and the application is designed around their workflow needs. Because of this, the tools and functions are focused on digital editing, workflow and asset management. This is a great application for the professional photographer who needs a streamlined editing process. Bibble 5 breaks down into five sections:
User Interface
Editing
Organizing (Keywords and Metadata)
Digital Asset Management (Libraries and Catalogs)
Printing
User Interface (5 out of 5)
Bibble 5's user interface is clean and easy to use.
One of the really nice features is the user can browse their computer's file system and start working on an image without importing or adding any steps. The user finds the file and the images appear in the browser section for sorting, tagging, reviewing or editing. (See Example 1)

The screen can be expanded and the view options panel on the top of the window allows for top or left side thumbnail viewing. Other viewing options are available also.

Panels can be dropped out for selective viewing of panels or image options.

Image options are full screen, split screen with two images up with thumbnails, library mode with all thumbnails, and one image up with customizable thumbnail rows.

Side panel tabbing for editing options and file options. This is a nice feature. The different editing options (such as color, enhancements, detail and metadata) are tabbed for easy switching. This not only saves times, but space.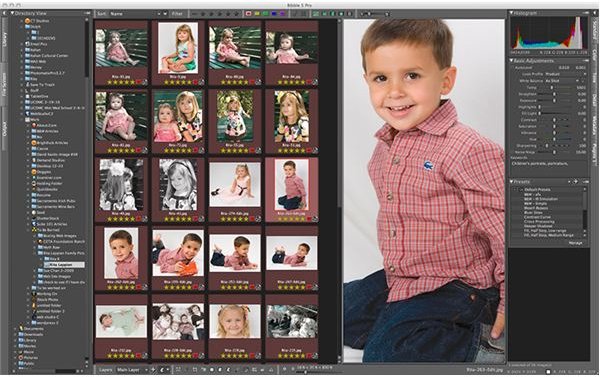 Editing Features (5 out of 5)
This is where Bibble 5 Pro really shines. Included are powerful editing tools that are easy to access with tabbed sections. Many of the tools included are key to quality image editing. Most other editing workflow applications force the user to make detailed edits outside of their application in another application, with Bibble 5, most of the key tools are included so the user can make all desired edits within one application. Bibble has integrated layers palettes and other advance imaging tools for selective image editing. Bibble 5 also uses non-destructive image editing.
Included Tools
Curves
Layers palette
Lens correction
Sharpening tools (with Noise Ninja)
Exposure tools
Color correction and white balance
Color balance
Color management
Selections tools, brushes and paint tools
Standard tools, crop and image align tools
Editing Tools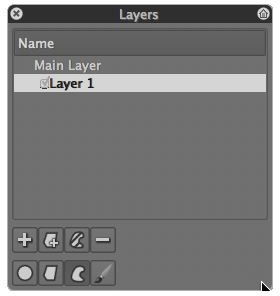 Organizing (4 out of 5)
Organizing in Bibble 5 Pro is powerful, but can be complex in the design and setup.
Keywords - Many of the keyword tools use hierarchies, which nest different categories into groups. Once the setup is done, the ability to refine search parameters is amazing. Locating images based on any criteria is lightening fast. The keyword palette has refine options that narrow and target specific image keywords.
Metadata - The Metadata browser can search for camera types, shutter speeds, aperture and other camera settings and functions. The can be handy if you use different camera models.
Stacks - Stacks group similar images together. This is great for sorting and choosing between similar shots.
Versions - Bibble uses non-destructive editing. Edited images are versions of the original image.
Thumbnail Indicators - Information on the thumbnail image showing rating, editing and other specifics.
Labels, Ratings & Tags - Pretty much the same as the other editing software applications. Color labels, star ratings and tags.
Asset Management (4 out of 5)
The asset management system uses Catalogs to organize image folders and a Metadata browser for image specific searching by keywords. This is handy to have inside the editor for searching and editing all in the same application. Data management is important especially for large image libraries. Bibbles' Catalogs make quick searches available for large shoots that can span multiple days. Files can be imported, copied or used in their location on the computer. There are many options for saving and naming the Catalogs, which allows greater flexibility for sorting.
The Metadata Browser allows for more refined searches and can be applied to multiple folders and customized. This is unbelievably handy for sports and editorial photographers who need to find specific images on deadline for publication.
Not all the functions work with Macs. The import folder option does not allow more than one folder at a time to be imported on the Mac. Folders are imported into Catalogs individually. For Windows users, multiple file import works fine. This is nice feature, but the bugs need to be worked out.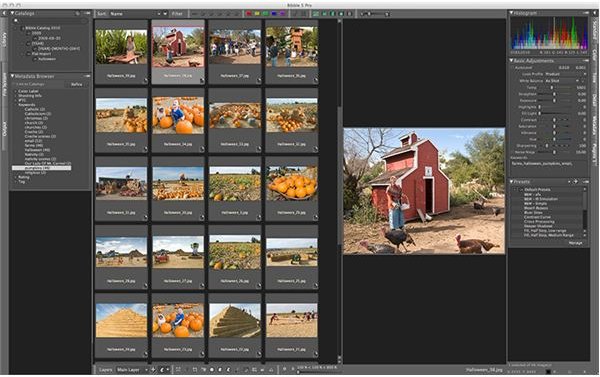 Printing (3 out of 5)
The output functions are basic. They include some pictures packages, proofs and single images. They do allow for using color management and icc profiles. The proof set up is very easy to use and can be customized quickly.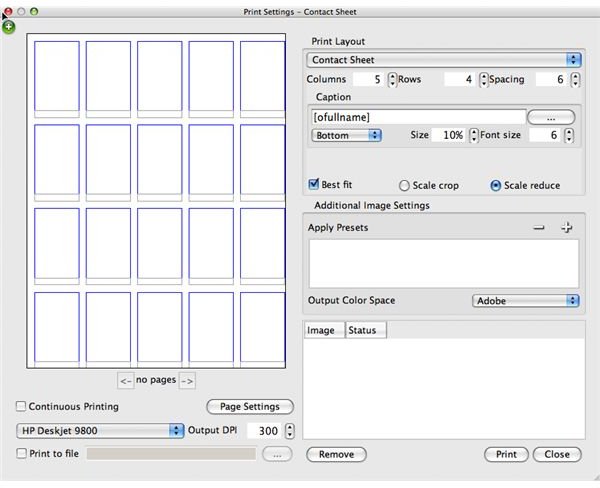 Slideshow (3 out of 5)
Most of the slideshow features on editors are just OK. They lack many customizable functions that look professional or are useful. Bibble 5 Pro's slideshow feature allows for image scaling (I've never seen this on other image editors), text position tool, choice of fonts and other useful features. The slideshow is still less than it could be, but more than most other applications provide. The slideshow feature still lacks selective design features that would make it useful in creative productions. There is lots of room for improvement here.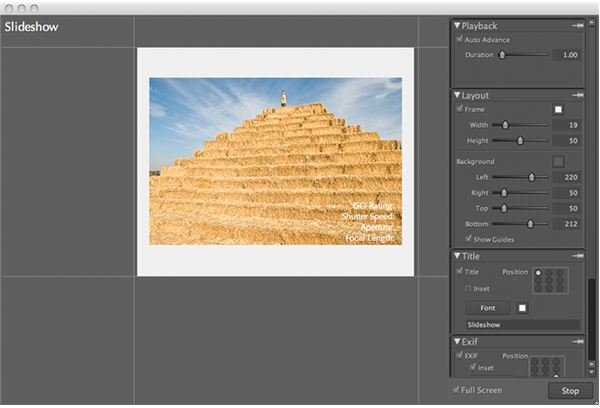 Ease of Use (3 out of 5)
Some of the features are intuitive and user friendly and others are more complicated. There is a learning curve with Bibble 5.
Many of the Catalog and asset management tools need some study before using them.
Most of the editing tools are streamlined and easy to use. The special selection tools are a little more complicated.
Keywords and Metadata are more complicated to set up.
Image labeling and rating is very simple and easy.
Searching is fast and easy.
Working with computer files is amazingly simple and fast. This is a nice new slant on the image editor.
Overall, the user will want to take some time to learn the application. It is more difficult to just jump right in and start working without some knowledge of where tools are and what they do. Bibble 5 is easy to use once the user has learned all the different functions.
Summary (5 out of 5)
I cannot say enough about this software. Bibble 5 Pro has listened to professional photographers and responded with an image editor that combines many elements they use in their daily workflow. There is plenty of room for growth with this application and they still need to work out a few bugs, but overall the functions and tools work great and are useful to the professional. They have not tried to load up the editor with tools and functions that are not practical for the professional photographer. Instead they have it kept it clean and simple with a clear purpose. This is a great application for any professional photographer looking for an application devoted to the digital photographic workflow.