Apple Aperture 3 Review - New Features Reviewed
Aperture 3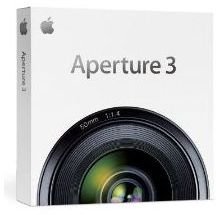 Upgrade: $99.00
Full Version: $199.00
Compared to Apple Aperture 2, the latest version of the software, Aperture 3, has over 200 new features. Some welcome additions are the new custom editing tools, integration with other image applications and web syncing features. They have also added some interesting new fun features like the Faces feature that lets you organize your images by identifying individual faces. Overall, Aperture 3 has made significant improvements that enhance the usability of the product. Aperture 3 has added many new features that make editing for the consumer easier and more intuitive, but Apple has not addressed many issues relevant to the professional photographer.
Image Editing Tools (5 out of 5)
New in Aperture 3 are 39 new editing features and automations. Many of these are nice to have, but don't really impact basic editing needs.
The direct editing brushes are one of the best new features and they work great. These non-destructive brushes allow the photographer to make specific edits to sections of an image. Apple have added a whole new section of different brushes for skin softening, halo reduction, feathering and many others to experiment with. More advanced tools have been added to Aperture such as the Curves Tool, Highlight and Shadow and Edit with Plug-In Menu Item.
Many of Aperture's new tools are designed to help the user make edits and publish while staying in the edit mode. This saves time and steps in workflow. The Batch Apply Adjustments, Live Previews and Variable-Level Zoom are some of the new features that save time and make editing images more intuitive.
New Editing Features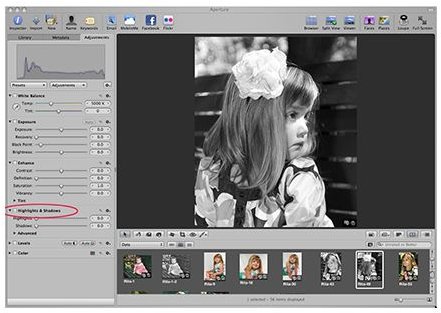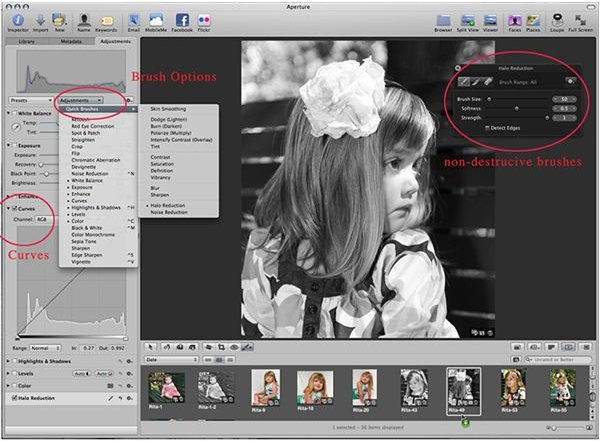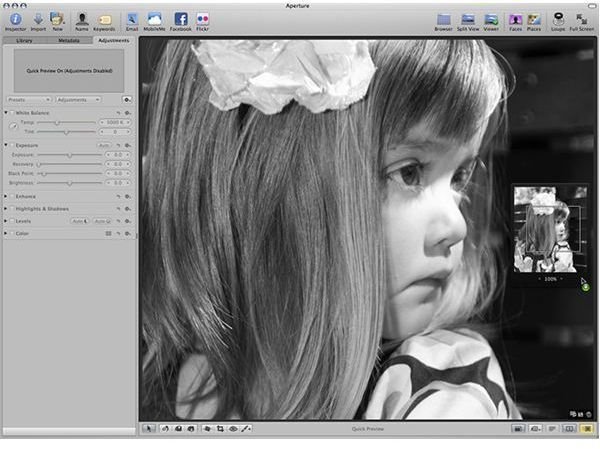 Faces and Places (3 out of 5)
Faces and Places move Aperture 3 more towards the consumer market than the professional photographer market. Faces let the user sort images by faces with new face recognition software. This application is suited for family albums and other non-production uses.
Places is a geographic locator application that shows where photos were taken using a GPS track log and then assigning photos to a particular location. Searches can be done by location and smart albums can be created that show only photos from a particular location. The Map + Photo View is interesting to see the map with the pictures and Google Maps has teamed up with Aperture so the user can see where they took their photos on a Google map displayed in Aperture.
Select Images by Face Recognition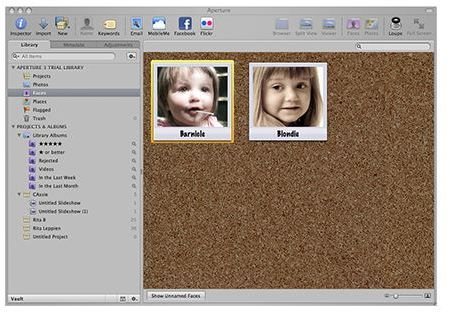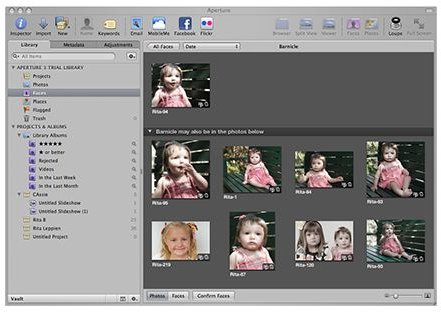 Web Publishing (4 out of 5)
Images can now be published directly to Flickr or Facebook. The Faces feature can be used to publish particular images to Facebook. Publishing directly from the editor screen is a real time saver for those who use these sites. These are nice features for the consumer market, but not that important to professional photographers. It would have been nice to see some Web publishing tools for photo galleries or flash files that could be uploaded directly to a photographer's website.
These new features are rated good because they are nice features for consumers and they work seamlessly with the websites. The one knock here is that Aperture did not add more functions for Web applications
Video and Audio (3 out of 5)
Now that DSLRs come with mini video clip capability, it is nice to view those files in the same editor as the still images. This adds more functionality for users who use the video feature on their cameras. AIFF and MP3 are both supported and the audio track can be detached and saved as a stand-alone file. Aperture lets the user designate an external editing application, create a JPEG from a video frame, import audio attachments as well as other useful tools for audio/video editing. This is new for Aperture and is expected to improve in future upgrades.
Slideshow (2 out of 5)
The Slideshow function is just OK. Aperture gives you the ability to have a slide show. Of the eight-slideshow themes, none are that unique. Text can put on a slide, there are various simple transitions and audio can be put on the show. None of these is spectacular or innovative. The Slideshow function is accessed from the New menu on the Main Toolbar and appears to be more of an afterthought.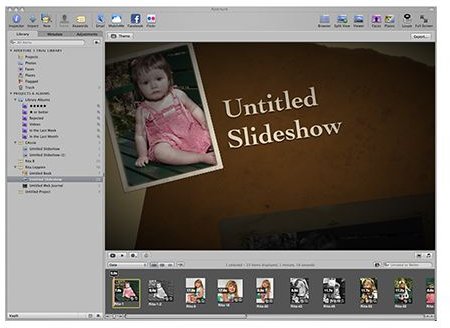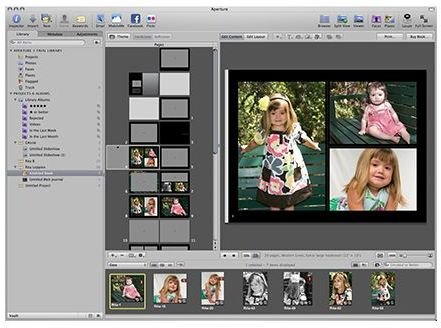 Photobooks and Printing (3 out of 5)
These are lumped together because they are printing functions. Photobooks are great tools for the professional and gifts for the consumer. The layout is easy and has many options. Photos are easily inserted by using an import function or just drag and drop the picture into the desired location. Similarly, it is easy to edit these books and move photos around.
The print menu offers different print sizes and proof sheets. The menu is slim and offers little to the professional photographer. This is an area where Aperture can improve in the future.
Summary
Aperture 3 really beefed up the editing tools for more customizable images. The key wording and search options are greatly improved are easy to use. The look, menus and tool bar functions are improved and nicely designed. Apple has added many new features that work with new camera functions and Web applications. Overall, Aperture has made some nice upgrades, but many of the new features are designed for the consumer (or amateur photographer) more than the professional photographer.
This is great application for the consumer who does not want to pay the high-ticket price of Photoshop or take the time to learn the complex functions. Aperture 3 is easy to use, has a nice looking interface and works seamlessly with Web applications that are becoming increasingly more popular. It seems as if Apple has made a choice to move towards the amateur photographer market and leave the professional photographer market to Lightroom.