Splashup Review - A Free Online Image Editor Worth Checking Out
Overview of Splashup
Splashup, formerly known as Fauxto, is a free online image editing program. Splashup allows users to perform basic editing tasks, such as adding text to an image, as well as powerful editing tools such as multi-image editing and filters. Splashup is great if you need to touch up and image really fast and you don't have time to wait for Photoshop or Paint Shop Pro to load and open. What's also great about Splashup is that it's really user-friendly, so children and adults will have no problem navigating the online editor.
If you're looking for a basic image editing tool, without the software to download and the hefty price tag, you may want to check out Splashup.
System Requirements (5 out of 5)
Splashup works on any browser and with any operating system, so you can use it on your Macbook and on your PC.
It is helpful to have high speed Internet, since Splashup may run slowly if you have dial-up.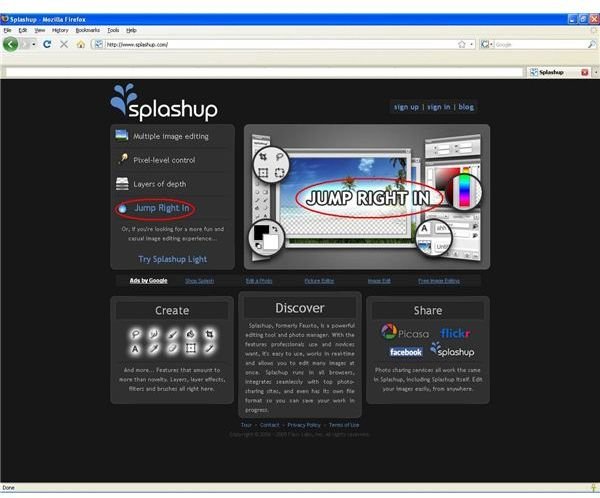 Uploading Images (5 out of 5)
Uploading images to Splashup is extremely easy. On the homepage, there are two ways to upload an image, as seen circled above in red. When you click either of the two links, the editor will open up in a new window. From here, you can either upload an image from your desktop or social networking site, by clicking 'File -> Open Image', or use your webcam to make a new image by clicking 'File -> Capture From Webcam'. You can make a completely new image by choosing 'File -> New Image'.
You can even upload images to Splashup straight from Facebook, Myspace, SmugMug, Picasa, Flickr or Photobucket!
Editing Images (3 out of 5)
On the left side of the editor, you will see a tool box with twenty editing tools, ranging from inserting text to selection tools. On the top tool bar, you have the option to use layers, as well as filters, such as sharpening, clouds and contrast. Although you can't print your edited images directly from Splashup, you can still save them to your computer and print them. I suggest you save as you go, especially if you aren't familiar with the software since you may accidentally lose an image while editing it if you mess around with layers.
I decided to use Splashup to edit an image I took of myself. On the right is the after image and on the left is the before image. I messed around with the hue/saturation, cropped the image and added some color streaks with the paint brush (diagonal splatter). You can do much more advanced image editing with Splashup, such as make company logos and blend images together, but it's also great for just playing around.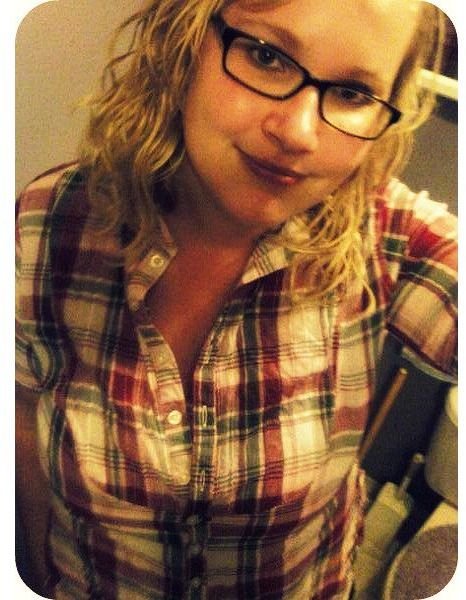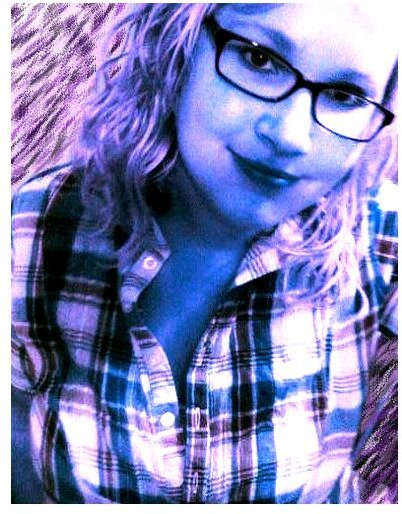 Splashup Light (4 out of 5)
Splashup Light, seen right on Splashup's main page, is advertised as "perfect for mobile PCs". Although it doesn't have all of the same features as Splashup, Splashup Light still allows photo editors to perform basic editing tasks quickly and easily. You can't use Splashup Light from the internet, you have to download it to use it, but it's a great editing software to have on your computer, especially if you only make minor image changes like changing brightness, or things that MS Paint can't do for you.
Price and Overall Rating (4 out of 5)
Splashup is currently free to use.
Since you don't have to pay anything and because of the abundance of features and versatility, Splashup is certainly an excellent resource of image editing for photographers and graphic designers. Click here to view Splahup's website.