Instant JPEG from RAW (IJFR) Review - What Does This Free File Converter Have to Offer?
Introduction
Many photographers like to capture images in the RAW image format. It is an uncompressed file that contains all the original uncompressed file data.
The Instant JPEG from RAW utility is a free tool for photographers. It allows you to create a smaller JPEG version of your original RAW file quickly, and easily, on both Mac and Windows.
How does it work?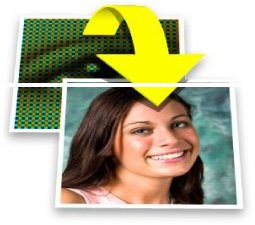 When you shoot in RAW, and look at the resulting image on your camera's LCD screen, you are not looking at a preview of the RAW file. What you are actually looking at is a JPEG thumbnail that is embedded into the RAW file. This is the image that the Instant JPEG from RAW (IJFR) utility works with. It is not a RAW converter. It is in fact a JPEG extractor. It does not convert files to JPEG, it just extracts the JPEG image that is already embedded in the RAW files of most modern digital cameras.
Who is it for?
Anyone who processes RAW files on a regular basis would benefit from this useful, free utility. Professional photographers looking to give proofs to their clients, or amateurs who want the quickest way to produce a JPEG file from RAW, will be equally happy with the results you get from IJFR.
Performance (5 out of 5)
Part of the popularity of this handy tool is its speed and simplicity. Once installed, you simply select the RAW files that you are working with, and right click (Windows), or Ctrl + click, (Mac), to select IJFR from the context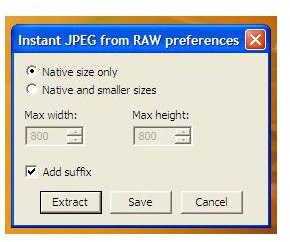 menu. This brings up a dialog box, (see screenshot right), that will give you two options. You can process at the native resolution of the embedded JPEG, or at both the native resolution and a smaller size. A smaller size would be useful for emailing JPEG versions of RAW files.
With the test files I used from my Nikon D90 DSLR, I got a 1.28Mb JPEG file from the original unprocessed 10.4Mb RAW or NEF file. The quality of the JPEG was very good, and the extraction was almost instantaneous. When extracting the native and smaller size (800 x 800), the IJFR utility took a little bit longer - about a second per file - to process both resolutions. The extracted images are placed in a sub folder of the one you are currently working on. There is really little more to it than that, but a PDF manual for Instant JPEG from RAW can be found here.
Conclusion (5 out of 5)
The only real drawback that I encountered was the fact that Instant JPEG from RAW is not currently compatible with 64-bit versions of Windows. The developer has indicated that he is working on a 64-bit Windows version, but until then, Mac and 32-bit Windows versions are all that are available. But, when you consider that this is a free utility, there is really very little not to like. It does what it is designed to do, and it does it very well. You can get your own copy of IJFR on the RAW Workflow.com website.