Power Stroke Review - Photoshop Plug-In for Applying Selective Effects and Recoloring Digital Photographs
Overview of Power Stroke
Although most major photo editors have built-in tools that allow users to selectively recolor and apply effects to digital photos, the process can be quite painstaking and eat up a lot of time – especially if you're a relatively new user of the software. Power Stroke is a plug-in compatible with Photoshop, Apple Aperture, and Photoshop Elements that greatly simplifies this process so that you can spend more time "being creative" and less time figuring out how to perform the technical steps to realize your creative vision.
With Power Stroke, you can perform such tasks as colorizing an entire black and white photo, recoloring selected areas of a photo (like eyes and hair), adding light to specified areas of an image, and much more. Both Windows and Mac versions of the plug-in are available.
Ease of Use (5 out of 5)
The Power Stroke interface is extremely user-friendly and simple to use. It may take some practice to become truly accustomed to all of the plug-in's tools and features, but that process is helped a great deal by the excellent user guide that you can download to accompany the application. This user guide also contains tutorials, complete with screenshots, that detail how to use Power Stroke to accomplish various tasks. As a bonus, the images used in these tutorials can also be downloaded from the Power Stroke web site, so you can actually perform the same modifications in your photo editor as you're reviewing the tutorials.
As one example, the screenshots below show how easy it is to change the eye color of a subject in a digital photo. (Click any of the images for a larger view.) After opening the image, just call up Power Stroke. Then, use the main brush to apply the new color and the barrier brush to draw a rough outline around the area so that the color doesn't leak into other areas of the photo. You can then refine the result if necessary – there are both undo and redo tools built into the plugin so you can make adjustments without having to pass back and forth to the host editor.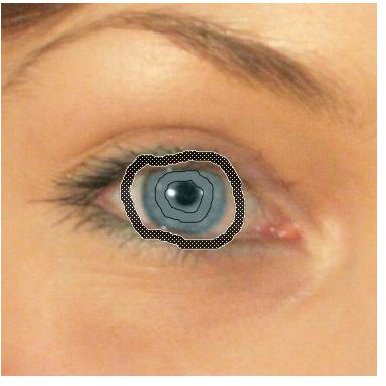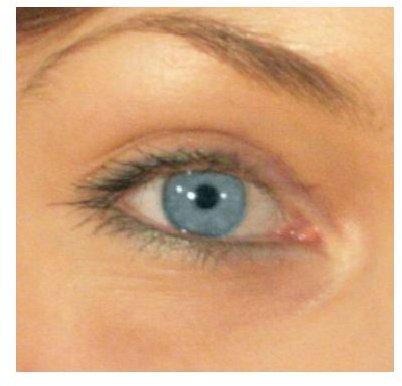 Performance and Features (5 out of 5)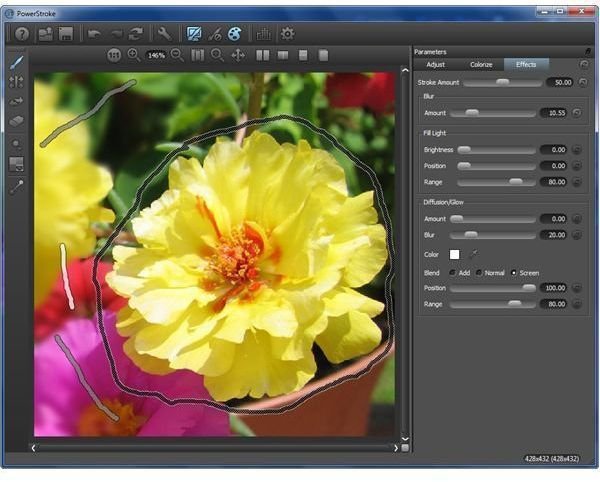 Although the recoloring tools are a prominent part of the plug-in, Power Stroke can also be used to selectively apply other effects to digital photos. For instance, you can use the barrier brush to mark off an area of the photo that you want to keep unchanged and then apply different blur effects to the rest of the image, creating a Bokeh effect. You can also apply different degrees of desaturation to specific areas of a digital photo to give the appearance of slowly turning from black and white to color.
All of these tools are basically used in the same manner, so it shouldn't take long to become an expert user of Power Stroke – especially if you take advantage of the tutorials mentioned in the last section.
Price to Value (5 out of 5)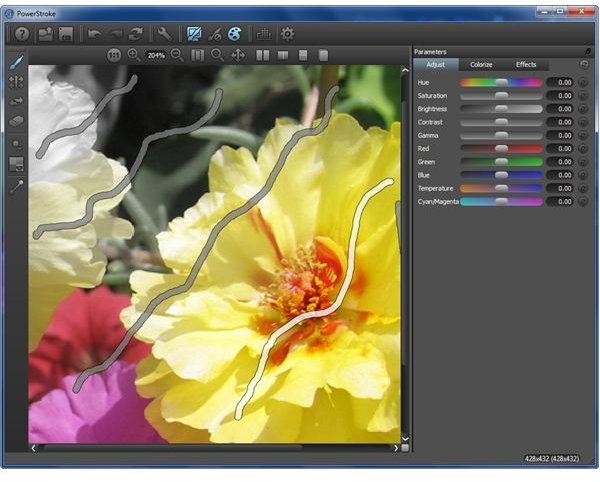 Power Stroke lists for $120, which is in the low-middle price range for plug-ins that function similarly. The real thing to note here is that Power Stroke is really offering capabilities of several plug-ins all within one interface. Normally, recoloring tools would have to be purchased separately from selective effect applications, but Power Stroke includes both these functions in one package. With that in mind, the plug-in is a real bargain and well worth checking out.
Digital Film Tools does offer a 15-day free trial of Power Stroke that you can download from the company web site. If you decide to purchase, you can update the trial version by entering a license key.
Overall Rating (5 out of 5)
Power Stroke gets a top rating for its ease of use, versatility, and wide range of capabilities. Considering its power, the plug-in is very reasonably priced, and you should be able to use the tool for a variety of different types of photo editing projects. I fully recommend checking out the free trial version and walking through the tutorials found in the user guide so you can see how well Power Stroke works for yourself.