Create a Photo Slideshow with Xtreme Photostory on CD & DVD by Magix Software - Software Review & Buying Guide
Overview of Xtreme Photostory on CD & DVD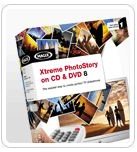 Xtreme Photostory from Magix Software is a multimedia software program that lets you create slideshows from your digital photos and videos. You can add music, transitions, zooms, fades, and animations with just a few clicks of your mouse. So, let's find out how well it performs when put to the test.
Ease of Use (4 out of 5)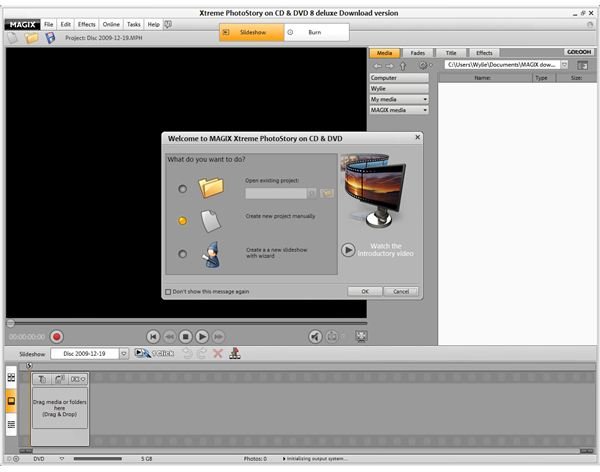 When you first create slideshows with Xtreme Photostory, you get the choice of whether you want to create it with the slideshow wizard, or manually control all settings by yourself. If you have never used a photo slideshow program before, the wizard is a great place to start. More advanced users can select the manual control option, and they will soon be at home with the familiar timeline format that organizes your photos and videos. All you do to add media to your slideshow is drag and drop photos and videos into the timeline, and order them as you please. Music can be added in just the same way. Drag a music file onto the music track and it will instantly accompany your slideshow. Fade your music in and out as you please.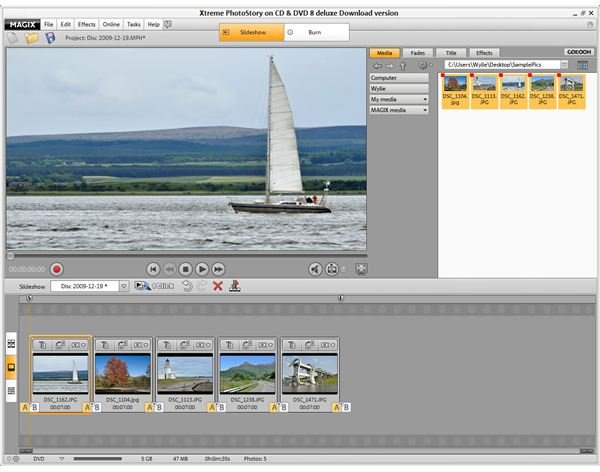 The included paper manual only describes the basic functions of this program, but there is a much better PDF version included when you install the software. (Personally I like manufacturers to include the more detailed manual as the paper copy, but that could just be a personal preference). The help menu in the program is pretty good, but sometimes it is hard to know what the effect you are looking for is called, and that can make finding the instructions you need a little more difficult. However, the program itself is fairly intuitive and you will soon get to know what you need to do to create your photo slideshows.
Features and Performance (5 out of 5)
This product stands out from its competitors because of the sheer number of options you have when creating a photo slideshow. On first use, this can be a little overwhelming, but you soon get used to where everything is, and what you are likely to want to use.
Almost all photo and video types are supported, and you can create slideshows in 4:3, 3:2, or (16:9 widescreen) format depending on what you want to view the end product on. If you add a video or picture, and wished that you had edited it first in Photoshop Elements or Corel Paint Shop, then you need not worry as Xtreme Photostory lets you adjust exposure, color, brightness, focus, and a whole lot more. Many of these adjustments can even be applied to your videos too!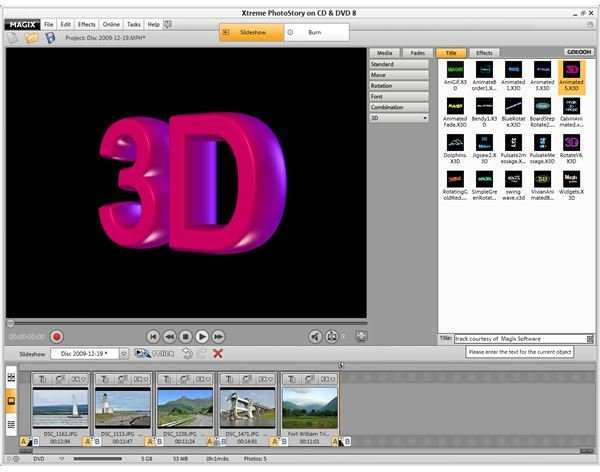 If you would like the program to do most of the work for you, there are 10 built in automatic movieshow themes you can choose from. Just click the one you want and it will build a slideshow for you. There are also over 50 decorative elements and animations you can choose to add to your project that include speech bubbles, cartoons, and animated objects. This program even lets you create panoramas from your photos, while the 60+ transition effects mean that no two photo slideshows need ever look the same. The built-in Soundtrack Manager lets you create a soundtrack of your own in a variety of styles that you can perfectly sync to your slideshow, or you can use audio from your own digital music collection.
When your project is finished, you have the option of creating a DVD photo slideshow. Magix includes 40 customizable interactive DVD menus that you can use to introduce or navigate through your slideshow. The burn wizard quickly and efficiently takes you through all the options you have for creating a disc to share, but there is also the option to upload directly to YouTube or the Magix Online Community. If you would like to see the short slideshow I created while reviewing this product, then click here to view it.
Value for Money (5 out of 5)
In terms of features and price, Xtreme Photostory compares favorably with the competition. Few other products offer the same variety of options for such a competitive price. It comes in two versions, the standard and the deluxe version. This review was of the standard version, but if you would like a look at the extra features offered by the deluxe version, (more effects, extra templates and Blu-ray support), see the Magix website. Both versions represent great value for money, especially when you consider that both versions come bundled with an MP3 Music Organizer, the Magix Photo Manager, and Magix Print Studio for CD/DVD cases and labels! You cold reasonably expect to pay at least $10 for each of these programs, but they are bundled with this software to provide even more value for money. The standard version currently sells for $29.99, while the deluxe version sells for $59.99. There is even a $5 welcome voucher on the site for new users of Magix software. These prices are hard to beat when you consider all that this software is capable of.
Overall Rating (5 out of 5)
Xtreme Photostory on CD & DVD by Magix Software has won countless awards from around the world, and it is not hard to see why. You can easily create slideshows that will wow your friends and family. Whether you watch your photo slideshow on the computer, on DVD, or on a portable device, you can be sure that the customization options, and breadth of features, mean that you will have made something that is truly unique. So, despite my small reservations on the quality of the training materials, I have no hesitation in recommending that you give Xtreme Photostory some serious consideration if you are looking for DVD photo slideshow software. There is a 30-day free trial available for download on the Magix website. Why not give it a try?