Review of Topaz ReMask 2 - Photo Editing Plug-In for Changing Backgrounds, Extracting Objects, and Creating Masks in Digital Photographs
Uses for Topaz ReMask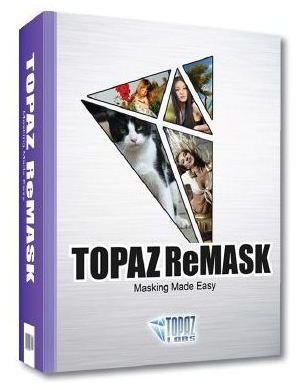 Most major photo editors support some form of masking, with certain applications having better tools than others. For those who are unfamiliar with the term, masks basically let you modify a digital photo so that you can choose which parts of the image are visible and which parts are hidden. Topaz ReMask is a photo editing plug-in that facilitates the mask creation process, making it easier to do the following tasks – just to name a few:
Make the background of a digital photo or other image transparent so that it can be placed in web pages or publications.
Extract objects from digital photos so they can be used in other photo editing projects.
Change the background of a digital photo.
Make better selections of objects in a photo so that particular effects can be applied to different areas of an image.
Although ReMask is marketed as a Photoshop plug-in, it's also compatible with Photoshop Elements and Paint Shop Pro. In this review, we'll examine the capabilities of ReMask while using Paint Shop Pro as the host editor to see how well it works in that environment.
Ease of Use (5 out of 5)
The download and installation of Topaz ReMask 2 was very straightforward and no problems were encountered. However, if you do run into any problems and you're a Paint Shop Pro user, you may want to take a look at our guide on how to install third-party plug-ins for Paint Shop Pro. Similarly, Elements users can refer to our instructions for adding plug-ins in Photoshop Elements. These articles explain how to install any plug-in, not just ReMask.
Once ReMask is installed, it will appear in your plug-ins menu. For Paint Shop Pro, the Plugins sub-menu can be found under the Effects menu on the main toolbar as shown in the screenshot below. (Click any image for a larger view.)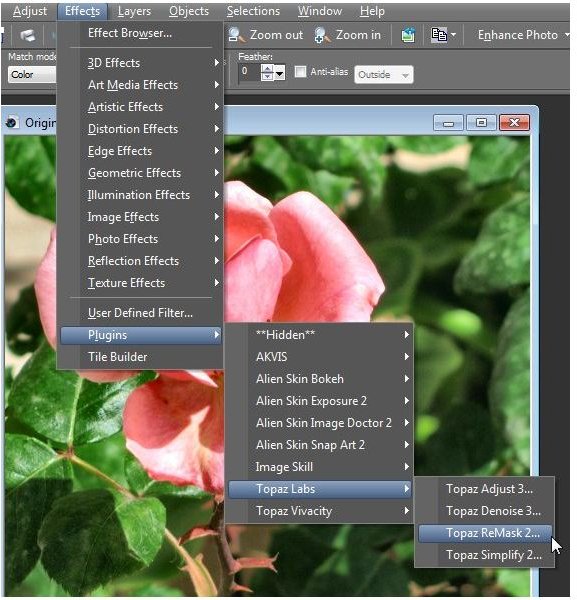 Before you can use ReMask, you will need to convert your background layer to a full layer. If you don't, you'll receive a pop-up warning from the plug-in when you try to access it, reminding you to do so. There are a couple of ways to do this – one way is to just select Promote Background Layer from the Layers menu (see below).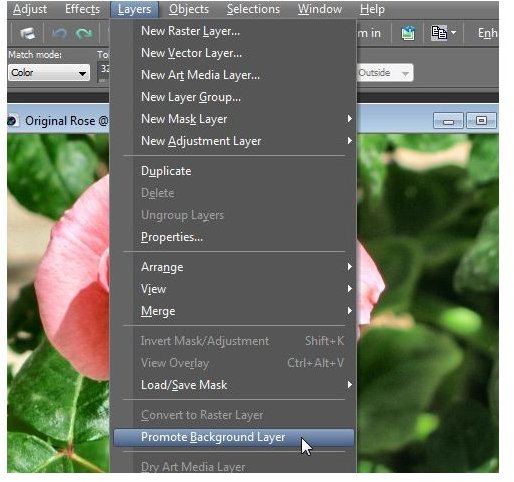 For more details about layers, see our tutorial on working with layers in Paint Shop Pro.
After promoting the background layer, you can call up ReMask by selecting it from the Effects menu. When the ReMask window first appears, the photo will be covered with a green tint. This green tint indicates the area of the photo that you want to keep visible when creating your mask.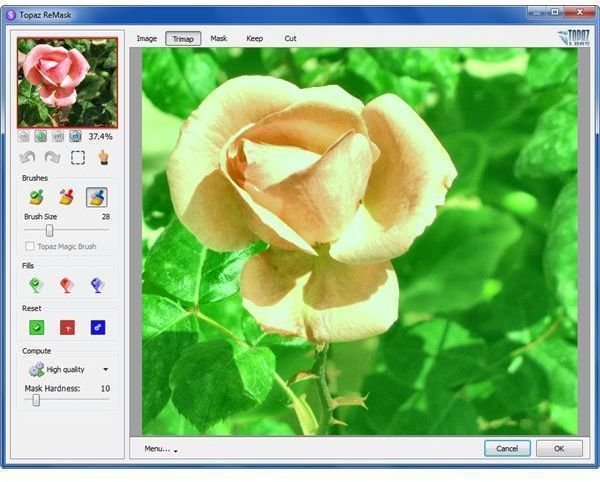 From here, you can outline the object that you want to keep with the bluish-purple Compute brush and then use the red flood fill bucket to Cut the part of the image you want to hide.
Once you've made your selections, click the Compute button to create the initial mask. Then, you can use the other tools in the plug-in to further refine your mask, if necessary. As you work, you can choose to view your image in several ways:
Image – Selecting this option will show your original image.
Trimap – This view shows which portions of the photo were marked to keep and cut as well as the edges marked using the compute brush.
Mask – This selection shows the actual mask created by ReMask.
Keep – In this view, you can see the portion of the image that will be visible when the mask is applied to the photo.
Cut – This view shows the portion of the photo that will be hidden by the mask.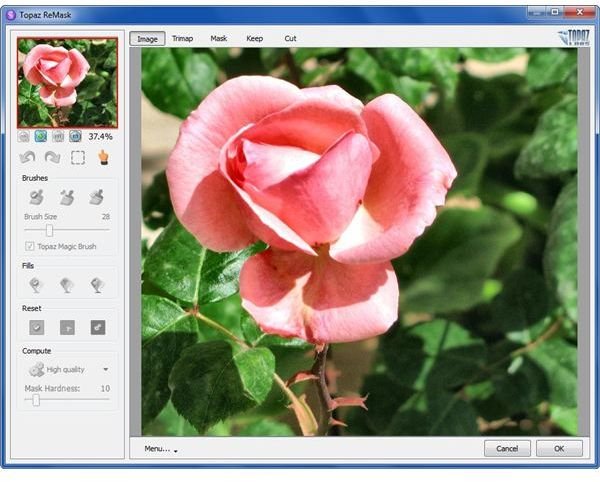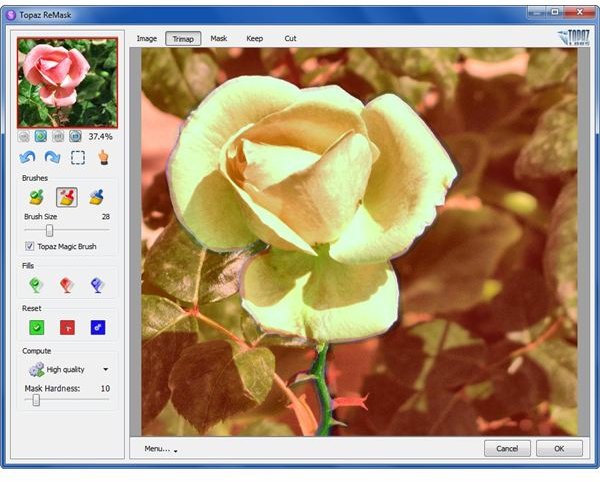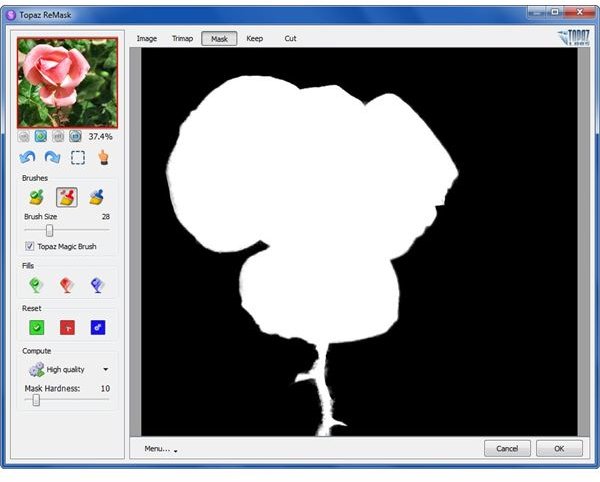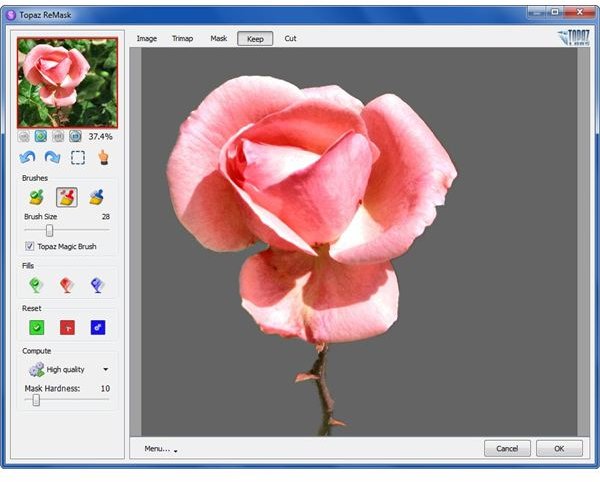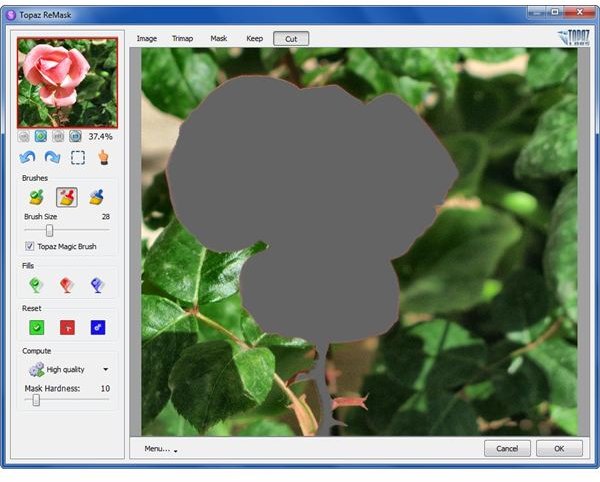 Overall, ReMask is very versatile as well as easy to use. The interface is quite intuitive, and you should be able to jump right into using it with little to no time spent on help files and tutorials. If you do need some help getting started or if you want to find out more about different ways you can use the plugin, there are some excellent PDF and video tutorials available on the ReMask web site.
Performance (5 out of 5)
In addition to being easy to use, ReMask gives excellent results. These results are obtained a lot quicker and with much more ease than existing tools found in most photo editors. Even though the Paint Shop Pro X2 Ultimate collection comes with a fairly robust background remover plug-in that I like a lot, ReMask is much more powerful and gives better results with less work, especially when trying to extract objects with complex edges that are difficult to separate from background scenes.
Just as an example, the below images show the original photo of the rose I've been using in this demonstration, the extraction of the rose with transparent background, and a modified photo of the rose in which ReMask was used to isolate the rose and Topaz Adjust was used to apply different effects to the rose and background.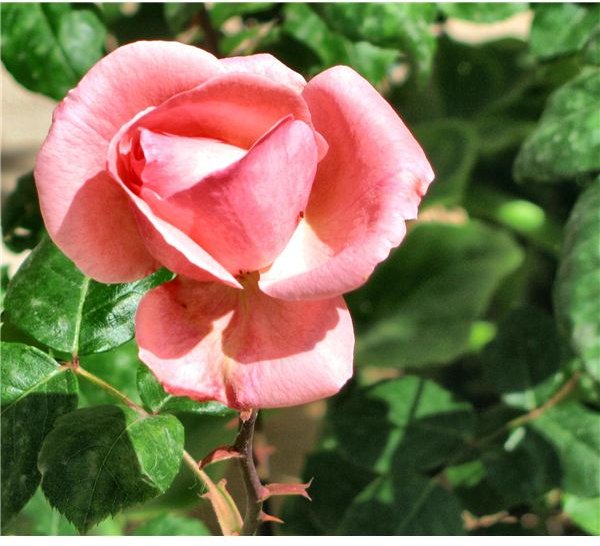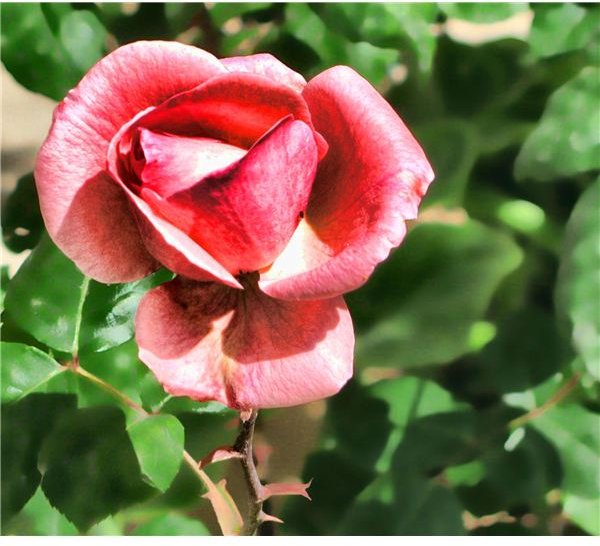 Price to Value (5 out of 5)
Considering its power and versatility, Topaz ReMask 2 is very moderately priced at $69.99. If you're interested in other plug-ins, you may want to check out the Photoshop Bundle, which includes ReMask and all of the other photo editing plug-ins in the Topaz line. You can save a substantial amount by purchasing all of the plug-ins together, rather than buying each one individually.
In addition, if you already own one or more Topaz plug-ins, you can get special upgrading pricing that will allow you to save even more. In particular, ReMask and Adjust complement one another nicely, allowing you to create some truly artistic images from your digital photos.
Overall Rating (5 out of 5)
If you've been looking for an easier way to change backgrounds or extract objects in digital photos, Topaz ReMask is more than worth the investment. Not only is it a great tool for these tasks, but it also makes object selection much quicker and more precise than when using the built-in tools of photo editors. While developed with Photoshop in mind, the plug-in works flawlessly in Paint Shop Pro and Photoshop Elements.
For those who like to try before buying, Topaz Labs does offer a free 30-day trial of ReMask 2 that you can obtain from the Topaz web site.