Review of ACDSee Pro 3 - Software for Managing and Editing Digital Photographs
Overview of ACDSee Pro 3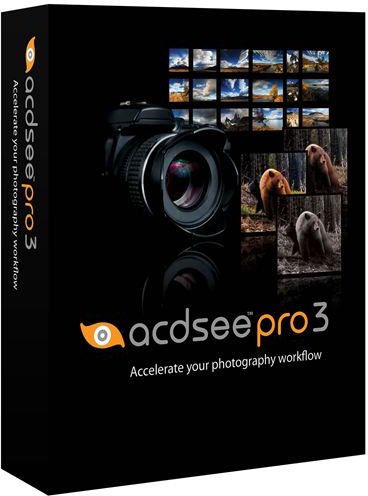 Although it may not be as widely known as other photo editing tools, ACDSee Pro 3 is a full-fledged software suite with tools for organizing, editing, and sharing digital photographs. The software takes a somewhat unique approach to photo management, putting more emphasis on the workflow process and concentrating more on technical, rather than creative project-based, photo editing.
The features and capabilities found in ACDSee Pro 3 may make the application more appealing to digital photographers who are most concerned with the developing and processing of individual photos, but others may find the software lacking a bit when it comes to other editing tools.
Ease of Use (4 out of 5)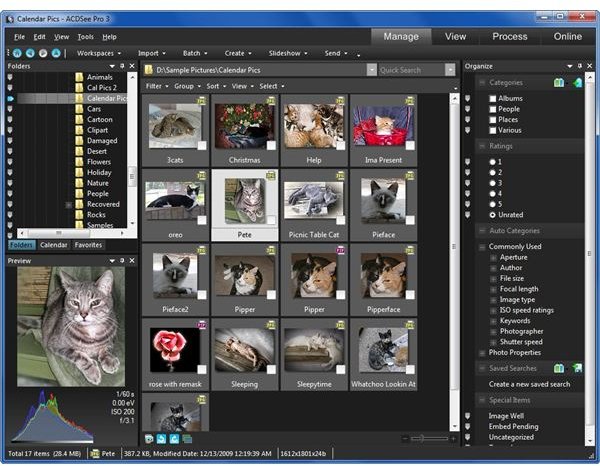 If you're used to working with other photo editing software (like Photoshop or Paint Shop Pro), the user interface of ACDSee Pro may seem a bit foreign at first, but after the initial surprise, you shouldn't have much trouble finding your way around. In fact, the layout of the application is extremely intuitive, separating the software's functions into four basic areas – Manage, View, Process, Online.
Although the tools found in the Manage, View, and Online areas are fairly self-explanatory and easy to use, those found in the Process panel will require some practice or pre-existing knowledge. The software does come with a built-in help system, but it is pretty rudimentary and lacks any tutorials for new users. However, the ACDSee web site does offer a few nice video and PDF tutorials for both new users and those who have experience with prior versions of ACDSee Pro.
Features and Performance (4 out of 5)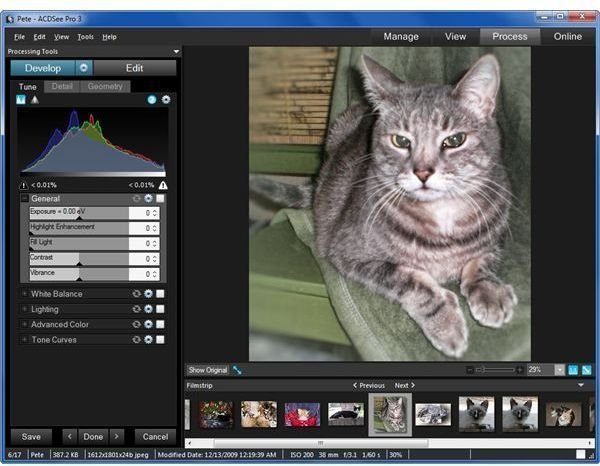 With the separation of the Manage, View, Process, and Online functions in ACDSee Pro 3, the software does make the workflow process extremely efficient. On the Manage tab, you can organize your photos in a variety of ways, apply tags, and create customized workspaces. Despite there being a separate tab for Online functions, most sharing utilities are also found on the Manage tab. The Online tab is strictly for sharing and storing your photos through ACDSee Online, where you can create an account and get 2 GB of free space. (More space is available for an additional fee.)
The Process tab is broken down further into two main divisions, Develop and Edit. In the Develop area, you'll find tools for adjusting the exposure, lighting, color and other similar attributes. In the Edit area, you can perform functions such as fixing red eye, cropping, adding a watermark, and applying certain special effects. Although each of the processing tools is fairly robust on its own, the collection as a whole is quite limited compared to other photo editors. That is, you shouldn't have any problems making technical adjustments to individual photos, but don't expect to be able to change backgrounds in images or perform the range of creative edits that you can in other software primarily dedicated to photo editing.
Price to Value (2 out of 5)
The suggested retail price for ACDSee Pro 3 is $169.99. Considering the lack of advanced editing capabilities, this price is pretty steep, especially when compared with other options on the market. As a photo management tool, ACDSee Pro 3 is superb, but if all you want is a photo management tool, you can go with ACDSee Photo Manager 2009 at a much cheaper price.
Overall Rating (3 out of 5)
While ACDSee Pro 3 has a lot of outstanding features and is a great tool for the digital photographer who wants to easily apply exposure and other technical corrections to photos, many photo editing enthusiasts will be disappointed by the lack of capabilities in the software. This alone does not make the product a poor choice since various groups of users look for different features in a photo editing suite, but the pricing of the software isn't quite in line with its capabilities.
This post is part of the series: ACDSee Pro 3 vs. Other Photo Editors
After reviewing ACDSee Pro 3 and investigating the software's strengths and weaknesses, we'll compare it to other popular photo editing applications, such as Paint Shop Pro, Photoshop Elements, and PhotoPlus.