Corner-A ArtStudio Review: Turning Digital Photos into Flash Animations and Screensavers
Introduction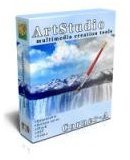 The Corner-A ArtStudio is a powerful image editor that lets you bring your photos to life with the help of a variety of built in image filters. You can add floating clouds, make water ripple, and even change the weather to make it rain or snow right in front of your eyes. All of these effects, and more, are created with a few swift strokes of your mouse. ArtStudio lets you create flash animation screensavers of your finished product, swf flash animations, gif animations, image sequenced jpegs, or avi video files. This software is for Windows, XP and later, and requires Pixel Shaders 2.0 support from your graphics card. Version 1.3.2 of this software was used for the purpose of this review.
Ease of use (5 out of 5)
The best thing about ArtStudio is its simplicity. To create a new effect you add a layer on top of your chosen photo. You have a choice of several different effects for your layer like water, rain, snow, wave, stars, and smoke. Once you have selected the effect you want, you simply click drag your paintbrush over the areas you want to animate. You can adjust the brush size with the square bracket keys on your keyboard, (just like in Photoshop Elements). A blue mask appears over the areas you paint, to let you see what you have selected. When you have finished selecting your area you want, simply click the unmask button and the blue mask is removed to reveal your newly animated area. Click here to see a sample image. This was created with two layers - clouds and water.
Screenshots of ArtStudio by Corner-A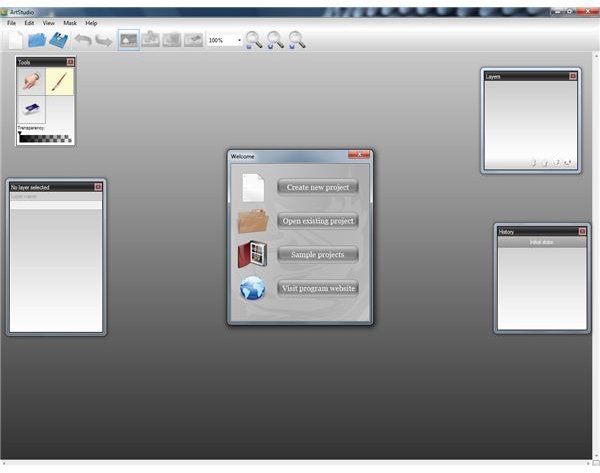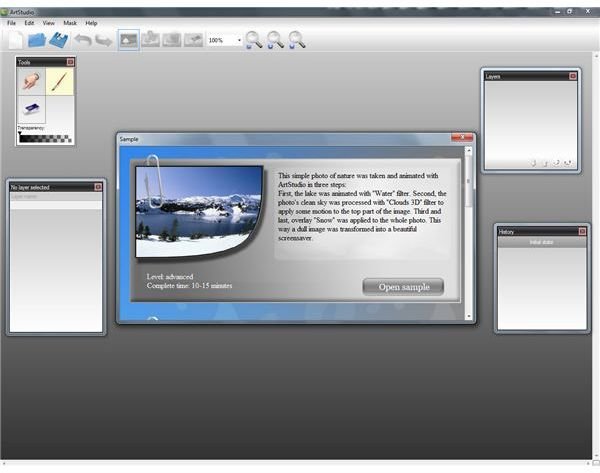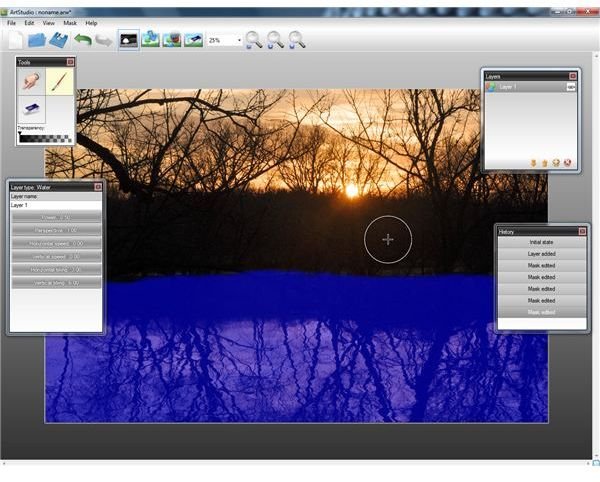 Features (3 out of 5)
There are around 25 different filter effects to choose from in the standard Corner-A ArtStudio package. While this might sound like a lot, some are just variations on a theme. For instance, there are two water filters, two cloud filters, and three blur filters. While they are all different in their own way, you may find this limiting over time. The toolbar is very basic, and probably deliberately so, to make it less threatening to beginners. There are not many features specifically for advanced users, but that does not mean you cannot create advanced animations with the tools you are provided with. There are some great examples of flying birds and bobbing sail boats on the ArtStudio website to show you what is possible with some imagination and time to explore this product in detail. So, while there are many great features to create flash animation pictures, there is maybe not enough to please everyone.
Final Verdict (4 out of 5)
If I am honest, I didn't really want to like this software. I had seen these types of effects before and never really cared for them. However, ArtStudio quickly won me over with its ease of use and realistic 3D flash animation effects. You can create first rate screensavers, and useful video animations from any digital photo in your collection. This software retails at around $35, and while that does seem a little expensive, it does include the regular updates that are applied to this product to keep it up to date and bug free. If you want to bring a new dimension to your digital photo collection, create flash animation images for your website, or are simply tired of the same old screensavers, then you should defintiely give ArtStudio a test run to see if you think it is worth your money. Trial versions are available for download from Corner-A.