The Digital Photography Book Volume 2: An Excellent Photography Book
Who is this book for?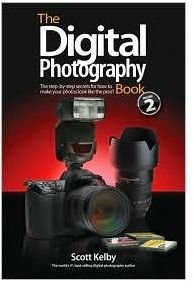 The great thing about Volume 2 is that there is something here for every skill level. Whether you are new to digital cameras, or a seasoned pro, there are plenty of great photography tips here for you. It is a book that will grow with your skills.
As with Volume 1, Kelby aims this book primarily at photographers with DSLRs. However, owners of advanced point and shoot cameras will have still find plenty of useful information in this book. Regardless of whether you shoot with a Nikon, Canon, Pentax, Sony or Olympus, the advice offered can be applied to every camera. Specific functions may have slightly different names to those on your camera, but if you own a Digital SLR, you will be able to do pretty much everything suggested in this book. I have a Nikon D90 and was able to use all these tips.
Style and Content (5 out of 5)
I like Scott Kelby's writing style. I even like his humor, and you will quickly find that Volume 2, like Volume 1, is very easy to read. Kelby's approach to the book is not to give you detailed information about the finer points of aperture or exposure control. It is much more informal. He describes it as if you were both out shooting, and you asked him how to get a certain type of photo. He would reply with a quick, short, and simple explanation, and that is what he does in this book. Use this mode, stand here, and try this shutter speed. This is not a book on in-depth photography technique, per se, more of a quick reference manual that is stuffed full of amazing ways to improve your photography. In my opinion, this is what makes is one of the best photography books I own. In this volume, there are chapters on using flash, building a studio, shooting portraits, landscapes, weddings, travel, and tips on how to get better photos.
What will you learn? (5 out of 5)
I defy you not to learn something from this book. Simple techniques like 'dragging the shutter' to better light your backgrounds can really make a big difference to your flash photography. Finding out what kind of shots look best in black and white, where to focus with landscape photos, or how to frame that perfect group shot, are just some of the things that you can expect to learn with this excellent photography book. Every page of Volume 2 has something new and unique to help improve your photography. It is a satisfying read because you finish each chapter thinking, "So that is how they take shots like that!"
Final Verdict (5 out of 5)
Without a doubt, Scott Kelby's Digital Photography Books are the best photography books I have ever read, (and I have read a lot!) So, if you like photography, you will love this book. Do you need to have read Volume 1 before reading Volume 2? No. The majority of the chapters in Volume 2 will standalone without any previous knowledge. However, Volume 1 is such a great read that you will probably want to read it as well. Do yourself, and your photography, a favor by buying this great book. For around $16 at Amazon, there are few cheaper ways to improve your digital photography skills. Oh, and did I tell you there is also a 3rd volume in the series?
This post is part of the series: Reviews of The Digital Photography Book series by Scott Kelby
These reviews cover all three volumes of Scott Kelby's Digital Photography Books. These great photography technique books should be in every photographer's collection.