Review of Alien Skin Exposure 2 - Film Effects Plug-In for Photoshop and Paint Shop Pro
Exposure 2 Overview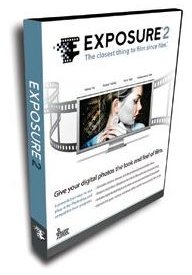 While many photo editing plug-ins concentrate on applying creative effects that make digital photos resemble paintings and other works of art, Exposure 2 focuses on a different direction – making your digital images look as if they were captured using particular types of film, such as Kodachrome, Polaroid, and Agfa Scala.
In addition to Photoshop, Exposure 2 is compatible with Paint Shop Pro and Photoshop Elements. Both Windows and Mac versions of the plug-in are available. In addition, Exposure 2 will work with Adobe Fireworks, but Live Effects are not supported.
In this review, we'll examine the capabilities of Exposure 2 a little deeper and get a better idea of what it is able to do.
Ease of Use (4 out of 5)
Like most other Alien Skin plug-ins, Exposure 2 has a well-designed user interface that promotes efficient workflow. The plug-in is actually divided into two collections of effects – Black and White Film and Color Film – and each of these sets can be accessed independently through the host photo editing application. However, it is possible to navigate from one collection to the other within the Exposure 2 interface without having to return to the host editor.
There are over 300 presets included with the bundle, making it easy to apply an effect with just a click of the button. Each of these presets can be tweaked in a number of ways, and you can even create completely new effects with the versatile groups of customizable settings built into the plugin. An easy-to-use organizational area lets you save and catalog your own personal favorite settings so they can be used in later projects.
Because of the large number of customization options, it may take you a bit of time to become completely proficient with the plug-in so that you are able to use it to its full potential. However, the preset options make it so that you can jump in and get started right away, and you can always come back and learn the more advanced possibilities whenever you're ready.
Features and Performance (5 out of 5)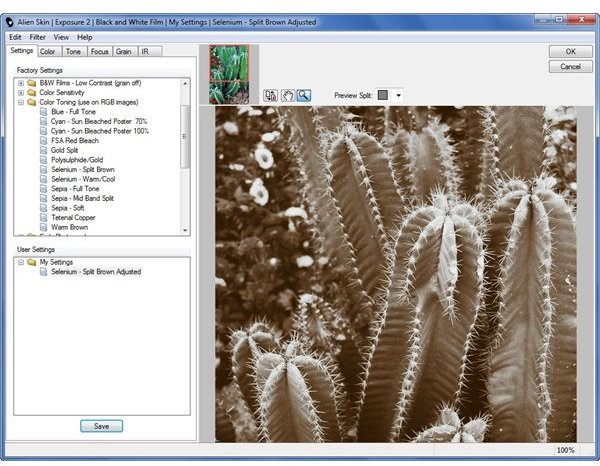 Exposure 2 does a great job of emulating a wide variety of film stocks – investigating the huge collection of presets should be enough to keep you busy for quite awhile. Even though the Color options are excellent, I'm particularly impressed with the Black and White conversion capabilities.
Transforming a color digital photograph into a high-quality black and white image can be a bit frustrating and tedious when only using the built-in tools of a photo editor, no matter which host editing application you use. But, with Exposure 2, it's possible to find the look you're searching for in just a few minutes. Even if none of the presets is exactly what you want, you can usually find one that is close and only requires a little bit of manual adjustment with the settings.
Price to Value (4 out of 5)
The retail price of Exposure 2 is $249, so this is one plug-in that you're probably not going to buy just on a whim. On the other hand, if you spend a lot of time trying to achieve the look of film in your digital photos, or even if you just to a lot of Black and White conversions, Exposure 2 should help you quickly achieve effects that might otherwise take hours to create with standard photo editing tools. With that kind of time savings, the plug-in is definitely worth the price.
Overall Rating (4 out of 5)
For those that love the look of film, Exposure 2 is a must-have. No other plug-in on the market offers its wide array of versatility and options – at least, not any in this price range. If you're a more casual user, the price may be a little prohibitive despite the application's power and features. Either way, if you want to give the plug-in a try before making your decision, Alien Skin does offer a free trial version that you request from the product's website.