Alien Skin Snap Art 2 Review - Create Paintings, Comics, and Illustrations from Digital Photos
Overview of Snap Art 2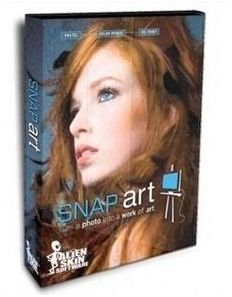 Alien Skin Software's Snap Art 2 is actually a collection of ten different plug-in effects, all of which have an abundant number of options and customizable settings that allow you to create oil paintings, comics, pencil sketches, and other artistic works from a digital photograph. There may be no shortage of products on the market today that claim to be able to turn a photo into a painting, but a lot of these applications are fairly primitive and give results that are less than stellar. Snap Art 2, on the other hand, is capable of producing some very creative masterpieces with both depth and beauty.
Although marketed as a Photoshop plug-in, Snap Art 2 is also compatible with Paint Shop Pro and Photoshop Elements as well as Adobe Fireworks. Both Macintosh and Windows versions of the software are available.
Ease of Use (4 out of 5)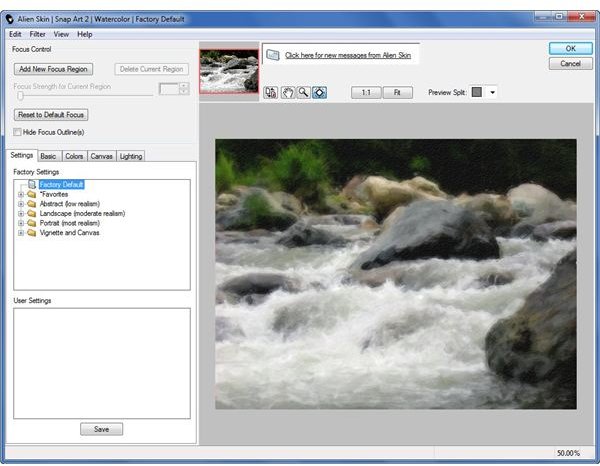 Although Snap Art 2 is packed with features and options that allow for complete customization of each included filter effect, the plug-in is still relatively easy to learn and use. The package comes bundled with over 700 presets so you can certainly use the software "right out of the box" without any training or prior knowledge.
However, to get the most out of the filter collection, it will take a little practice and experimentation to learn how to use all of the various settings and sliders. To help with this, Alien Skin has provided a number of video tutorials that demonstrate different aspects of Snap Art 2's usage on its website.
Performance and Feature Highlights (5 out of 5)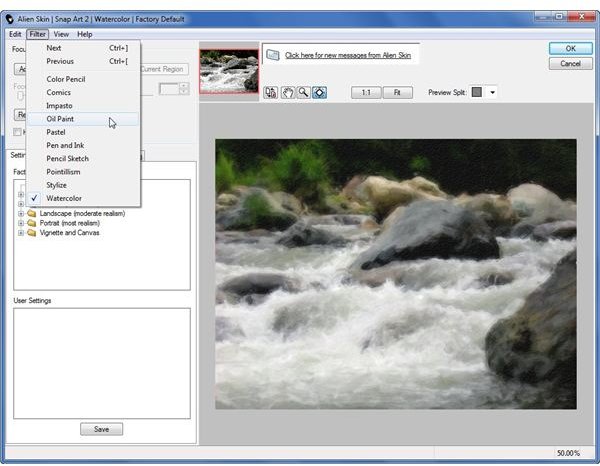 As mentioned earlier, Snap Art 2 includes 10 different filter effects:
Color Pencil
Comics
Impasto
Oil Paint
Pastel
Pen and Ink
Pencil Sketch
Pointillism
Stylize
Watercolor
Although each of these effects technically has its own interface and can be accessed separately, you can also toggle from one to another within the plug-in window after selecting any of them.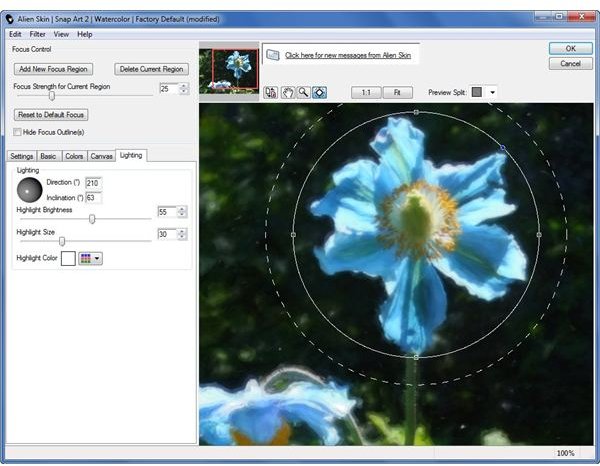 The setup for each filter is basically the same. Once you invoke the plug-in, you can apply one of the predefined settings or you can navigate through the other tabs and create your own custom look. When first starting out, it's probably easiest to start by selecting one of the presets that is closest to the final look you want and then go through the various sliders, making minor adjustments until you're happy with the result.
One very nice feature that was added to version 2 of Snap Art is the ability to add focus regions to your project so you can choose areas of the photo in which you want to preserve detail. This is a particularly nice tool if you are working with portraits and want to retain realism, but it's also quite useful in other projects as well.
All in all, the quality of the final output of projects created with Snap Art 2 is superb – much, much better than what can be achieved using the standard tools in Photoshop or Paint Shop Pro.
Price to Value (3 out of 5)
Despite being so feature-rich, the $199 price tag that comes with Snap Art 2 does give cause for pause. While the plug-in is exceptionally nice and definitely in the top of its class, it could be hard for a lot of people to justify shelling out this much for a collection of artistic effects – especially when there are so many alternatives on the market. However, if you've got the money to spend and want to treat yourself a bit, Snap Art 2 does offer virtually limitless possibilities so it's sure to become a permanent part of your photo editing arsenal.
Overall Rating (4 out of 5)
The only potential downside to Snap Art 2 is its price, but if you really enjoy transforming digital photos into creative images, even the price isn't that bad. With the abundance of features and options offered by the plug-in, you shouldn't find yourself bored with it for a long, long time.