Photoshop Elements 8 - Should You Upgrade? Review of the New Features and Utilities in PSE8
What's New in Photoshop Elements 8?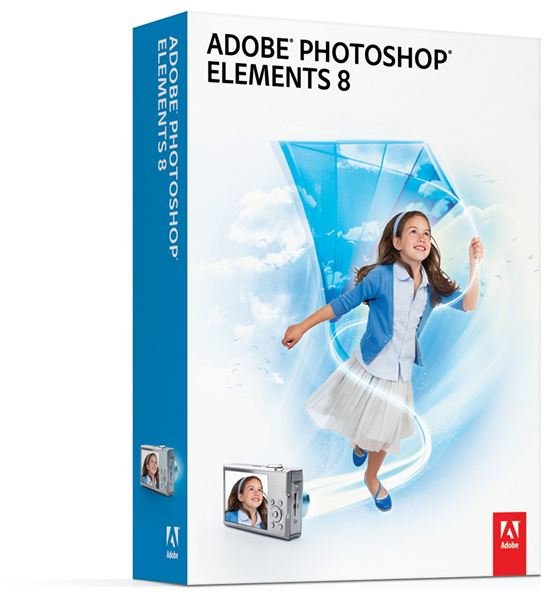 At first glance, the latest release of Photoshop Elements doesn't look that much different from Photoshop Elements 7, which sported some major changes to the photo editing software's interface and added seamless integration with Adobe's online service Photoshop.com. However, there are some substantial additions found in Photoshop Elements 8, including a more robust (and more useful) Organizer as well as a very nice recomposition tool that lets you resize photos without losing the most important elements of those images.
If you're a prospective new Photoshop Elements user, it's pretty easy to answer the "Is the software worth the money?" question. Photoshop Elements 8 is definitely a good value and should be on the short list of anyone looking to invest in photo editing software.
On the other hand, if you own a prior version of the application, is it worth the investment to move up to the latest version of the Photoshop Elements package? We'll look at some of the new features and see.
Recompose Photos (5 out of 5)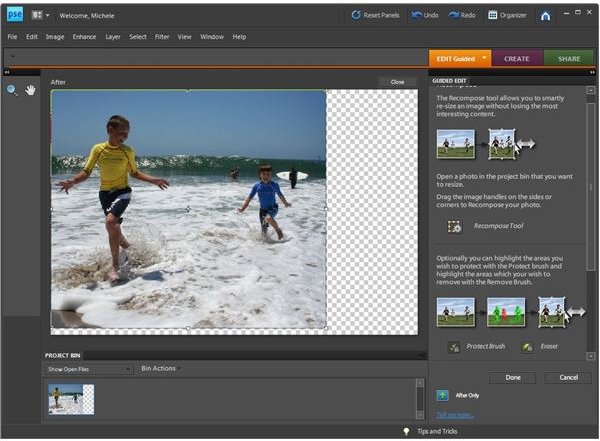 The new Recompose tool found in Photoshop Elements 8 is definitely more than just "upgrade fluff." With this tool, you can resize photos to different dimension ratios without noticeable distortion of the main elements of the image. For example, if you have an 8" x 10" photo that you want to show off in a 5" x 5" frame, you can use the Recompose tool to resize the photo without cropping and end up with an image that still shows off the entire scene without distorting the main subjects.
This flexible tool can also be used to remove distracting objects in a photo during the resizing process. With the help of the Protect and Remove brushes, you can mark the items in the image that you want to keep as well as those that you want to remove, giving even more control over the recomposition process.
The Recompose tool gives some amazing results, and its versatility makes several types of editing projects go smoother and much faster. In fact, this new feature alone may be enough reason to move up to version 8.
People Recognition (4 out of 5)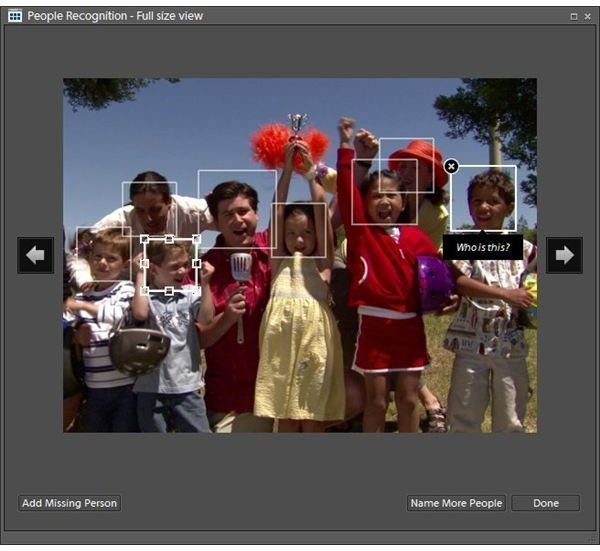 Technically, the new People Recognition tool in Photoshop Elements 8 is just one of the many enhancements of the improved Organizer, but it's significant enough to talk about separately – especially with all the emphasis placed on face tagging nowadays.
For the most part, the People Recognition tool does a good job. You can direct the utility to scan your library and tag any faces found in your photos. Occasionally, the automated scanner won't detect a "face" and you will have to manually select the person if you want to apply a tag.
After applying a few tags to faces, the People Recognition tool will actually start making suggestions when similar faces appear. This suggestion feature is fairly decent and improves quite a bit as more faces are labeled and the application has more data to use.
Enhanced Organizer (5 out of 5)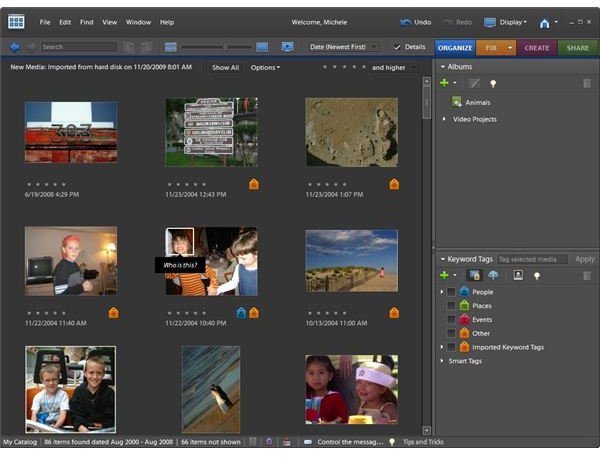 The Organizer that pulls together work from Photoshop Elements, Premiere Elements, and Photoshop.com has received a much-needed overhaul. The new Auto-Analyzer will scan your files as you import them, applying Smart Tags to help you search your library easier. In addition, you can use the People Recognition utility described in the previous section to identify and label any faces in your digital photos, allowing you to search your collection for specific people.
In addition, if you use Photoshop.com, you can sync your photo and video collection across multiple computers from within the Organizer. Not only does this let you backup your library online, but it also makes it easy to access and save your work, no matter which computer you happen to be using at the time.
On the next page, we'll look at some of the other new features found in Photoshop Elements 7 and consider the software's price.
Other New Features (4 out of 5)
Photoshop Elements 8 also adds several other new features, including some that should catch the eye of more creative photo editors. For instance, the Photomerge Exposure tool lets you take a series of photos under different lighting conditions and combine them into one final image that captures the best parts of each shot. Also, a new preview tool allows you to compare several possible adjustments at once before actually applying the change to the photo. While this may not sound like a big deal to some, it certainly saves a lot of time experimenting to find that perfect setting when editing an image.
To get a better idea of all the new features found in Photoshop Elements 8, Adobe has put together a nice comparison chart that singles out the main differences between versions 6, 7, and 8 of the software. Some of these new capabilities do require a Photoshop.com membership, but that is noted clearly on the matrix.
Pricing (5 out of 5)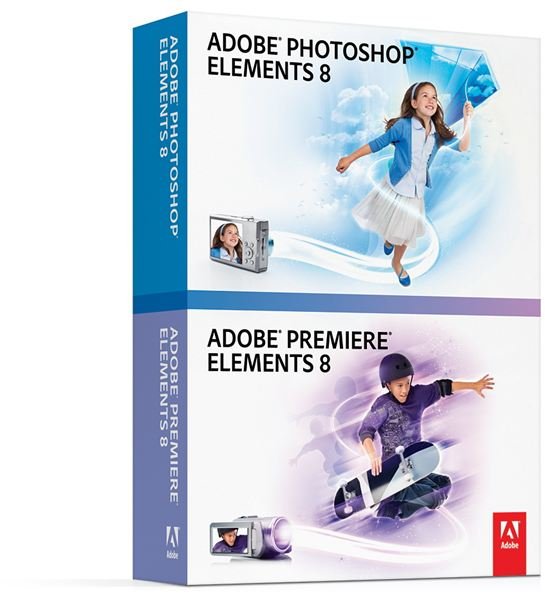 As a stand-alone product, Photoshop Elements 8 currently retails for $99.99 at Adobe's web site. However, Adobe is offering a $20 mail-in rebate valid through October 31, 2010 that brings this price down to $79.99.
If you have any interest in video editing along with photo editing, the Photoshop/Premiere Elements 8 bundle is a very attractive deal. You can purchase both products as a package for $149.99, or $119.99 after applying the $30 mail-in rebate for the combo deal. Alternatively, you may want to consider the Plus package which includes both programs as well as a one-year subscription to Photoshop.com Plus for $179.99 ($149.99 after the mail-in rebate).
Special Holiday Pricing
If you've been holding off on purchasing version 8, Adobe is offering some additional incentives for holiday shoppers. As part of a special Black Friday promotion, you can pick up a copy of Photoshop Elements 8 and save $40 ($20 mail-in rebate + $20 instant savings). Also, the bundled package containing both Photoshop Elements 8 and Premiere Elements 8 will be offered at a $50 savings ($30 mail-in rebate + $20 instant savings). This latter deal is available for both the standard combo package as well as the Plus package. The Black Friday sale, in effect from November 23 to November 30, also includes free shipping.
For those that miss out on the Black Friday sale, Adobe will be running another promotion from December 7 to December 21. This subsequent sale of the holiday season will let you pick up the Mac version of Photoshop Elements 8 at a $30 savings ($20 mail-in rebate + $10 instant savings). You'll also be able to get the bundled package of Photoshop Elements 8 and Premiere Elements 8 at a $40 savings ($30 mail-in rebate + $10 instant). Again, these deals will include free shipping.
Worth the Purchase? (4 out of 5)
It's become the norm for major software products to put out a new release once a year – sometimes with notable improvements and sometimes with fluffy content dressed up and disguised as improvements. In this case, Adobe has come through and added enough truly new functionalities to make it worth moving on to the latest release. If you're still using Photoshop Elements 6, there are plenty of reasons to make the leap to version 8. Even if you're using version 7, you may still want to consider investing in version 8 – especially if you can take advantage of the holiday promotion sales. In either case, if you want to try out the new features before you buy, you can download a fully functional 30-day trial from the Adobe web site to help you make your decision.