Review of Roxio PhotoShow - Showcase Your Digital Photos with an Online Slideshow Creator
Overview of Roxio PhotoShow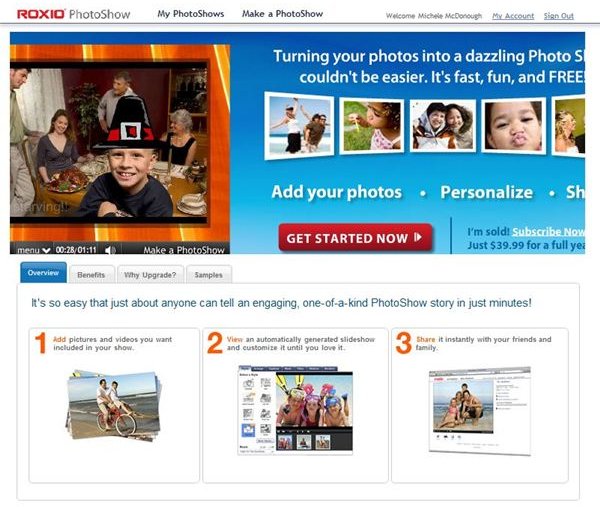 There's definitely no shortage of online sites dedicated to photo sharing – in fact, new ones seem to keep popping up everyday. As this collection continues to grow, most sites are choosing to focus on a specific aspect of photo sharing or to target a particular class of users. With PhotoShow, Roxio is doing a little of both by marketing its slideshow creation tool to the casual user looking for a fun, easy way to share personal photos with friends and family.
PhotoShow comes in two varieties – a free version with limited tools that can be accessed through a web browser and a yearly subscription package that includes PhotoShow 6, a Windows desktop application that lets you create your slideshows offline as well. In this review, we'll be focusing on the online portion of PhotoShow and looking at some of the differences between the free and subscription versions.
Ease of Use (5 out of 5)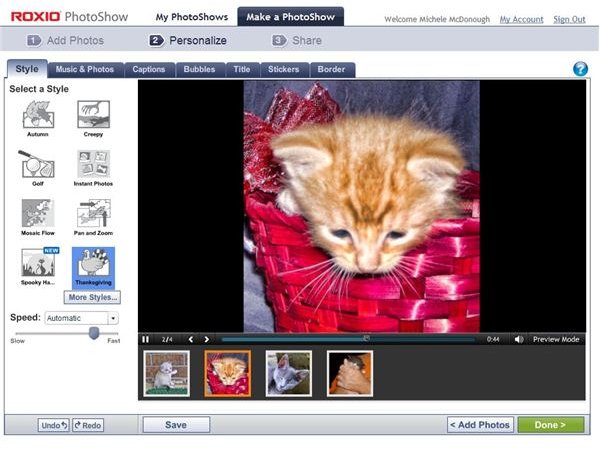 In terms of usability, PhotoShow gets high marks. The software sports a 1-2-3 creation process where you (1) upload your photos, (2) design your slideshow by adding titles, captions, styles, and effects, and (3) choose how you want to share your final production.
The entire process is fairly intuitive with well-labeled tools and helpful hints along the way. If you need additional help, Roxio has put together a number of video tutorials covering all aspects of the application's capabilities. This video collection can be found on the RoxioPhotoShow Channel at YouTube.
Features and Performance (3 out of 5)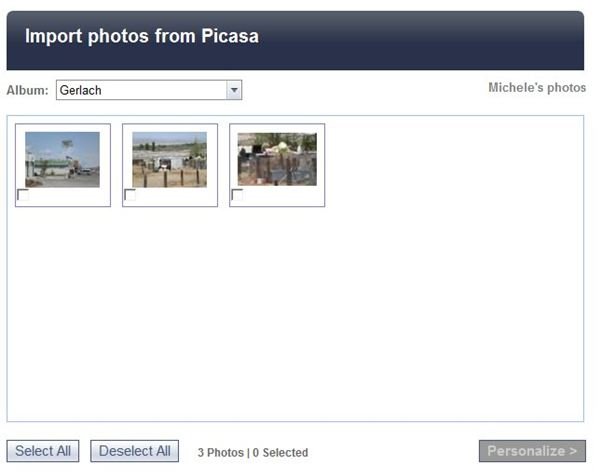 Although extremely easy to use, the features of the free version of PhotoShow are fairly limited in scope. However, this version does provide a nice means to let users try out the application before purchasing, and it serves as a pretty good tool for creating slideshows with limited customization.
Both the free and subscription versions allow you to upload your photos several ways. You can either add your images directly from your computer by browsing through your PC's directory and selecting the ones you wish to use, or you can upload photos from several online services – Facebook, Shutterfly, Flickr, or Picasa Web Albums. This latter option is particularly nice for those who want to create several shows using the same photos.
Most of the differences between the two versions of the application are related to the design phase of the creation process. Here, the free version allows you to select from eight different slideshow styles, while the subscription package offers over 160 additional themes. Additionally, the subscription package gives you more options for adding music, titles, stickers, and borders.
Read on to the next page for the conclusion of our review of the online version of Roxio PhotoShow.
Features and Performance (continued)
When finished with the design of your slideshow, a link to the show will be generated. You can then use this link to share your production via email, post the slideshow to online services like Facebook, use the HTML generated code to embed the slideshow on any web page, order a DVD containing your slideshow, or even broadcast your creation on PhotoShowTV if you live in certain areas of the country. If you're using the subscription version, you can also save your slideshow as an MP4 video and burn it to a DVD yourself.
One more important difference to note is that slideshows created with a free account will expire in 30 days. However, if you have a subscription account, your slideshows will never expire.
Price to Value (3 out of 5)
While the free account is – of course – free, the subscription account carries a yearly fee of $39.99. Considering that fee includes a copy of Roxio's latest desktop version of PhotoShow that lets you create slideshows offline, that's not too bad if you're planning on creating a lot of shows and you're looking for a simple, fun tool. However, there are a number of other options out there in the online world with a comparable price that offer a lot more functionality, so it's worth the time to do a little more research before investing in this particular tool just to make sure you find exactly what you're looking for.
General Rating (3 out of 5)
Overall, Roxio's PhotoShow is a fun application that makes it easy to create and share slideshows built around your personal digital photos. Even the free version has enough functionality and options to allow users to design a pretty decent little slideshow.
In order to get the most out of PhotoShow, you really do need to purchase a subscription to the service. While the yearly fee isn't that prohibitive, it's still around the same price that you would pay for other online services that support a broader range of features. In the end, though, if you're really just looking for a tool to help you create slideshows online, PhotoShow is a decent choice because of its easy usability and focus on sharing capabilities. But, if you're looking for a bit more, you may be better off with another option.