Understanding Close-up Photography by Bryan Peterson - Photography Book Review
Close-Up & Macro Photography
If you are a photography enthusiast chances are that you've played with close-Up and macro photography. You might have shot close-up portraits of friends and family, shot macro shots of insects, flowers, etc. but what makes the act of getting really close to a subject more interesting? What should you be looking for composition wise in close-up or macros? Are flowers and insects the only objects that lend themselves to close-up or macro photography? If you are looking for answers to the above questions, you should be reading Understanding Close-Up Photography by Bryan Peterson. Does the author sound familiar? Yes, Bryan is a professional award winning photographer with great experience in shooting for stock images to big name companies. He is also the author of books like Understanding Exposure, Understanding Shutter Speed, and Learning to See Creatively. This review will take you through Understanding Close-Up Photography: Close Encounters With or Without a Macro Lens and see what it has to offer the photography enthusiast in you.
Content, Presentation & Style (5 out of 5)
The introduction chapter is getting to know the joy that the author shares in photography, especially close-up or macro photography. There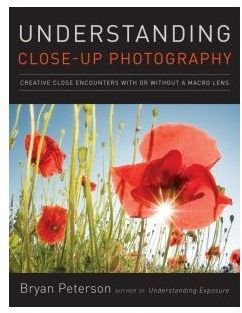 are several genres of photography like portraiture, sports, and fashion, and each has its own attraction. The art of close-up photography as the name suggests, simple enough deals with photographic subject at close range. The world of close-up photography has so much to offer yet most photography enthusiasts realize not even a fraction of it. The introductory chapter brings your mind in frame with the idea of photographing things up close.
The chapter titled Close-Up Vs. Macro Photography brings us to the next important eye opener moment of this book. Though we all have heard about close-up photography we tend to associate it mostly with portraits of people and if done on everything else as Macro photography. This is definitely not the right understanding a photographer should have. In this chapter Bryan explains the difference between macro and close-up photography with vivid images and easy to understand explanations.
Once the introduction and idea behind the genre of close-up photography has been explained its time for the readers to get down to business. The next chapter deals with equipment, everything from macro lenses, ring flashes, extension rings to reverse-lens technique has been explained with great examples and situation where they make more sense. Bryan's description on using telephoto lenses to take close-up photographs of everyday objects is definitely one of the highlights of the book. This is also dealt with in detail in a later chapter titled Up Close Indoors. Close-up and Macro photography depends heavily on Depth of field and aperture used to capture an image. The chapter that deals with this clearly explains the rationale for using certain apertures and depth of fields. It even explains when the above factors can also become a hindrance while taking a shot and how to overcome them.The final chapters help you put your newly gained insights into good use. The tips and tricks on shooting close-ups and macro shots are very helpful. The final Appendices part deals with all the technical stuff like magnification ratio, focal length calculations etc. in a clearly understandable manner.
Verdict
As most of Bryan's books are Understanding Close-Up Photography is not a technical book and will not give you exact camera settings and lighting conditions to cookup a nice photograph. The book will open your mind by guiding you along the creative path that one has to take to achieve the mindset and eye for a fabulous close-up or macro shot. Most art photographers would also be greatly benefited from the book since it deals with making creative close-up or macro shots of almost anything. In fact, a photographer of any other genre would find a lot to learn about the creative thinking process of close-up photography that he or she can apply in their own genres. The book retails for about $17 on Amazon and can be found cheaper elsewhere.