Silver Efex Pro by Nik Software - Photography Software Review
Product Overview
There is much more to creating striking black and white photographs than simply removing the color from your digital images. Many photographers use editing programs such as Photoshop and Photoshop Elements for producing black and white images. These tools work great for basic conversions, but if you are serious about making black and white photographs, Silver Efex Pro is definitely worth a look. Silver Efex Pro from Nik Software is a powerful plugin for Photoshop, Lightroom, and Aperture that can help you make the most out of your black and white conversions.
Download and Installation (4 out of 5)
To download the software, head over to the Silver Efex Pro website and either choose Download Demo or Buy Now. I recommend downloading the demo and trying the software before buying. The demo requires creating a Nik Software User Account but provides a 15-day trial of the full version.
The full version of Silver Efex Pro cost $199.95 and is available for both Windows and Mac OS X. For $299.95, a Complete Collection is available that includes Silver Efex Pro along with four other Nik Software plugins for Lightroom and Aperture. Photoshop users will need to purchase the full collection which runs $599.95. All Nik Software products comes with a 30-day money back guarantee.
Once your download is complete, simply follow the instructions provided with the download for the photo editing software you are using. I use Lightroom and the installation is similar to that of other plugins.
Ease of Use (5 out of 5)
Silver Efex Pro has a straight forward interface similar to Lightroom and Aperture that helps you move through the conversion process quickly and easily. To launch Silver Efex Pro from Lightroom, choose the photo to edit, go to the Photo drop-down menu, and select Silver Efex Pro in the Edit In option. A popup will appear (shown below) with options for what to edit, file format, and whether or not to stack the file with the original. Once you click Edit, you are greeted with a minimalist interface (shown below) that slightly resembles Lightroom.
The interface consists of a list of presets displayed on the left and the tools and filter on the right. Your image is displayed in the center with a choice of three different background colors. Before beginning to work in Silver Efex Pro, I recommend watching one of the various quick tutorials available at their website. The tools and filters are very easy to use and are laid out similarly to Lightroom or Aperture where you are meant to work from top to bottom to go through the editing process. Some of the filters I liked were the Color Filters which simulate placing a color filter over the front of your lens and the Film Types which allows you to choose certain looks to resemble certain film types.
Once your edits are complete, click Save at the bottom right and the file is saved back into your Lightroom library. Silver Efex Pro closes automatically and you are returned to the Lightroom interface. Overall, I think the user experience of Silver Efex Pro is extremely smooth and you hardly notice you are working outside of the native Lightroom environment. Since I am not an Aperture user, I cannot vouch for the user experience with Silver Efex Pro on that platform. However, based on the Aperture tutorial at the Silver Efex Pro website, it appears to be equally smooth.
Silver Efex Pro Screenshots from Nik Software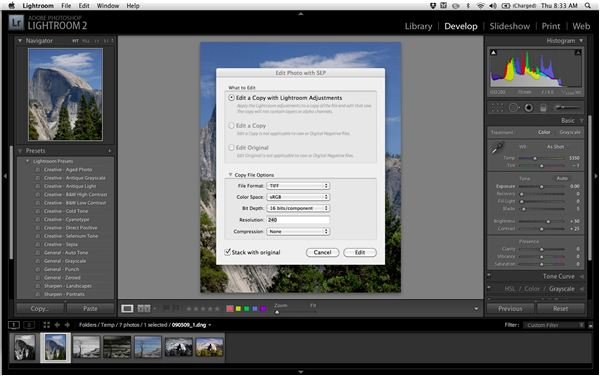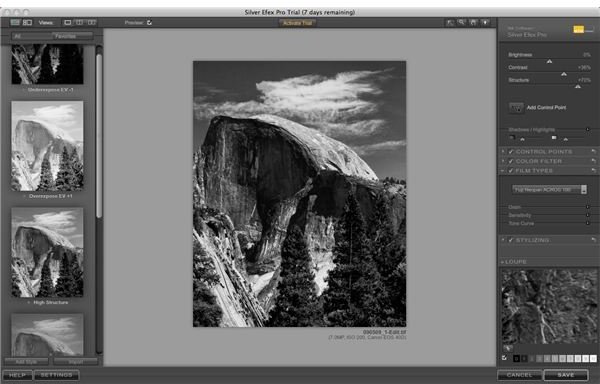 Usefulness and Value (4 out of 5)
I have been a Lightroom user for well over a year and greatly enjoy producing black and white images within Lightroom. I admit I was a bit skeptical before trying Silver Efex Pro due to its high price and the fact that I was already happy with my black and white work. However, after watching the tutorials and reediting some of my older work, I have to say I am truly impressed with the product.
Now with that said, this product is certainly not for everyone. You truly need to be serious about getting the best black and white images to appreciate this plugin from Nik Software. My advice for anyone with an interest in black and white photography that is on the fence about Silver Efex Pro is to download the 15-day free trial and take it for a test drive.
At $199.95, Silver Efex Pro is a good value if you are a serious photographer. For many others, it may simply be too expensive. I find the Complete Collection of plugins for $299.95 to be a much better value but only if you have a need for their other products. I plan to download the trials of the other products before deciding on Silver Efex Pro or the Complete Collection.