Aperture versus Lightroom - Which Photo Editor Should I Use?
Photography Editing Style and Application Use
Photographers have different styles of photography and this carries over to their use of applications and editing styles. Most photographers will define their work and which applications they use dependant on a particular area of focus in photography. Each editing application has benefits and uses that make the product an excellent editor for particular types of work.
This review is more a comparison between the applications and not a recommendation of one application over the other. All applications are useful and the purpose of this review is to match the right application to the style of the photographer.
Upgrade Version: $99.00
Full Version: $199.00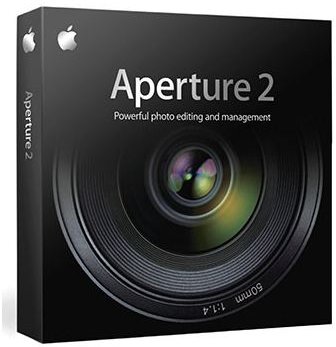 Upgrade Version: $99.00
Full Version: $299.00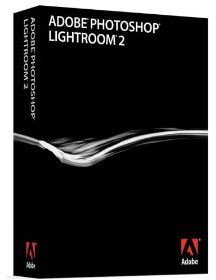 Basic Layout
Aperture (4 out of 5)
Main Window
Aperture's main window opens with three panels. To switch between the modules, it is necessary to click on the tabs in the left panel. Changing the View settings is also done using a drop down menu as compared with Lightroom's icon panel at the bottom of the main view panel. The look is simple, clean and uncluttered. The user chooses the mode to work in without the clutter of unwanted panels open. The Browser can be viewed in List view, Thumbnail or Filmstrip.The overall look of both applications is basically similar in style and function. The Viewer window and Browser have similar looks and function along the same lines. Importing from the desktop or from a CF card reader is done from main window or opens automatically if the application is open.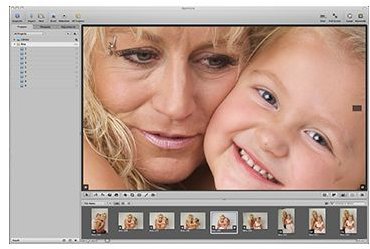 Organizing and Selecting
Organizing images is done by selecting rated images (or images designated in a particular manner) and then can be selected according to metadata, rating or any other parameter designated. Images can be selected and rated individually or in groups. Metadata can be input by changing the left panel tab. Another feature with Aperture is stacks. By using stacks you can organize groups of images that are related to each other. This is a great function for organizing different groups of images. Multiple images can be compared in the Viewer by selecting the images in the Filmstrip. Keyboard commands or drop-down menus control many of the functions. Drop down menus tend to be slower than using icons.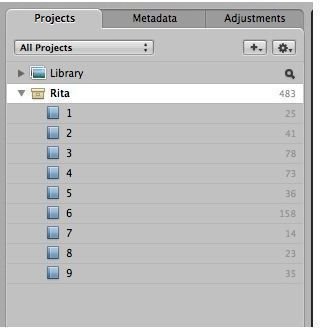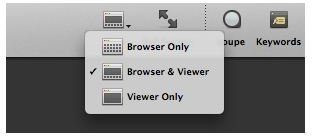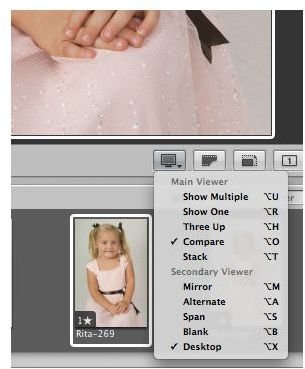 Aperture works to be a stand-alone product allowing digital image editing and creative developing with various tools available in the application. Images can be saved in different formats and as master images, but not as digital negatives.
Basic Layout
Lightroom (5 out of 5)
Main Window
Lightroom gets a higher rating here because of overall flexibility and ease of use. In Lightroom, switching between modules is easy. Just click on the desired module and Lightroom switches to that mode. In the main view, there are more panels (histogram, keywords, quick develop settings, catalog and folders.) available and they can be reduced from view by clicking on the arrow at the end of the panel. This gives you more initial viewing options for bulk image editing. The Browser can be viewed in Thumbnail and Filmstrip. List view is not available in Lightroom. Importing can be done from the Import button on the main window and gives the same choice as Aperture of importing from a CF card or browsing for a file. Lightroom features a Navigator window that shows a smaller version of the image in the Viewer. The Navigator image changes by moving the mouse over any image in the Filmstrip. This makes browsing or looking for a particular image quick and easy.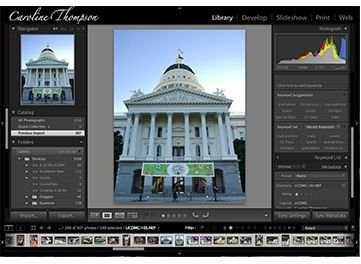 Organizing and Selecting
In the Thumbnail view, images can be selected and rated either individually or in groups. Images can be selected by using the same parameters as Aperture. Both applications have done a great job in search selection. Metadata and keywords can be accessed from the Library Module and input at the time of selection. Stacking is also available, but is not as user friendly as in Aperture. Lightroom is set up to be more intuitive with icons for many tasks and rating tools and filters conveniently located on the lower tool bar. Editing large batches of images is easier and can be done more swiftly in Lightroom's Library Module. There is a Survey View button that enables comparisons to be made with multiple images easily. Also, there is a Compare View button that gives several options for viewing the original image along side the edited image. All the view buttons on the bottom tool bar are quick and easy tools that are extremely user friendly. Lightroom can be navigated with out ever reading about the tools.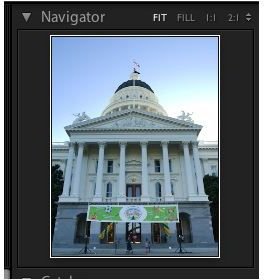 Image Adjustment Tools
Aperture (5 out of 5)
Color Correction
Aperture has a larger selection of color corrections and more tools to deal with subtle variations in shadows and tones. The Adjustment Panel offers many user-friendly tools such as the White Balance Eyedropper tool that can adjust while moving around the image. One of the big reasons Aperture gets the better rating here is the ability to edit an image in all modes. Even when working with the Web Gallery, an image can still be edited and moved around for better positioning. Aperture's color adjustment tools work with RAW images and make use of the wide range of image information available. There are many advanced features, such as the Highlights and Shadows section, that deal with the finer aspects of image editing. The full range for image editing adjustments can be made making this a powerful application than can handle the bigger jobs of fine-tuning images for production output. (i.e. print)

Image Adjustment Tools
Aperture (5 out of 5)
Picture Books
Making beautiful books with Aperture is made simple with all the templates available. This is nice output option.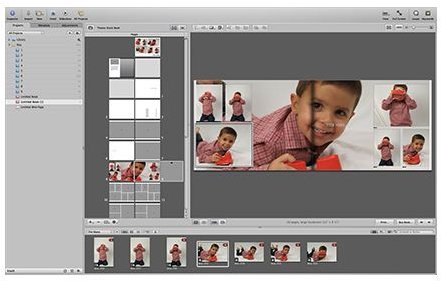 Tethering
The Tether command gives the studio photographer the ability to shoot directly into the application. This allows for editing while shooting. This streamlines the studio shoot enabling the photographer to capture and edit without the need for CF cards and the time consuming down load time. Another perk is to be able to see the lighting and adjust white balance with greater accuracy. This is a great plus for this application.
Integrating with Apple Applications
For photographers using Apple products, Aperture is designed to integrate seamlessly their products.
(3 out of 5)
Web Page Tools
The web functions with Aperture are minimal. There are some nice themes available and they are scalable, but this does not appear to be the major focus with this application.
Lightroom (4 out of 5)
Color Correction

Lightroom's color tools work with RAW images, also. They cover the range of image corrections for overall and some specific corrections, but fall short of some the fine tune Adjustment tools in Aperture. Lightroom is designed to pair up with Photoshop the most powerful image editor around. The color tools are easy to use and work great in many situations, but for finer corrections images need to be edited outside of Lightroom.
Picture Books/Tethering/Apple Applications
Lightroom was not designed to work in these areas.
(4 out of 5)
Web Page Tools
Lightroom's Web module is getting better. There are many options for creating web galleries in HTML, Flash and other Airtight Auto Viewers. This module is easy to use with custom text and colors available. In the right panel, there are many custom adjustments that can be made easily. Every upgrade has improved in this important section.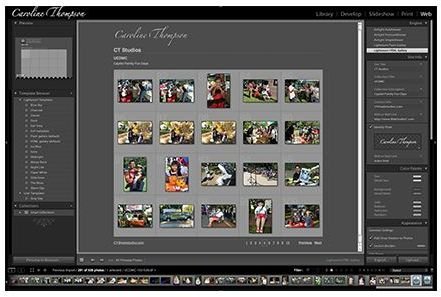 Summary
Overall, both applications are great tools for specific uses.
Lightroom makes a great image editor for large jobs with minimal corrections. The ability to scan through a large volume of images and make groupings and choices at a rapid rate makes this a great application for sports editing, corporate events and large jobs. Another great feature of Lightroom is the Web Module. This enables the photographer to edit large groups of images and then set them up for online proofing all in one sitting. Lightroom's interface is intuitive and extremely user friendly.
Aperture's powerful Adjustment Tools make it the choice for editing groups of images for print and special projects. While Lightroom is the best application for on the go, Aperture is a great studio application for editing and in house tethering. This is a great tool that streamlines the workflow in the studio and that frees up more time for the photographer to get more jobs. Aperture's design is more complex and requires the user to do a little reading before they can come up to speed with the many great functions and tools. Aperture's website offers a tutorial section that covers all the functions and tools with short videos.