Phanfare vs. SmugMug - Which is the Best Digital Photo Hosting and Storage Service?
Phanfare vs. SmugMug
Although there are a number of free photo sharing sites, a lot of photographers are turning to subscription-based services like Phanfare and SmugMug due to the stability, greater dependability and wider array of features offered by these sites. While Phanfare and SmugMug share several similar attributes, there are definitely some differences in these two services – enough to make one preferable over the other, depending on what you're looking for in a digital photo hosting plan. This guide will examine some of these differences in order to help you decide on an online home for your digital photo collection.
Pricing Structure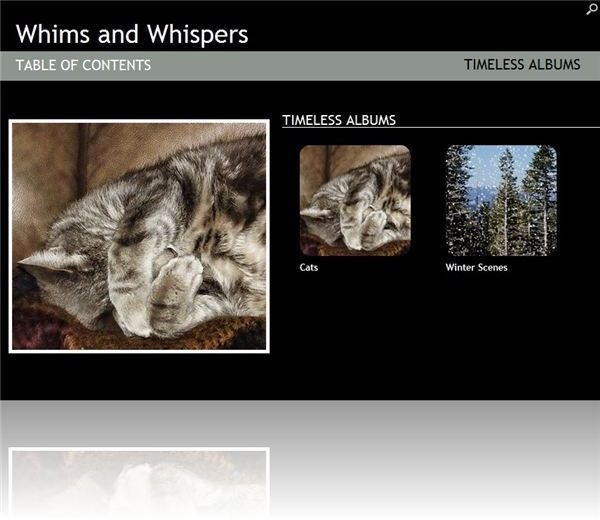 Both Phanfare and SmugMug offer a couple of different hosting packages – Phanfare has two choices while SmugMug has three at the current time.
Phanfare's Premium package runs $49.99 per year while the Pro package is priced at $99.99. Both of these plans offer the same basic features and also share many advanced tools and perks. The real difference between the two packages is that the Pro plan also includes support for RAW images, has more site customization options, and allows you to store and share longer videos (maximum length of 20 minutes rather than the 10 minutes allowed in the Premium deal).
The plans at SmugMug are slightly more differentiated. The three hosting options at SmugMug are labeled Standard, Power, and Pro with the Standard package priced at $39.95, the Power package at $59.95, and the Pro package at $149.95. (Note the big jump in price from the Power to the Pro deal.)
The main difference between the Standard and Power packages is that the Power package allows you to host DVD-quality videos in addition to photos and gives you a lot more site customization options. The considerably more expensive Pro package is priced so much higher for a reason – this subscription lets you add e-commerce capabilities to your site so that you can sell prints and digital downloads, collecting a percentage of the profits while SmugMug handles all the transaction details and fees.
Basic Storage Features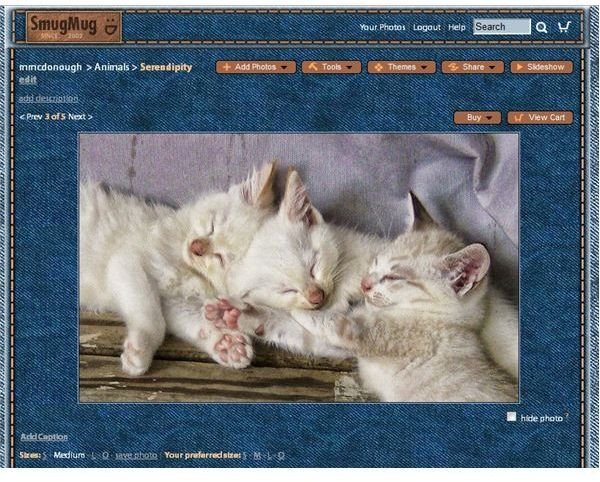 Phanfare and SmugMug both offer unlimited storage, so you can upload and share as many photos as you like. However, there are still some differences here.
Phanfare places a restriction that each standard image must be 20 MB or less in size, but that really shouldn't be an issue unless you were hoping to store extremely complex or poster-size prints. In the Pro package, RAW files are limited to 100 MB in size but, again, this shouldn't pose a problem to most users.
The Standard and Power packages at SmugMug limit image size to 12 MB or less. Although this still allows you to store photos that are quite large, it could start to cause a problem for some – especially those who want to share panoramic images. The Pro package at SmugMug increases this limit to 24 MB per photo.
A bigger issue may be felt by those who plan to store a lot of video footage. The Standard package at SmugMug does not allow for any video storage, while the Power and Pro plans support videos of 10 minutes or less. At Phanfare, both the Premium and Pro accounts support videos of up to 2 GB in size. The Premium account allows videos with a maximum length of 10 minutes, while Phanfare Pro supports 20-minute long movies.
Site Customization
When it comes to site customization, both Phanfare and SmugMug do allow you to add your personal touch to some degree, depending on the package you purchase. In each case, the more basic subscription – Premium for Phanfare and Standard for SmugMug – lets you change the appearance of your site by selecting one of several built-in themes. At the current time, SmugMug seems to offer a lot more theme options, but Phanfare is catching up.
The more robust packages at Phanfare and SmugMug allow some additional customization options, such as adding your own headers and footers and using a more personalized domain name. For those who want more flexibility, SmugMug lets you go a step further and modify your site with custom CSS, HTML, and JavaScript. So, if having maximum control over the appearance of your site is one of your highest priorities, SmugMug is probably the better choice.
Additional Features
On top of the basics, Phanfare and SmugMug each have some unique additional features that may make one or the other more attractive to potential subscribers. For instance, the Phanfare Pro package supports RAW image files up to 100 MB in size, which is a real advantage to photographers who prefer shooting in this format.
On the other side of the fence, the SmugMug Pro package does have decent e-commerce capabilities if you're interested in trying to make a profit from your work. Keep in mind, though, that this option is much more expensive than the other subscription options, and there are other online venues that allow you to sell your work that require much less of a financial investment, especially if you're just starting out and are unsure of what the demand for your photos might be.
Overall Comparison
In general, both Phanfare and SmugMug have quite a bit to offer to serious amateur and professional photographers who are looking for a more polished, dependable, and stable online home for their work. Additionally, both sites place a high emphasis on customer service and are continually looking for ways to improve available features and add new ones that will be useful to subscribers.
If you want to be able to store RAW images, share longer videos, and upload full-size copies of very large images, Phanfare is probably your best bet. However, if you're more concerned about having as much control as possible over the appearance of your site or you want to sell digital downloads of your photos, SmugMug may be more to your liking.
Phanfare and SmugMug both offer free trial subscriptions so you can test out the sites and see which one fits your style best.