Review of Phanfare - Online Digital Photo Hosting, Storage, and Sharing Service
Phanfare's Business Model
Nowadays, it seems like there is no shortage of digital photo and video hosting services, each one with its own business model and set of feature offerings. One thing to remember is that all of these services are businesses, so they are hoping to make a profit by allowing you to store and share your digital files. However, the way they go about trying to make this profit differs from service to service.
Some photo hosting services will promise you free storage but only offer a limited amount of space, hoping that you will upgrade to a paid account with more storage and additional features. Others claim to offer free storage but are crossing their fingers that you'll purchase prints or other items showcasing your photos. Some of these latter services have even been known to threaten to delete your account if you don't make purchases on a regular basis. Still others make their profit from advertising and surround your digital photos with ads that may or may not have anything to do with your work (and may even be a little offensive to some viewers).
Another business model that is growing in popularity among users of photo hosting services is the subscription-based model. Services offering this option generally charge a monthly or annual fee and, in return, provide users with more robust tools and features that often include unlimited storage space and site customization. Phanfare is a photo and video hosting service that falls in this grouping, and we'll take a closer look at its offerings in this review.
Storage and Basic Features (5 out of 5)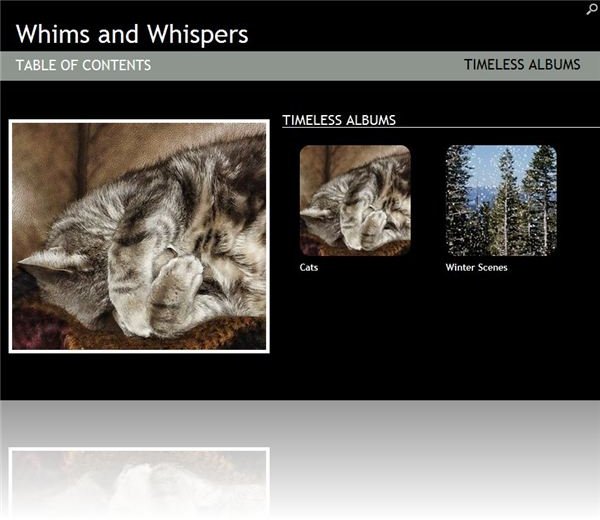 There are two different packages offered by Phanfare – Premium and Pro. Both are subscription-based and ad-free. We'll examine the pricing structure in more depth later in this review.
Phanfare offers unlimited online storage for standard digital photos – the only restriction is that each image must be 20 MB or less in size, and this really shouldn't be an issue for the great majority of users. An extremely nice feature of the Phanfare Pro package is that it also supports RAW files. For RAW files, the size limitation is 100 MB per file, taking into account that these files tend to be much larger in size.
When creating an account, you'll be able to choose a name for your Phanfare website of the form yourchoice.phanfare.com. If you decide to go with the Pro package, you'll also be able to create subsites and will have the option of using a custom domain name so you can truly make the site your own.
Phanfare also allows several customization options for your photo sharing site. There are over 30 different built-in color schemes to choose from, and Pro users can even designate their own customized colors. In addition, Pro users can choose to use their own custom headers and footers for their sites.
There are a few different options when it comes to uploading your photos to Phanfare. If you're in a hurry or working on someone else's computer, you can easily upload your photos directly to Phanfare using any standard web browser. However, you'll get a bit more flexibility if you choose one of Phanfare's clients – desktop clients are available for both the PC and Mac, and there is even a mobile client, Phanfare Photon, for the iPhone and iPod Touch.
For a full list of Phanfare features as well as a breakdown as what is included in both the Premium and Pro packages, check out this table.
Ease of Use (4 out of 5)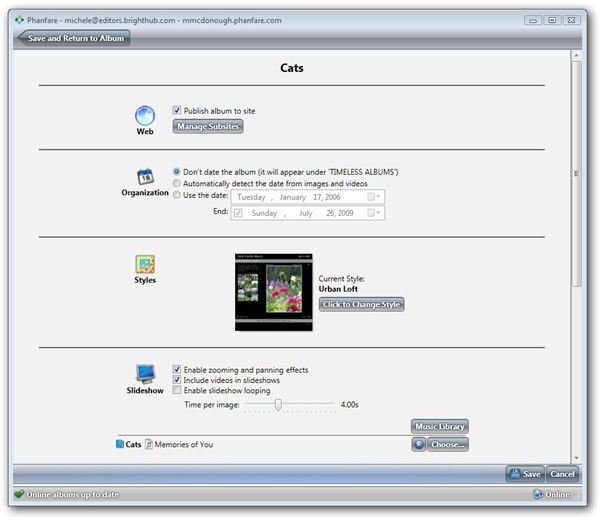 Both the web application and the desktop clients of Phanfare are intuitive and fairly simple to learn, especially if you have experience with photo editing and/or cataloging software. I definitely recommend using the desktop client over the browser app whenever possible as it gives you a bit more control over the design and options for your site. You can even use the desktop client on multiple computers since Phanfare supports automatic synchronization.
If you use your iPhone to take digital photos, Phanfare Photon is a must-have application. It allows you to edit images on your iPhone and upload them directly to your Phanfare site without having to worry about transferring them to your computer first – very nice and easy to use feature!
User Support (4 out of 5)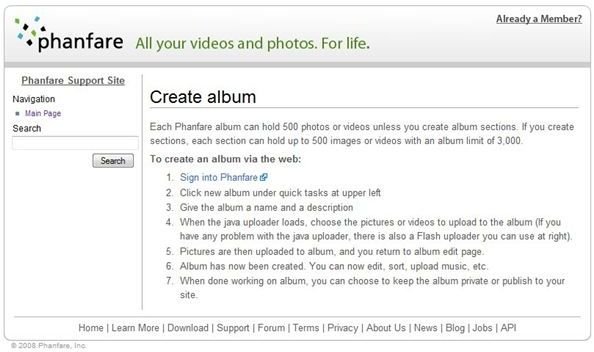 One thing that really makes Phanfare stand out among other digital photo hosting services is the emphasis placed on customer service. Phanfare has a goal of responding to emails within 1 hour (3 hours on Sunday) to messages received during standard business hours, which are 9 am - 11 pm EST on Monday through Friday and 2 pm - 10 pm EST on Sunday.
In addition, Phanfare maintains a support section on their web site where you can find answers to common questions and directions for how to perform basic tasks. Although this support site is fairly inclusive, it would be nice to see it fleshed out a little more. For instance, at the current time, most of the tutorials are text-only and have no accompanying screenshots or video presentations. I'm not sure that videos are necessary, but a few of the tutorials could definitely benefit from some included images that demonstrate the described instructions.
Price to Value (5 out of 5)
Phanfare's Basic package is available for an annual subscription price of $29, the Premium package available for $99 and the Pro package is priced at $199 per year. The Pro version provides RAW file support and more customization options. In addition, if you plan to store and share videos on Phanfare, the Pro version allows you to upload videos that are up to 20 minutes in length while the Premium package restricts videos to 10 minutes and shorter.
Considering the wide array of features offered and Phanfare's dedication to customer service the packages are an excellent value.
Overall Rating (5 out of 5)
Overall, Phanfare is an extremely good choice, especially for those who want a professional-looking web site on which to store and share photos without the hassle of having to build and maintain their own personal site. The added features of third-party application integration, slide-show creation, and full-size photo storage make the service well worth checking out.
If you'd like to try before you buy, Phanfare does offer a free 14-day trial subscription that gives you access to all features so you can test them out yourself.