Comic Life Review - Turn Your Photos into Comic Strips!
Having fun with your Photos!
The fun of taking pictures, be it with a normal point & shoot or a digital SLR, is to freeze a moment and cherish it forever. Especially when shooting photographs at family occasions or parties there is always an excellent dose of fun associated with the pictures that we shoot. In todays digital age, everybody shoots photographs and leaves them on their computer for archiving or maybe share them with friends on MySpace or Facebook. But what if you could add more value to your photographs, make something memorable that you would look back and think, "Wow! That really was a special occasion." Comics are excellent art forms that we've been exposed to since our childhood, so why not turn those photographs into comic collections? No, you don't need to be Photoshop wizard to do it.
Comic Life: Comics from your Photographs

Comic Life is an interesting program from the folks over at Plasq. The software allows you to create comic books/strips out of your photographs. Comic Life is, in fact, shipped preinstalled on Macs as a limited trial version. Chances are that you might already have it installed but have never used it. Trust me when I say, once you start using the app, the fun never ends. No wonder Comic Life was awarded the Apple design award 2005 as well as a Macworld rating of 4.5. Everybody (hopefully it's not just me!) has been engrossed in comic books, dreamt about being the comic action hero at a tender age. Now is the chance to live out that fantasy with Comic Life.
Features (4 out of 5)
The application is pretty straight forward to use and can be very pleasurable experience. The app is tightly integrated into the iPhoto application for the Mac and easily allows you to select photos for import into your comic book or page template. The templates are one of the important aspects of the comic book appeal and are numerous, so select as you wish. Once the template has been selected, you can drag and drop photos from the iPhoto media browser that is integrated. Here's a tip, look for images that will make a story out of your pictures - that way its more fun. Once the images have been added, you can go ahead and add some graphic effects to them to change their look and feel. These options are available from the style menu. The frames or templates themselves can be easily resized or the photos realigned to match your layout perfectly. Now that the images are ready, let's add some text or the "story". Making use of the speech/thought bubble templates you can add dialogues to your comic book characters. All the formatting options required including fonts, speech bubble size can be performed with simple mouse clicks. Once you have that completed add a title page and voila! your comic book is ready. Comic Life gives you the option of sharing your creation over the web using the iWeb export ability or you can directly print your comic books to keep them handy. You can also save them as images which can be circulated by email.
Comic Life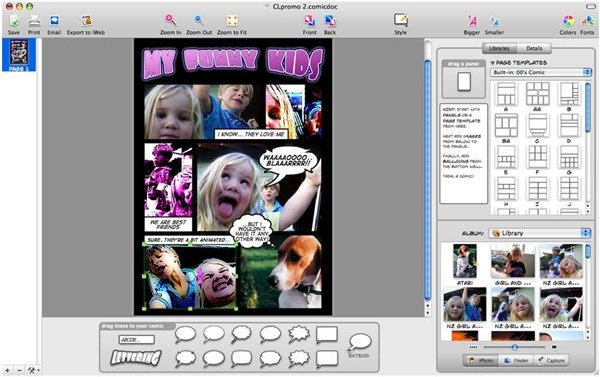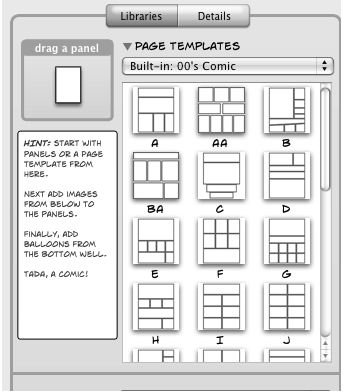 Interface & Usability (5 out of 5)
The interface and usability of the application is on par with Apple's own software applications and the tools are simple and easy to understand. The output from the application is so professional looking that you can wow your audience easily. The elegant interface design is one the best I've ever seen in a photo collage maker or editor. The interface is very much straight forward and the learning curve for the application is almost non-existent. Infact the application can be a good gift for children so that they can have fun with photographs. Comic Life can be used to annotate family photos, create wonderful holiday albums, children story books, how-to guides and more.
Verdict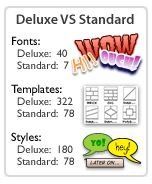 With a gorgeous interface and easy to use toolset Comic Life is one of the most fabulous piece of software that will allow you to transform your photographs into creative gems that you will cherish forever. It should also be mentioned that currently there are no equivalent applications that provide this kind of ease of use and fun. Comic Life is available in two versions Standard & Deluxe for both Windows and the Macintosh Platform. The Standard and Deluxe versions differ in the number of templates, styles & fonts that they provide for your comic album. The Standard version costs $24.95 & the Deluxe $29.95 - My recommendation, go for the Deluxe, for just 5 bucks more there's a lot of fun to be had. Of course if you have already bought the standard version you can just pay the difference and upgrade to the Deluxe version. There is a demo version available for free download to try out before you buy.