Jalbum Review - Online Photo Storage & Album Site
Introduction
Jalbum is a web based photo storage, editing and sharing resource. The site offers several tiers of service, beginning with a free, 30MB account, that enables users to post and share images, create albums, share news and send messages. The basic tier also includes a free download of the Jalbum software (works on both Macs and PCs). The software makes it easy to create albums from your existing photos, even offering drag and drop options.
Images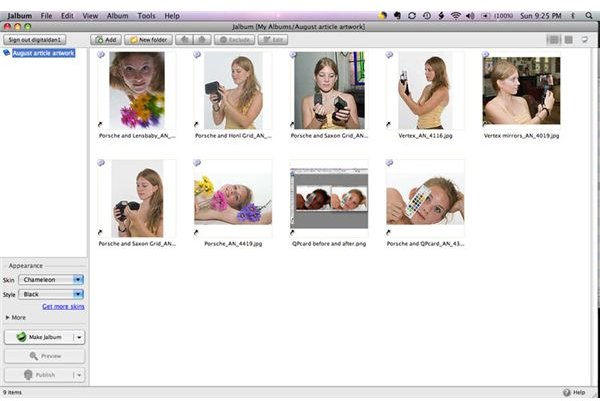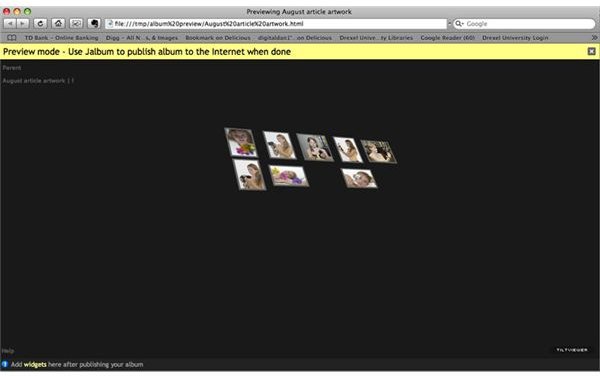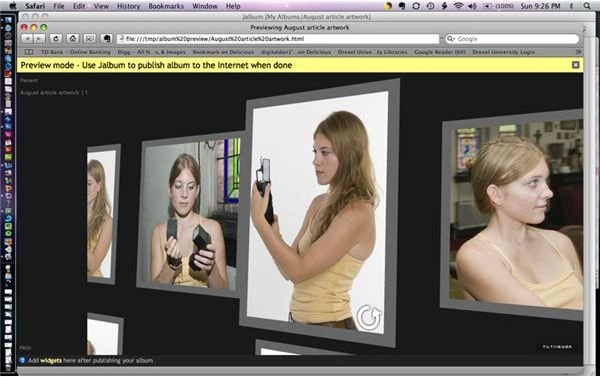 Ease of use (4 out of 5)
The Jalbum software is easy to use when it comes to creating a basic album of images. It also offers simple photo editing capabilities for tweaking images. At times though it can be hard to figure out how to make certain changes. I'd created an album of images from Porsche, one of my favorite models, and previewed the album to discover I'd duplicated a couple of files. I deleted the dupes and then published the album, only to find it had left the slots for the deleted images in the album. I'm still searching for a way to delete those placeholders and am starting to think the only answer may be to delete the album and start anew.
One of the nice things about the Jalbum service is the ability to add various widgets to track visitors, provide information about your images and/or share albums.
"Skins"
Jalbum users have the option of creating their albums using various "skins," or album appearances created by other Jalbum users and made available for download so others can use them. These skins offer the novice an easy way of creating an attractive album that takes advantage of more experienced users design skills. One example of a basic Jalbum skin is the Tilt Viewer. I've posted an example album at: https://jalbum.net/browse/user/album/290952/ (Model: Porsche Brosseau)
Photo Book option (4 out of 5)
The Jalbum site also offers several product options, including the ability to make your own photobook from your online images via www.blurb.com. What's interesting about this service, is that in addition to providing its own downloadable software, Blurb offers a PDF option so you can create your photo book in a design program such as Adobe InDesign or Quark Xpress, save it as a PDF file and upload that to Blurb. Photographer-Designers will love this option. Blurb even offers templates and specs for InDesign to aid designers using the Adobe software.
I should point out, that what Jalbum is doing, is providing a resource for its users and not offering the service itself. You could just as easily rely on Blurb for photo book printing without ever using Jalbum. I should also point out that you'd want to use higher resolution files for the photo book than you would for your online photo album.
Member forums
A nice added feature of the Jalbum web site is a very active member forum, which serves as a very useful resource for people using the service. This is a good place to find answers to questions or, if those answers are unavailable, post questions looking for help.
Price to value (5 out of 5)
Since the basic Jalbum service is free, it's hard to argue it's not a good value. The site and its free software are pretty easy to use, create attractive web albums and offer a reasonable amount of online storage space for free. While Jalbum doesn't offer a photo book option, the site's referral to www.blurb.com for photo book printing offers a reasonable service for getting a photo book made, just make sure to work with high resolution files and not the web resolution images you create for you Jalbum album. Still, there are other photo book providers out there such Snapfish and Shutterfly that also deliver quality photo books. There's no requirement for Jalbum users to rely on Blurb for their photo books.
Users who need more storage are looking at $25/year for one gig of space or $124/year for 10 gigs of storage. These options might make sense if you wanted to be able to store full resolution files in addition to your web images. A web based storage system can be a reasonable approach to backing up your important photo files, but shouldn't be your main or only storage for important images.