Expression Media 2 Review: Image Cataloging Software
Introduction
I'm a professional photographer. While I don't shoot as much now that I've started teaching, I still create a lot of images. In a typical shoot these days I create several hundred images. When I shoot a sporting event it can be more than a thousand photos. I need a powerful and easy to use image-cataloging program. In particular, I need something that can handle lots of images, render previews quickly so I can pick keepers and get rid of rejects and it needs to be able to work with Photoshop so I can quickly pick an image and edit it. Throw in a way to label images via keyboard shortcuts and I can get the job done.
For years I've been using iView Multimedia to catalog and manage my digital photo files. Since I've always been happy with the program, I was a little worried when I learned it had been taken over by Microsoft and renamed "Expression Media." In fact, I hung on to the last version of iView I had for as long as I could. While I'd tried a demo of Expression (and liked it), I still was wary of switching.
It's finally gotten to the point where I had no choice. As I proceeded through Mac OS upgrade after upgrade, my old copy of iView got flakier and flakier. Finally, I gave in and asked Microsoft for an evaluation copy of the latest version, Expression Media 2, for this review.
Images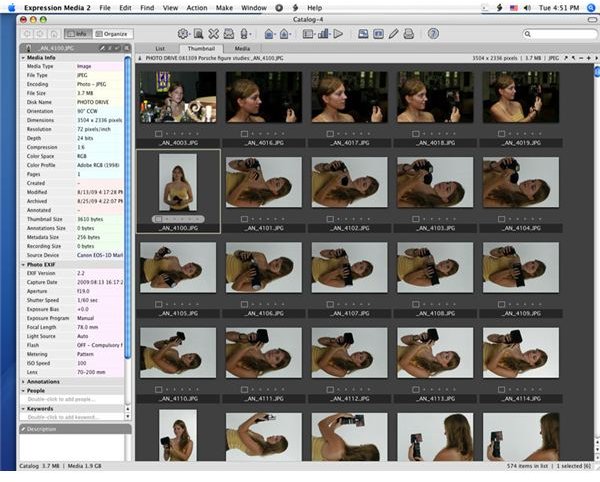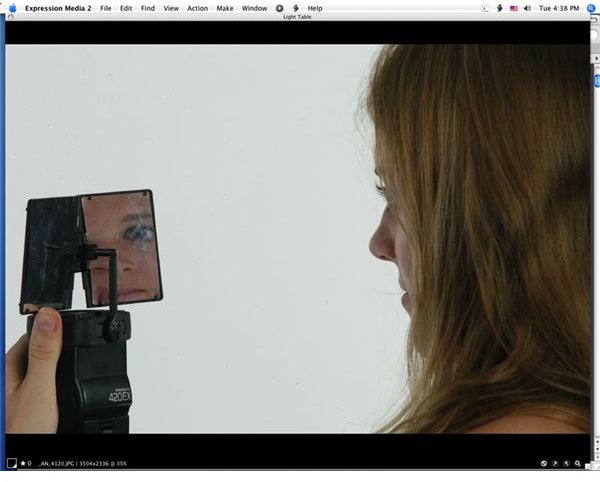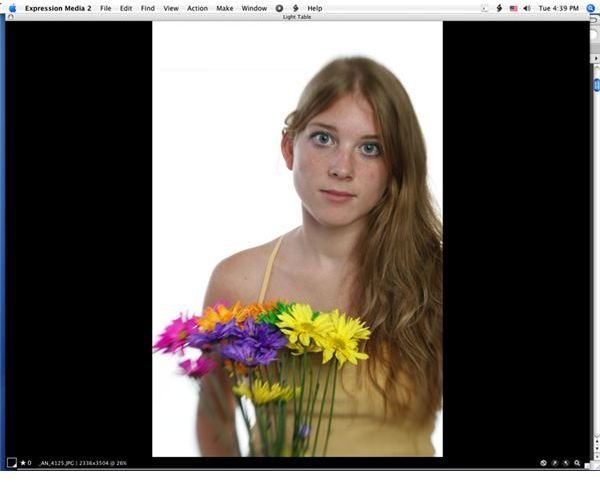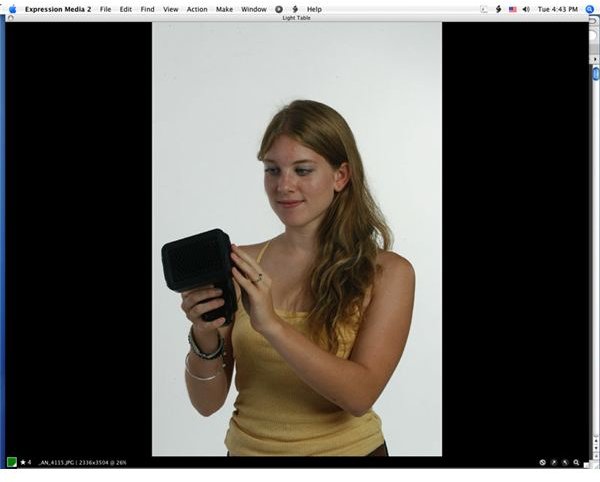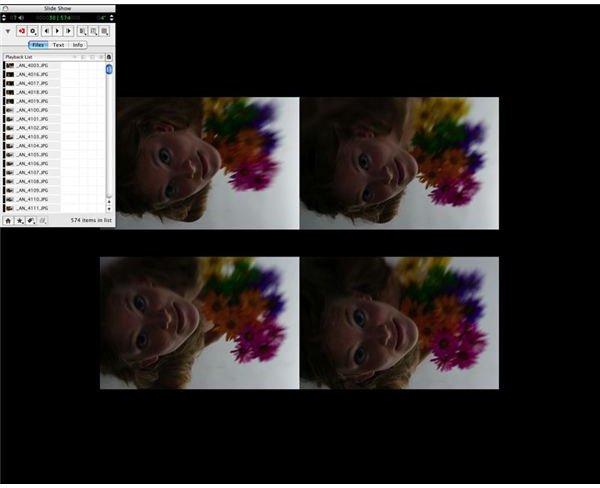 Impressions (3 out of 5)
So, were my concerns justified?
The answer appears to be "It depends which computer I'm working on." Expression Media 2 works pretty well on my Intel Macbook whether I'm using an internal or external drive. Trying to use it on my older G5 tower however, is another story. The program seems to have trouble recognizing files (I have to create a catalog, load images, and then tell the program to find the images even though nothing has been moved or changed in anyway. It also won't recognize vertical photos – something it does on my Macbook – and won't let me rotate them either. It also seems to have trouble recognizing my Canon EOS 1DmkIIn Raw files. When I do get it to recognize them, it forgets how to recognize the accompanying jpgs.) The program does work well on my Macbook.
Using it (4 out of 5)
Expression Media 2 lets you apply one of 9 color labels via keyboard shortcut (just type a number to apply a color label). This makes reviewing and marking images quickly pretty easy so long as the program manages to preview your photos quickly. You can review an image and quickly hit the "1" key to apply a red label, the "2" key for a green one and the "3" key for a blue one and so on. This means you can set up a quick coding system where a red label stands for a great image, a green one a good image and a blue one as a reject, or you can use it to mark specific groups of photos such as when you're shooting something like a soccer tournament and want a way to separate one team's shots from another's. The program can quickly sort images by label color or by star rating (you can rate an image from one to five stars via pressing the control key on a Mac and typing a number from 1 to 5).
For previewing images you can either use "Light table" mode and advance from image to image via cursor keys or switch to "Slide show" mode and either just watch images flow by or advance them manually. The slide show feature also lets you show more than one image on the screen at a time, which is helpful if you want to compare photos. There is also a helpful info window on the left-hand side of the catalog that carries the image's Media info and EXIF data. This window can be hidden when not needed. The program also offers a listview, thumbnail or media view (full image).
Expression Media also has a powerful batch renaming capability and can also convert images by size and resolution in batches too. It also offers some basic image editing tools (by clicking on the pencil icon on the top of the screen). Pros will just as soon bring the image into Photoshop and edit it there. Amateurs on a budget or who don't do a lot of work in the digital darkroom may find the capabilities to be good enough for them.
Price to value (3 out of 5)
At $199.95 for the full version and $99.95 for an upgrade version, Expression Media 2 is a bit pricey. It's a worthwhile program when it runs properly (I still haven't found another image cataloging program I like nearly as much), but sooner or later, I'm going to have to figure out how to get it to work properly on my desktop computer. If you're an amateur on a tight budget, I'd suggest you look elsewhere (unless the program's image editing capabilities solve your editing needs). If you're a pro photographer who needs to review and catalog a lot of images, I still think it's a good choice.
One new tool of possible interest for stock photo shooters is that Expression Media now offers a "Stock Photo Submission PowerToy" to make it easier to submit photos and images to stock photo agencies.