HP Snapfish Review - Photo Printing Service
Price to Value (4 out of 5)
For reg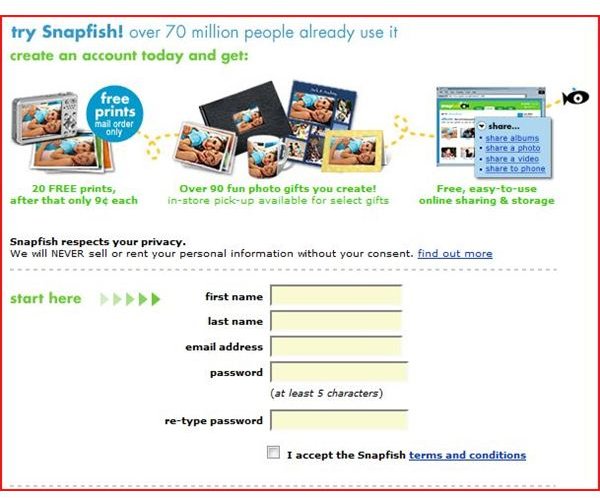 ular quality photo printing and a great selection of photo gifts such as mugs, calendars, puzzles, ornaments and even bags, Snapfish is a service I can recommend. Owned by Hewlett Packard, they offer competitively priced photo prints and a complete section of photo gifts and accessories to over 22 countries worldwide and are the largest international photo service of their kind.
While the quality of photo prints would fall short of impressing a professional photographer, for the most part the photos are great for use in family photo albums or even framed enlargements.
Getting started with Snapfish is easy, there is just a very simple sign up form that asks for your name and email address and also to create a password and that's it, you can get started straight away with uploading your pictures.
Current pricing starts at just 9 cents for a 4x6 print, with your first 20 prints free. You can also receive 20 prints free for each person you refer to Snapfish who places an order, and there are almost always coupons available for great deals on Snapfish products.
Ease of Use (5 out of 5)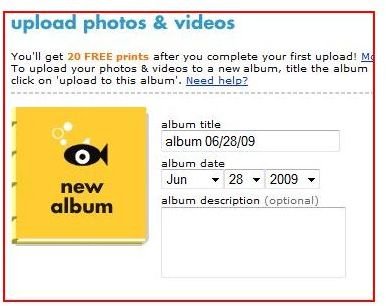 Uploading your photos to Snapfish is easy. Photos within your Snapfish account are organized into albums, which allows you to divide photos based on an event, by date, by person or any other way that makes it easy for you to sort your photos. One downfall is the inability to easily move photos between albums which can make sorting hundreds of photos difficult, but would not be of concern to the average user.
Similarly, placing an order for prints is an easy task that is as simple as a mouse click on the photos you require. Once your chosen photos are selected, you simply add them to your cart and are given a number of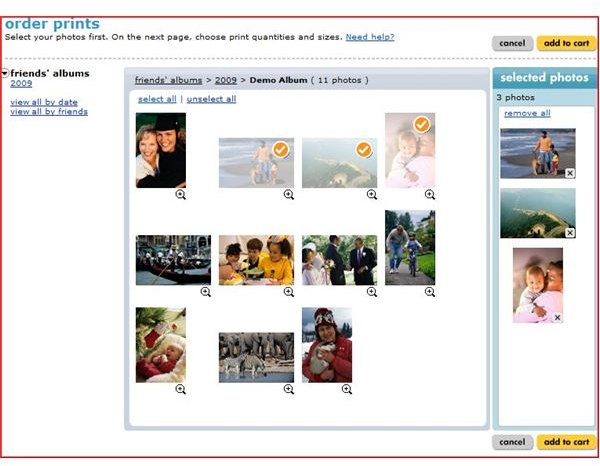 options that really make Snapfish good value. You have the option of borders, matt or gloss and sizes ranging from wallet size to 8x10. Within their photo gifts area you can even print large posters!
The photo gifts area and the huge choice of photo gifts to create is possibly what sets Snapfish apart from other online photo printing services. Snapfish are regularly introducing new photo gift products, having created photo books via Snapfish, I can honestly say that I was happy with the quality to use the book as a general family memoir. Drink coolers and mouse pads are just a couple of examples of other great products I have used as gifts and would highly recommend.
All products in the photo gifts area are easy to create by choosing the photo or photos you wish to use, and viewing the online proof of the gift that will be created. You have plenty of time to rotate, crop and move your photos, and lots of great templates to choose from.
Product Quality (4 out of 5)
Any prints I have received from Snapfish have been more than fine for general family use. Professional photographers would find that this service falls short of being able to meet their high standards or demands which is not a problem because Snapfish is targeted toward personal use and not marketed as a professional photographer's service.
The photo books which I received from Snapfish were of good quality. I was happy with the results, using the templates to organise my photos and add text was easy with a great choice of book size and colours. I doubt I would use this service for creating a high quality version of something such as a wedding album, I would recommend services tailored for this niche as I feel the quality of print in the Snapfish books would leave a little to be desired for a main wedding album, that being said they would be fine to use as gifts for family and friends.
Postage & Other Considerations (4 out of 5)
Postage for photo prints starts at just 99 cents for up to 5 photos. For orders larger than this, an extra 49 cents per 10 photos will be charged. This is not too bad, considering the postage charges are on a sliding scale and the more you order the less it will cost. An order of around 60 4x6 photo prints will cost $3.80 in packaging and postage. Photo gifts start at just $1.49 with prices increasing based on the size of the product.
Snapfish also offers a pick up option which is available to those who have a store pick up point close by. This makes the savings even more attractive.
My only complaint about Snapfish postage is that I feel photo packaging could be a little more sturdy. My photos arrived in their normal photo sleeve (I generally place quite large orders at once) with each of the envelopes placed together in one large postal satchel. While nothing was damaged, it isn't an extremely secure or gentle path for the photos in the mail system, so perhaps for larger orders a box would be nicer although I am guessing this would add to increased postage costs.
Overall Rating (4 out of 5)
For the average consumer, Snapfish offers a safe, reliable way to store and order your photos. Postage is reasonable and with an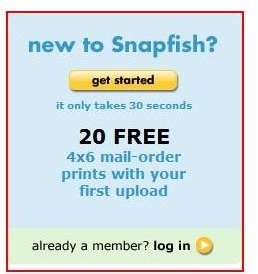 option for free pick up the value gets even better. They allow you to store your photos online, and share them with friends and family easy, without size limitation, the only catch is needing to place an order once every 12 months which is easy!
Keep an eye out for coupon codes before placing an order as these are almost always available and can make quite a difference to the price of your order. I would recommend Snapfish, and for those who have doubts, don't forget to sign up and take advantage of the 20 free prints with your first order, that should help you make up your mind.