Image Skill Outliner Plugin Review – Free Edge Tracing Plugin for Common Photo Editors
Overview of Outliner
Image Skill's Outliner plugin is basically a tool that works in conjunction with your host photo editor to identify edges in a digital photograph. This free utility is compatible with most major image editing applications, including Photoshop Elements and Paint Shop Pro. However, the plugin currently only works with Windows-based programs – no Mac version is available.
Edge-tracing applications have a wide variety of uses, most of which are related to creating artistic renderings from digital photos. For instance, Outliner is capable of turning a photo into an image that resembles a basic black and white sketch that can then be edited using other techniques. Additionally, these resulting images are more easily converted to vector drawings with applications such as Adobe Illustrator. This review will look at Outliner in more detail and see how well it performs.
Installation and Setup (4 out of 5)
The download package for Outliner includes an automated installation wizard that makes the plugin quick and easy to install. During this process, you'll be able to choose the directory in which you want to install the application. If your photo editor's directory isn't on the list of options or if you just want to place the plugin in a more general location, you may have to add this location to your photo editor's path before it will recognize Outliner. For more information, refer to these articles on installing third-party plugins in Paint Shop Pro and adding new plugins to Photoshop Elements 7.
Ease of Use (4 out of 5)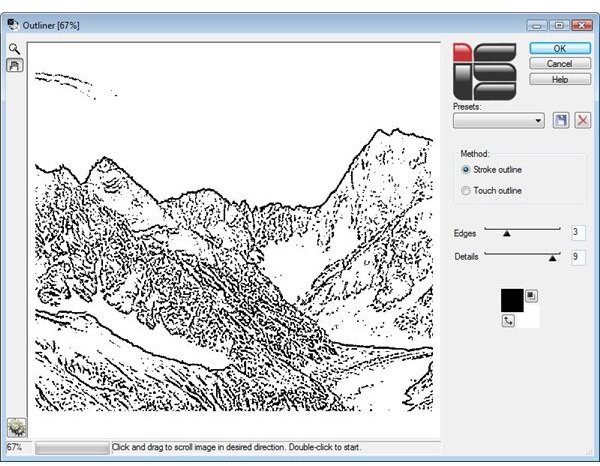 There are a number of plugins and filters that perform the same function as Outliner, but few are easier to use. The first time you use Outliner, the plugin will apply the default settings to your photo and give a basic black and white sketch that accentuates the edges and contours of objects. From here, you can easily modify these settings by choosing one of the default configurations or defining your own custom setting by adjusting the Edges and Details sliders, selecting user-defined edge and background colors, and choosing between the Stroke or Touch outline method.
The large preview window lets you view any modifications before applying them to the image in the host photo editor. If you would like more information on any of the settings or controls in the plugin, click on the Help button and the offline user manual will open in your web browser. This manual also includes a basic tutorial with screenshots that show exactly how the plugin works.
Features and Performance (4 out of 5)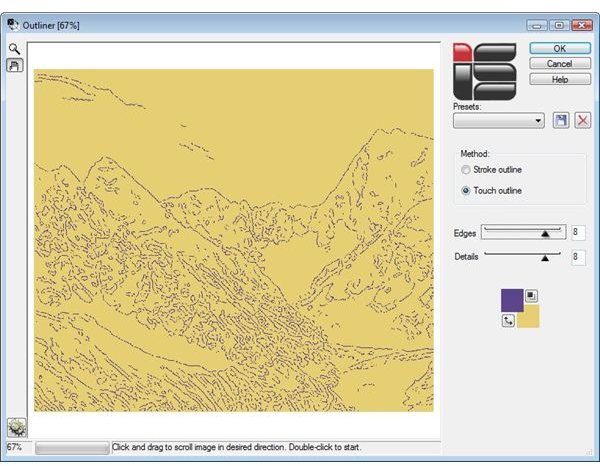 While Outliner does have a fairly simplistic user interface, it still gives an amazing degree of control to the edge tracing process, especially for a free plugin. In addition to the variety of predefined settings that come bundled with the application, you can also name and save your own custom configurations – this makes it easy to apply favorite settings to any digital photo with one simple click.
Another nice feature is that you can view the original photo at any time simply by clicking on the outlined image and holding down the mouse button. This allows you to see how close your tracing is to the photo so that you can make all needed modifications without having to abort and access the plugin multiple times.
Overall Rating (4 out of 5)
For a free plugin, Outliner does a fantastic job of identifying and accentuating edges in a digital photograph. It offers a number of customizable settings and is on par with several similar applications that come with a price tag. Additionally, Outliner is stable and manages memory well, so you don't have to worry about the plugin crashing the host photo editor like many other free plugins are known to do. This one is definitely a keeper.
Additional Resources: If you're a Paint Shop Pro user, you may also want to check out this list of the other top free plugins available for this photo editor.