Image Skill Translucator Plugin Review – Extract Translucent Objects from Digital Photos
Overview of Translucator v. 1.0
If you've ever tried to extract a translucent object from a digital photograph, you know what a pain it can be. The transparent nature of the object makes it hard to separate it from the background that blends into the item's surface and contours. Translucator is a photo editing plugin developed by Image Skill that addresses this specific problem, making it easier to select and remove translucent objects from digital photos so that they can be used in other projects.
Translucator is compatible with Paint Shop Pro, Photoshop Elements, and a number of other photo editors – a full listing of compatible products can be found at the Image Skill web site. Although Translucator works with several photo editors, the plugin itself is only compatible with Windows operating systems. There are no Mac versions at this time.
Installation and Setup (4 out of 5)
No problems were encountered during the download and installation of Translucator. The setup process is a typical Windows installation with an automated wizard to walk you through all the necessary steps. During this process, you will have to select a directory in which to install the plugin. If your photo editor is listed on this screen, the easiest thing to do is select that program and the wizard will place all of the files in a location that editor will recognize.
You can also choose to install Translucator in a more general directory. However, if you do select this route, you will need to add the plugin's directory to your photo editor's path. The process for doing this varies from program to program – for more information, refer to these articles on installing third-party plugins in Paint Shop Pro and adding new plugins to Photoshop Elements 7.
Ease of Use (4 out of 5)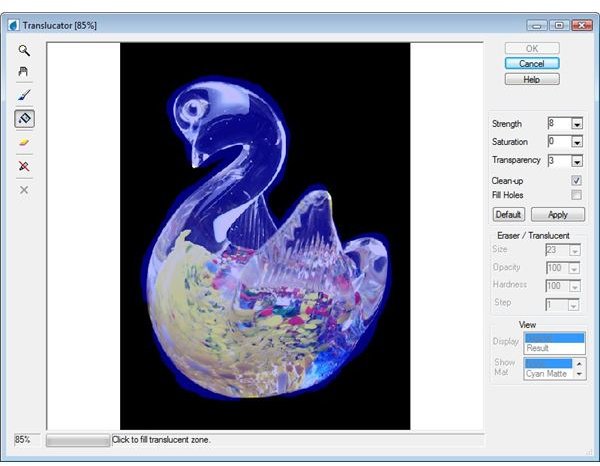 Translucator has a very simple user interface that is easy to navigate. You begin by marking and filling the area of the object that you want to extract, and then you apply the extraction tool. From here, you can make a number of minor adjustments to clean up the selection and ensure that you are selecting only the elements you want for your final image.
All of the tools are clearly marked and give a high degree of flexibility without introducing too much complexity into the process. If you aren't sure about the function of some of the tools or if you want some guidance on how to improve your selection process, you can click on the Help button to access the included user manual that contains a very nice tutorial on the application.
Features and Performance (5 out of 5)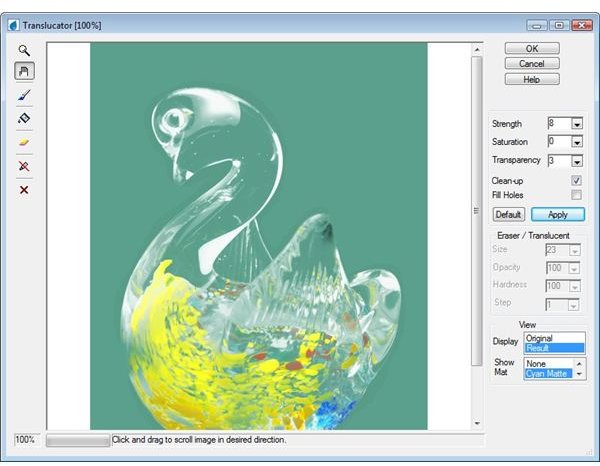 The speed and efficiency with which Translucator lets you extract translucent objects is extremely impressive. If your image is fairly simple and connected, it may only take a few clicks to get the desired result. For more complicated objects, the Pan and Zoom tools can help you hone in on selected areas and clean up minute imperfections. Translucator also allows you to pass back and forth between the original and modified image before applying any changes to your photo. This makes it easier to craft all of your changes at one time without having to continually pass back and forth between the plugin and the host editor – a process that can be irritating in other applications.
Translucator makes light work of extractions that would normally take quite a while if only using the basic tools in a photo editing application, especially when dealing with more complex images that have non-uniform backgrounds. If this is an editing task that you perform on even a semi-regular basis, the plugin is worth checking out.
Price to Value (4 out of 5)
The retail price of Translucator is $29.95 – this amount also includes free future upgrades for registered customers. Even though the plugin only performs one very specific function, it's quite worth the price considering how well it manages this task.
Overall Rating (4 out of 5)
While extracting translucent objects from a digital photo may not be something that most people do that often, Translucator is still a tool that you should consider adding to your photo editing arsenal. The price is very much in line with the application's capabilities even if you rarely need to use it. If you want to try it yourself before making the purchase, there is a free demo version available from Image Skill.