Review of Image Skill's Tile Builder Plugin - Creating Seamless Tiles
Overview of Tile Builder v. 1.6
Tile Builder is a bit different from most of the other plugins offered by Image Skill. Rather than modifying or applying a filter to an entire digital photograph, Tile Builder allows you to select a portion of a photo to use as the basis for a seamless tile pattern. Once these patterns have been created they can be used as textures and materials in other photo editing projects.
The Tile Builder plugin is compatible with most major photo editors, including Paint Shop Pro and Photoshop Elements. However, it is restricted to Windows versions of these programs. We'll take a more in-depth look at the features and performance of Tile Builder in this review.
Installation and Setup (4 out of 5)
Everything went fine during the download and installation of Tile Builder. The setup file includes an automated installation wizard that walks you through the process and even includes a list of photo editors already installed on your PC when suggesting a directory path. If you decide to use a more general path, you may have to perform a couple of additional steps after the installation process before your photo editor will recognize the new addition. For more information, refer to these articles on installing third-party plugins in Paint Shop Pro and adding new plugins to Photoshop Elements 7.
Features and Performance (5 out of 5)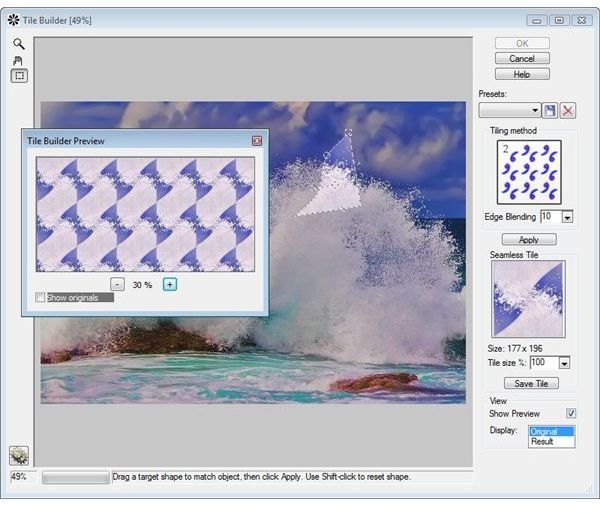 Tile Builder has one of the more sophisticated user interfaces in Image Skill's collections of plugins, but it's still quite easy to use and extremely intuitive. In addition to the main window of the plugin, there is a preview window you can activate that allows you to see how the resulting image will appear when tiled.
One of the real strengths of Tile Builder is that it allows you to make non-standard selections of the area in the digital photo that you want to convert into a seamless tile. Also, you can choose from a number of different tiling methods and select a custom edge blending value so that you can make the image as smooth or rough as you like.
Another bonus offered by this plugin is the ability to see how each minor change will affect the final tiled image before actually applying the changes. With Tile Builder, a single digital photo can yield an unlimited number of seamless patterns, each of which is drastically different from the others.
Price to Value (4 out of 5)
Tile Builder can be purchased for $24.95 from the Image Skill web site. At the time of this writing, this price includes free future upgrades for all registered licenses of the product. Considering the versatility and functionality of the plugin, this price is more than fair.
Overall Rating (5 out of 5)
When I first heard about Tile Builder, I was curious to take a look at it, but I didn't think I'd be very impressed since most of the photo editors I use already have some type of seamless tiling effect that can be applied to images. As I began to test the plugin, these preconceived notions faded away and I was surprised by all of the options offered in the application. I literally spent hours creating over a hundred of new material patterns from just a single photo.
Tile Builder is well worth its purchase price, and I definitely recommend that you check it out for yourself. A free demo version is available at the Image Skill web site, and you can also download the free Tile Builder Art Pack that includes a selection of masks and patterns generated by the plugin.