Review of Background Remover 3.1 - Image Skill Plugin for Photo Editing Software
Overview of Background Remover 3.1
As you can probably guess from the name, Image Skill's Background Remover plugin is a tool that can be used to get rid of the background in a digital photograph. The application is compatible with a number of photo editors, including Photoshop, Paint Shop Pro, and Photoshop Elements. In fact, if you own a copy of Corel Paint Shop Pro Photo X2 Ultimate, you're probably already familiar with the Background Remover plugin since it comes bundled with the Ultimate package.
Even though Background Remover is compatible with Photoshop, it is a Windows-based application. At this time, there is no Mac version of the plugin. In this review, we'll take a look at how well the plugin performs and give our overall recommendations.
Installation and Setup (4 out of 5)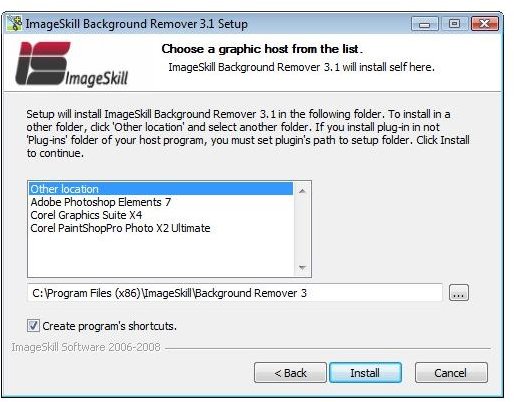 The download and installation of Background Remover was pretty straightforward. The plugin comes with a self-installer that walks you through the entire process. This utility even lets you select the photo editor you plan to use the application with so that the plugin files will be placed in the proper directory during the installation process. However, if you plan to use Background Remover with multiple photo editors, you may want to choose a more general directory that all programs can access. See Installing Paint Shop Pro Third-Party Plugins and Adding New Plugin Filters in Photoshop Elements 7 for more information on how to do this.
Ease of Use (4 out of 5)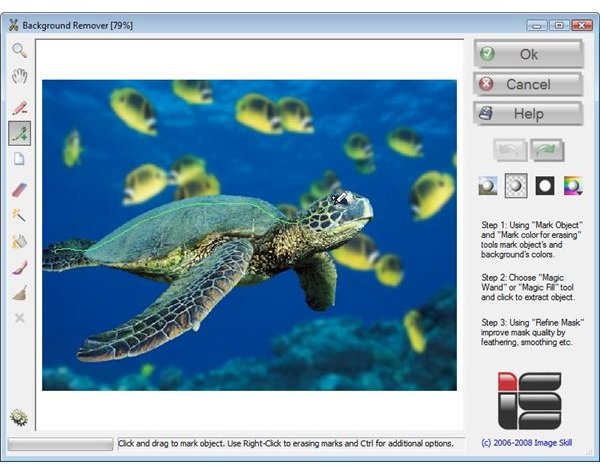 Background Remover's user interface is fairly intuitive, but it may take a little practice to acclimate yourself with all of the features. Basically, there is one tool that can be used to mark the objects you want to keep and another to mark the areas of the photo that you want to delete. In addition, there are several other tools that can help you further refine your selections.
Within the interface, you'll find basic instructions on how to use all of the tools of the plugin, and you can see a full preview of any changes you make before applying them to the original digital photograph. Also, there is a handy undo button that lets you back up several steps in case you make a mistake or just want to try something different.
Performance and Features (5 out of 5)
Like most plugins (and photo editors in general), Background Remover may run a little slow if you're working with large or complicated images and you don't have a lot of RAM on your PC. Overall, however, the plugin is extremely stable and seems to manage memory well.
An extremely useful feature of Background Remover is that you can view all modifications in "real time" so you don't have to keep passing back and forth between the photo editor and the plugin.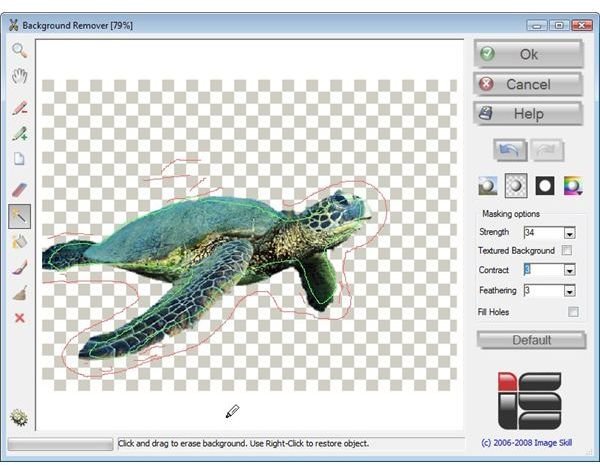 When removing the unwanted elements, you can opt for either a transparent or a solid color background. Another nice feature is that you can switch between these options while still in the plugin interface before applying them to the final image. If you elect to use a colored background, you can choose from a number of predefined colors or define your own custom shade.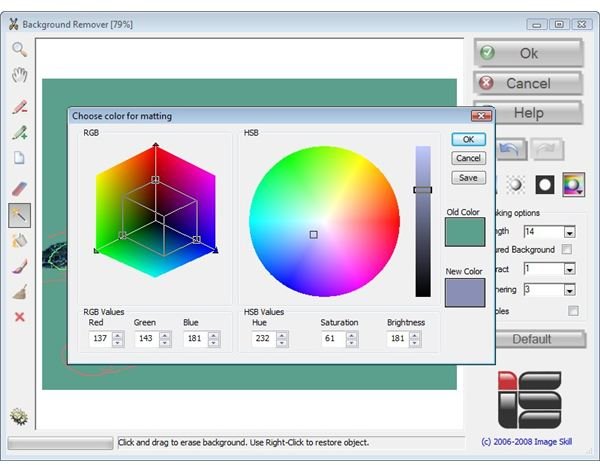 You can also view the original source image at any time and even choose to start all over without leaving the plugin interface if needed. If you need more assistance on understanding the controls and the background removal process, you can click on the Help button to access the included user manual that also contains detailed tutorials for several different types of image extractions.
Price to Value (4 out of 5)
Background Remover 3.1 retails for $49 and can be purchased through the Image Skill web site. If you'd like to try it out for yourself first, there's a demo version available for download at the same site.
Considering the ease with which this plugin allows you to extract objects and remove distracting backgrounds in digital photos, this is a very reasonable price, especially if you perform these editing tasks on a regular basis.
Overall Rating (4 out of 5)
Overall, if you're using an older version of Paint Shop Pro or another photo editor, Background Remover is a good investment. It's easy to use and it greatly simplifies the process of getting rid of unwanted backgrounds and other objects in digital photographs. However, if you're a Paint Shop Pro user and thinking about upgrading to the X2 Ultimate version, do the latter - the 3.0 version of this plugin is included in that bundle along with a lot of other great content.