A Review of Photobucket.com: Free Image Storage Site
Photobucket is a popular photo site—number one in the US at last count, and the 41st most popular site on the entire internet. There's good reason, too, with free storage for any user, and lots of it. But is Photobucket really all that great? After all it certainly has its detractors. Here's a review:
Features (5 out of 5)
Photobucket is filled with features for its users. One that may come in handy is a small but powerful digital editing software in-browser, where one can do quick fixes on their image.
A useful little feature is a series of different ways to link to a particular image, adding in everything from HTML embedding to direct links for email and IM and more. There are also numerous features to allow for easier upload from Photobucket to a variety of popular social networking sites.
Other little bells and whistles add a little polish to Facebook, and new ones are being added all the time. A live sideshow was a recent addition, which may be embedded on other websites. Album themes, scrapbook designs and even an in-site print store are a few other excellent examples.
There are numerous third-party applications that tap into Photobucket's huge userbase on the web, thanks to the open API key. This means more kick for your account while you're browsing out and about on the web.
Photobucket Site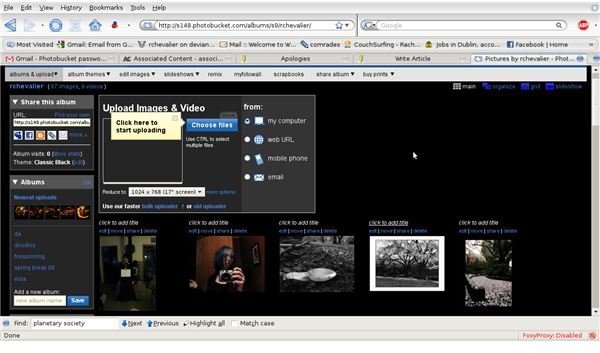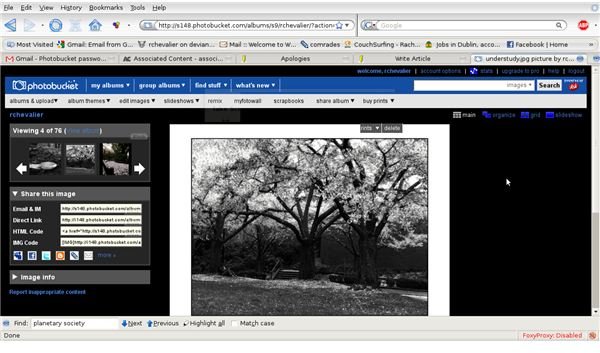 Organization (3 out of 5)
However, many people find the organization of Photobucket to be quite bewildering. The layout is extremely cluttered between ads and—well, all those features trumpeted in the last section of the review, and will take some getting used to by new users. It is not a site that particularly invites casual perusing.
The actual download interface, once you get to it, is very easy and intuitive to use. Navigating the rest of the site… well, that's another issue entirely. Photobucket answers with an impressive array of tutorials and FAQs, which in turn end up being almost as hard to navigate as the site itself. It's not impossible, however: with a little exploration, the site will open to you.
A simple system of tags and albums will help you keep your own photos organized with ease.
Image Storage (4 out of 5)
Images may be uploaded from almost anywhere—a camera, a phone, another website, wherever. Photobucket also supports virtually every image type out there, so those who might favor more obscure file types—that is, not the near-universal JPG—will not find themselves left out, as they do on many other websites.
A feature many photographers will find irritating is the automatic scale-down of an image to 1 MB in size—meaning that the beautiful feather texture of that perfectly in focus songbird might be a bit lost on a viewer.
That being said, a lot can be stored on Photobucket—1 GB of space comes standard with every free account, with more available with paid accounts.
Usability (4 out of 5)
Of course, don't be thinking you're about to step into a fine art gallery when you browse Photobucket. The emphasis is on image storage, meaning that most users use it for everything from their MySpace profile pictures to shots of products for eBay. Photos of the more adult variety crop up occasionally as well, making it not particularly family friendly—the top search is for "sexy", and we're not even speaking fine art erotica here.
As a storage site, Photobucket definitely has its downloads. Most photographers prefer their pictures at their larger, original sizes, so don't be expecting Photobucket to perfectly carry across the exquisite texture of the feathers on a songbird in 14.8-megapixel plus glory.