Review of SmugMug - A Photo Storage & Sharing Website
Introduction to SmugMug
SmugMug is a website meant for hosting photographs, primarily aimed at serious amateur and professional photographers. It tries to differentiate itself from many other websites with similar functionalities by providing rich and customizable user interfaces, unlimited storage and good customer support.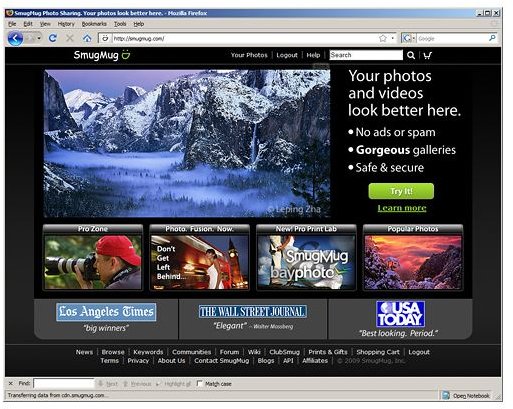 Subscriptions & Pricing (4 out of 5)
SmugMug has three hosting plans available, called Standard, Power and Pro.
The Standard plan allows unlimited storage and bandwidth, a set of themes to choose from, access control to galleries, sharing images on other websites and commenting. In addition to the features provided in SmugMug`s Standard plan, Power plan allows users to customize templates, use personal domain names, and upload and share videos. Pro users can set their own pricing to sell digital downloads and prints,
The Standard plan is priced at $39.95 per year, Power plan at $59.95 and Pro at $149.95 per year.
Usability (5 out of 5)
SmugMug offers plenty of customizations in the user interface. Pro and Power users can design their own pages. The standard set of themes available are some of the best themes you can see anywhere on the web. The themes have good navigation, are easy to use for the viewer, and have a good combination of simplicity and richness of features. Images can be browsed using navigations of thumbnails, galleries, most popular, slideshows and breadcrumbs. Other features include the ability to comment and rate images. The thumbnails generated are of good quality.
The admin panel needs some getting used to. The interface for customizing galleries is not very obvious, and requires some time to get used to. A large number of settings for galleries in one page can be confusing. There are many easy-to-use upload options, including desktop tools, which makes uploading a simple task.
Performance, Support, Reliability & Security (5 out of 5)
The pages and photographs load quickly without any delay. In my two years of using SmugMug, there was never a time when I saw the site down, either for maintenance or due to unseen and unavoidable circumstances. Their support is responsive with quick turnaround time and helpful solutions.
SmugMug claims to have the best in industry system for backing up images, supported from Amazon.com's network of data centers. It is also possible to secure galleries or the entire site with passwords, and to enable or disable viewing full size images, for added photo protection.
Value for Money (3 out of 5)
Although SmugMug is feature rich, safe and has good usability, it is also one of the most expensive solutions for hosting images. Many websites have free unlimited storage and match many features that SmugMug offers, at less than half the cost. The Pro account is not good value for money unless the photographer regularly sells prints and digital downloads.
Conclusion
As I mentioned previously, SmugMug is a feature rich website that offers great usability, unlimited storage and safety for the images. However, it is a worthwhile buy only for the serious amateurs and professional photographers who want to showcase their portfolio, or successful photographers who want a solution for selling their images. It is not great value for money for casual photographers who are looking for online space to store images.
To visit SmugMug`s website, please click here.